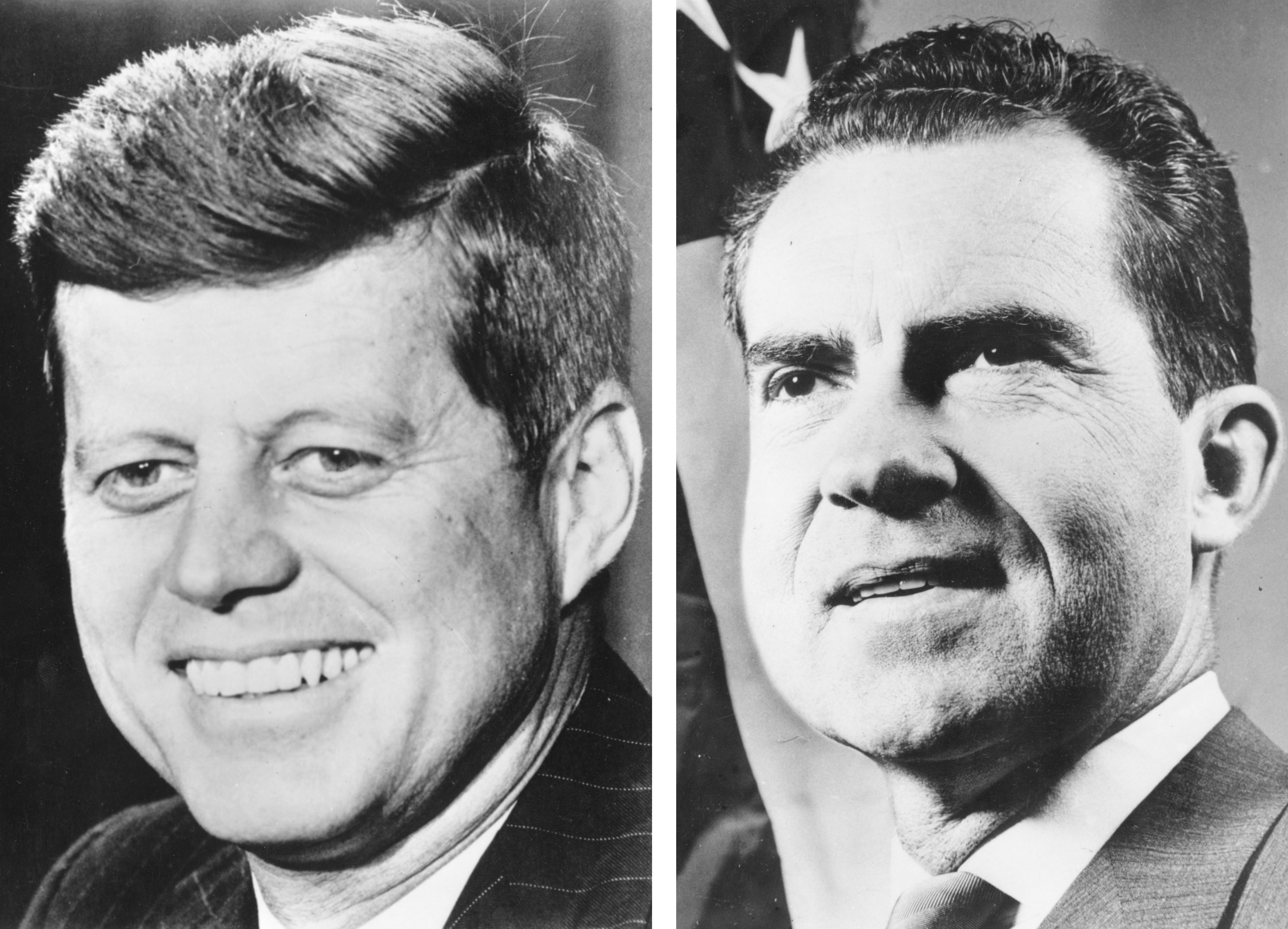 This is the second of a regular column about the business and future of television.
The TV story of the week has been the kickoff of the 2016 election cycle, beginning with the first Republican Primary debates, starring Donald Trump.
Televised presidential debates occupy a major place in television history, and have become a critical component of American politics. So first, we'll unpack the stats around the event. Then we'll look at the debate that created the genre.
The FOX Primary Debate
This month's debate was the most-viewed event in the history of FOX News, with 24 million viewers. That's roughly 30 percent higher the season finale of Empire, double The Voice's best 2015 ratings, and about 680 percent more viewers Jon Stewart's final The Daily Show. That's pretty big—though not as big as Trump's The Apprentice Season 1 finale, which had 28 million viewers—which is the under-reported key to this success.
The driver of these ratings, as Vox correctly notes, is Trump's years of experience in the medium itself. But his antecedent here is not Richard Hatch—it's the man who put debates on the map in the first place.
To that point, this is not a big rating in terms of presidential debates, with which it was wrongly compared earlier this month. In 1980, Reagan/Carter had over 80 million viewers. Obama/Romney had over 67 million viewers. And in terms of influence, they're all dwarfed by the one that came first, the one that reinvented American presidential politics.
The Debate that Invented The Game
"We wouldn't have a prayer without that gadget [television]."—John F. Kennedy, 1960
John Kennedy obviously has a unique place in American history. No other figure managed media so masterfully, so redefined politics for age in which we live. JFK was the first and most talented television president.
It was a role he was born to play. Joseph P. Kennedy had been an early financier of Hollywood, as well as a stock market operator, SEC Head, and U.S. Ambassador to the U.K. He used all these position as a PR machine, marketing himself the way studios marketed movies. He had one goal: to be the first Catholic President of the United States.
That ended in 1940, when he was quoted doubting England's ability to survive the German onslaught. The British reacted with outrage, ending his political career. After shaking off depression, he decided his son, Joseph Kennedy Jr., would be President. But that ended in 1944, when Joe Jr.'s bomber exploded over the English Channel.
The burden of the father fell with full force on the second son.
Jack Kennedy had gravely ill since he was 13, with back problems, colitis and Addison's disease, a chronic failure of the adrenals. As a boy, he was often near death, and had the Last Rites administered to him four times. For the rest of his life, he was in constant pain. Jack Kennedy became a master performer, playing the part of a healthy man.
Kennedy went to Harvard, joined the Navy, then returned home to carry out his father's plan. He won the House of Representatives in 1947 and the Senate in 1953.
At the 1956 Democratic convention, he made a forceful televised speech nominating Adlai Stevenson. It was a spectacular performance and catapulted the young senator to national prominence.
In the Senate, few had been impressed by Kennedy. But in the television audience, everyone was: Jack Kennedy was clearly a star. The tactic would reappear 48 years later, when junior senator Barack Obama would make John Kerry's nomination speech.
"We're going to sell Jack like soap flakes."—Joseph P. Kennedy
In 1957, Fortune magazine published its first list of the richest people in America. Joe Kennedy was in the top 15, with the equivalent in today's dollar of over $1.5 billion. He would use it to make history.
The 1960 Presidential campaign was like none before it. The Kennedys took nothing for granted, running the first presidential TV campaign. Frank Sinatra sang JFK's campaign song. Jackie and the children appeared with Jack on talk shows. Every effort was made to showcase the young candidate in action. Gore Vidal would recall a phone from Kennedy, enlisting him to kill a story:
"That friend of yours up there, Dick Rovere. He's writing a piece for Esquire about 'Kennedy's last chance to be President' or something. Well, it's not true. Get to him. Tell him I don't have Addison's disease. If I did, how could I keep up the schedule I do?"
He needed to: Richard Nixon was the two-time Vice President of beloved president—running against an undistinguished junior senator. Kennedy was the underdog.
At the time, newspapers were by far the main source of news. Nixon had the advantage, but made a critical blunder: he underestimated television.
By 1960, there were roughly ninety million U.S. televisions, one for every two Americans. Television was a sleeping giant, and the Kennedys roused it. They hired an ad agency to create commercials, based on agency's work for Volkswagen. While Nixon promised to speak in every state, JFK focused on television appearances.
Then everything changed. On September 26, 1960, Nixon and Kennedy met for the first televised presidential debate in American history.
Nixon wasn't interested in preparing. He wore a baggy suit, didn't bother to shave, and used something called Shavestick to cover up his shadow. He arrived at CBS only 30 minutes before airtime, leaving no time to dig out of the hole he'd prepared. Debate producer Don Hewitt (creator of 60 Minutes) knew there was a problem, but Nixon would not be coached.
Everything lined up for JFK that night. Constantly ill, he was in a rare moment of health. He had campaigned in open car to get a good tan, and may have used a product called "Man Tan" as well. While both candidates refused makeup from CBS, Kennedy put his on before he got there.
The results are well-known: those who heard the debate on the radio thought Nixon had won. But those who saw it on TV thought Kennedy had won. And that's all that mattered—because TV was now watched by 88 percent of Americans. Kennedy had seen where the world was going.
According to some estimates, over 90 percent of all TVs tuned into the debate. The next day, Kennedy crowds were larger than they'd ever been.
After the debates, the impact of television became a national topic. Those who had argued it was frivolous nonsense were forced to take a second look. Owning a TV became mandatory—not just for entertainment, but as a means of keeping up with the world.
In November, Joe Kennedy's son won with a .2 percent margin, one of history's smallest. When asked what had mad the most difference, John's answer was quick: "It was the TV more than anything else that turned the tide."
Five days into his presidency, John F. Kennedy conducted his first press conference. Unlike anyone before him, he ignored the 400 reporters in the room. He looked over all of their heads—and into the camera at the end of the room.
"Television," one reporter wrote, "has proven about as hazardous for Kennedy as water for a fish."
In 1963, TV news surpassed print as the place most Americans got their news. Powered by interest in a charismatic president, CBS expanded the news from 15 minutes to 30 minutes. The other networks followed suit, in what became a revolution. News went from an interstitial to a new form of dramatic programming, one that would dominate the Sixties.
Cronkite opened TV's first extended show with the only appropriate guest:
Good evening from our CBS newsroom in New York, on this, the first broadcast of network television's first daily half-hour news program…At his summer White House in Hyannis Port on Massachusetts' Cape Cod, President Kennedy today talked with this reporter of many things.
Those comments would include thoughts on the Vietnam war, sparking fierce debates about what Kennedy might have done had things gone differently. 81 days later, Cronkite's 30-minute show would begin:
John Fitzgerald Kennedy was assassinated today in the 46th year of his life and his third year as President of the United States.
Aftermath
TV had always been his ally in life. It would prove an even larger one after his death. From November 22-25, the networks pooled coverage for four continuous commercial-free days of the state funeral, bringing kind words from even TV's sharpest critics, and elevating the medium to a role in public discourse inconceivable at any time prior.
Over 100 million people watched Kennedy's funeral on TV—more than had ever seen any event in the history of the world.
After 1960, debates became such a source of fear that both Johnson and Nixon refused to allow them. After Kennedy, there was not another televised presidential debate for 16 years.
When those two were gone, debates would become mandatory. Eventually, even primaries would have them—paving the way for Donald Trump.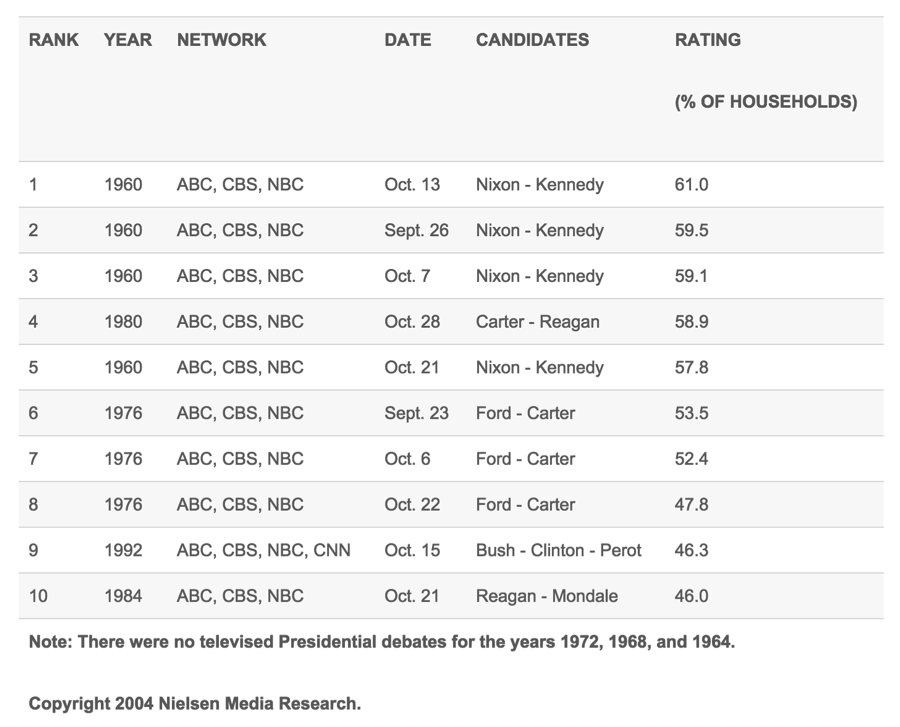 Two-time Emmy award winner Seth Shapiro is a leading consultant and speaker in innovation, media and technology. His first book, Television, will be published this spring. He teaches at USC School of Cinematic Arts and can be reached at info@sethshapiro.com.