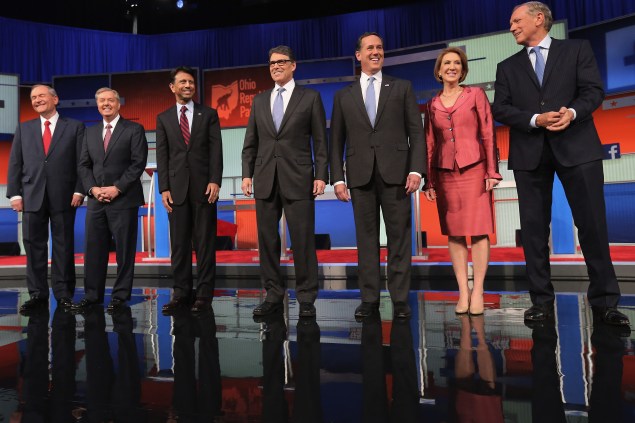 They called it the undercard. The junior varsity debate. The happy hour debate. Perhaps the most derisive name for it was the kids' table—bolstered, in part, by a moderator who called the candidates "very well-behaved."
But the seven Republican contenders who couldn't crack the top ten and appear in Fox News' crowded 9 p.m. debate showed up and ate their kids' meals before an empty auditorium at 5 p.m., even as the first question for every candidate involved the moderator reminding them how poorly they are doing. They were working, perhaps, under the theory that a strong performance would lift them out of the lower-seven and into the top ten or beyond.
Of all the candidates, Carly Fiorina came off as the most polished—even though she recited, word for word, a closing statement that a Rand Paul staffer found in a hotel lobby's printer and posted to Twitter hours before the debate began.
With the first question beginning with a reminder about how the former Hewlett Packard CEO lost a race for Senate and her low poll standings, Ms. Fiorina reminded the audience (those watching on television, anyway) that this early in the cycle, future presidents Jimmy Carter, Ronald Reagan, Bill Clinton and Barack Obama couldn't have won, either.
"I think to be commander-in-chief in the 21st century requires someone who understands how the economy works. Someone who understands how the world works and whose in it. I know more world leaders on the stage today than anyone running with the possible exception of Hillary Clinton," Ms. Fiorina said, comparing her foreign policy breadth to that of a former secretary of state.
She also took a swing at the party's front-runner, Donald Trump—noting unlike him she did not get a call from former President Bill Clinton before running—while also managing not to belittle those voters who have flocked to support him.
"He's front-runner right now and good for him. I think he's tapped into an anger that people feel they're sick of politics as usual," Ms. Fiorina said, touching on those who hope to see "festering" issues resolved. "I would also just say this: since he's changed his mind on amnesty, on healthcare and on abortion, I would just ask what are the principles by which he would govern?"
Former Texas Gov. Rick Perry, finding a bit more rhythm after a clunky opening answer, also sought to take a strong swing at Mr. Trump, arguing his high poll numbers are due to his celebrity—comparing him to former Mayor Rudolph Giuliani and actor Fred Thompson.
"How can you run for the Republican nomination and be for single-payer healthcare?" he said, before hitting Mr. Trump on immigration, which the mogul has sought to make a signature issue. "Nobody, nobody on either one of these stages has done more than I've done and the state of Texas to deal with security on that border."
Others, particularly Sen. Lindsey Graham, saw the debate as an opportunity to go after Ms. Clinton.
"For all the Americans who want a better life, don't vote for Hillary Clinton," Mr. Graham, who at times responded as if he were already up against Ms. Clinton for the presidency, said at one point during the debate. He also emerged further to the right than most of those on stage in terms of the need to send troops on the ground to fight the Islamic State.
(All of the candidates got a chance to bash Ms. Clinton when the moderators asked each to describe her in two words, though almost none of them heeded the word-count.)
Immigration, which Mr. Perry discussed repeatedly, was one of several issues where the candidates tried to differentiate themselves. Louisiana Gov. Bobby Jindal—who the moderators noted would lose his home state to Ms. Clinton according to several polls—peppered his answers throughout the night with well-placed catch phrases about the American dream becoming the European nightmare, about Democratic Bernie Sanders being "honest" about his socialism, and on immigration, hitting against the idea of "hyphenated-Americans" and division.
"Immigration without assimilation is an invasion," Mr. Jindal charged.
Former Pennsylvania Senator Rick Santorum, who has long campaigned as a social conservative, got the first question on gay marriage—and said he did not consider it settled law, comparing the recent Supreme Court decision legalizing gay marriage to the case of Dred Scott, the slave who sued for his freedom and was denied by the high court. He also referenced original rulings against partial birth abortion bans by the court.
"We passed a bill and said, 'Supreme Court, you're wrong!'" Mr. Santorum said.
Former New York Gov. George Pataki used the debate to try to lay out his story for (the many) Americans who might not know or remember him. He name-checked his two sons who served in Iraq and Afghanistan, took credit for a reduction in the welfare rolls during his tenure, and reminded voters that he governed New York during September 11, 2001 and beat a popular Democratic incumbent, the late Mario Cuomo. But asked about recent controversial Planned Parenthood videos, Mr. Pataki noted he is pro-choice and thought Roe v. Wade was the settled law of the land.
"What we can do is defund Planned Parenthood," he said, and ban abortion after 20 weeks, a stance well to the left of some of his opponents that may not work as well nationally as it did in blue New York.
Mr. Pataki was not the only candidate who reminded voters he served during September 11—so did former Virginia Gov. Jim Gilmore, who said that a council he sat on found evidence of September 11 terror plans before the attack happened.
"We need to use our technological advantages, because what we've warned of is an international guerilla movement," Mr. Gilmore said.
The GOP's top ten candidates will debate later tonight on Fox News at 8:50 p.m.
Disclosure: Donald Trump is the father-in-law of Jared Kushner, the publisher of Observer Media.