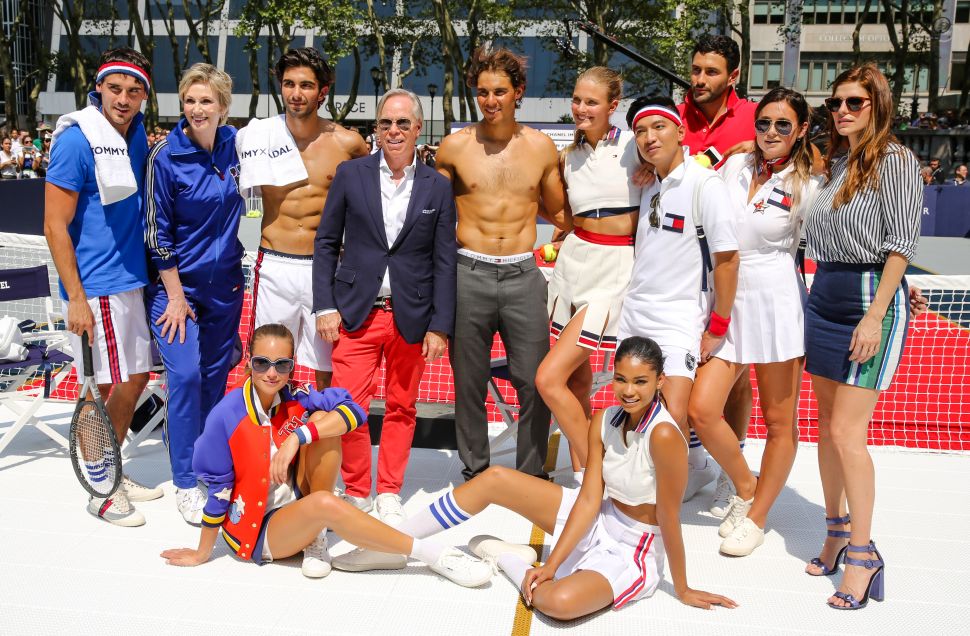 Tommy Hilfiger stopped traffic in midtown yesterday afternoon, so much so that the man himself had to jump out of his chauffeured car and walk a few blocks to Bryant Park where the designer's powerhouse eponymous brand was busy launching their underwear, tailored suiting, and TH Bold fragrance ad campaigns all fronted by tennis star Rafael Nadal. The full campaign includes images of Mr. Nadal stripped down to his unmentionables, and one steamy television commercial in which he takes to the locker room to ditch his boxer briefs all together.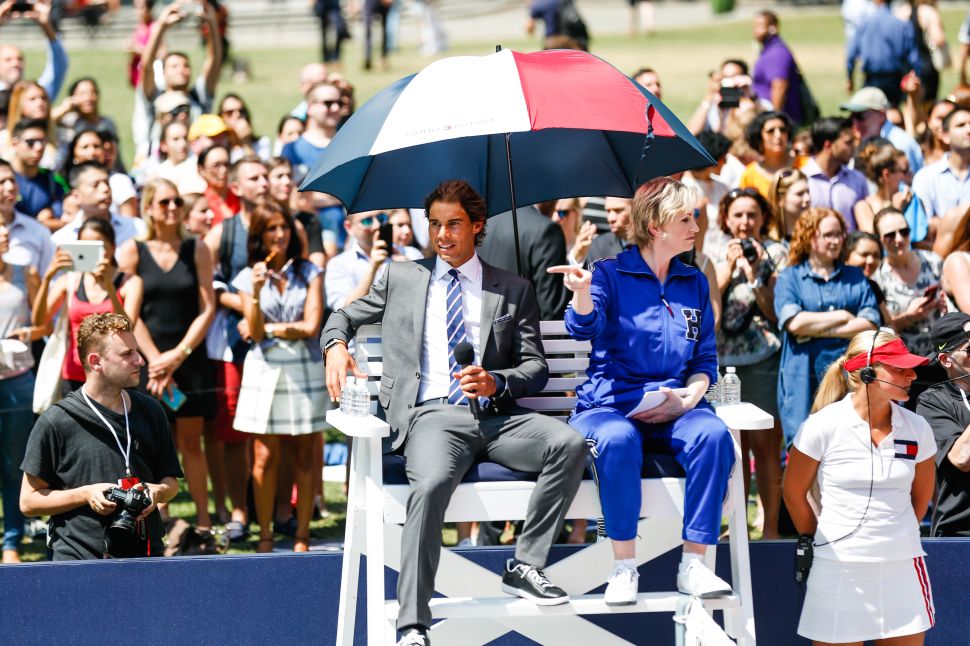 Inside the midday spectacle, the park's lawn was entirely repurposed to include a grand stand and tennis court modeled after the brand's signature red, white, and blue logo. These American hues were echoed down to the newly released skivvies, which made their debut on a set of supermodels in a cheeky game of "strip tennis" umpired by Jane Lynch and Mr. Nadal himself, who later joined in on the match wearing a full suit. Each time one of the six famous faces made an error, they lost an article of clothing. Chanel Iman, Hannah Davis, and Constance Jablonski were eventually left wearing their sports bras over classic pleated skirts, while male models Noah Mills, Arthur Kulkov, and Akin Akman were much less reserved, dropping trou to reveal their navy blue boxer briefs with jeers from the crowd.
"Because of our logo and our heritage – red, white, and blue – we decided we didn't want to do black [boxer briefs]," Mr. Hilfiger revealed after the match at the nearby Bryant Park Hotel. "So instead, we did deep navy, and it just so happens that [Nadal] loves the deep navy, and wouldn't wear black, and doesn't wear white. It just sort of worked out well." It was later revealed that the designer was wearing his own new underwear, but in white.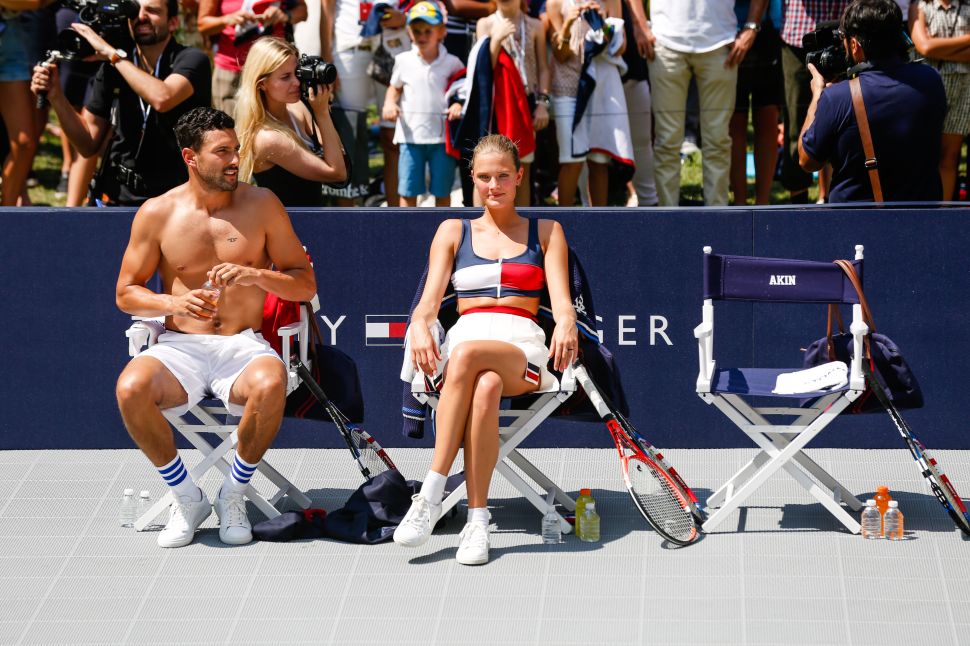 The afternoon event was just one of a slew of appearances on Mr. Nadal's schedule, and he does not plan on taking any time to relax before he hits the real courts at Flushing Meadows. "There are many days before my first match. I will go to the gym after all of the things that we are doing today," the Spanish tennis legend said with a smirk. Next, he would be heading just a few blocks away to a crush of fans who had camped out at Macy's for his personal appearance. "Tomorrow I'm going to be practicing, then doing a charity event with John McEnroe and his academy. I keep working hard for the rest of the days. We have to work as much as we can, as much as we need, to be ready for the U.S. Open. It's non-stop work. It's apart of my life. If you have things to do, it's always good. The bad thing is when you have nothing to do."