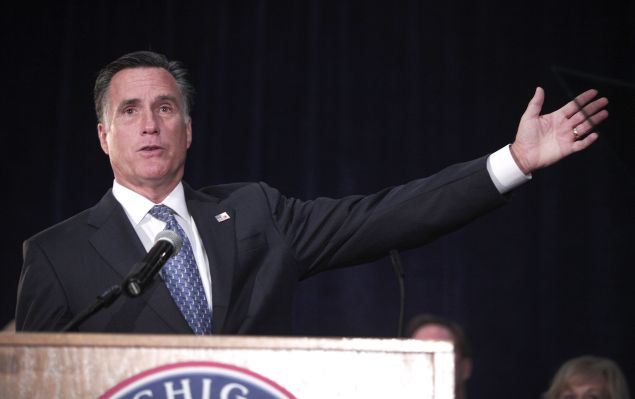 There is on the edge of the spectrum a thought awakening that former Massachusetts Gov. Mitt Romney, who ran for president in 2008 and 2012, might get back in the race. It comes naturally to think so. Before the race got seriously underway Mr. Romney met with Jeb Bush to consider their fates. Mr. Romney's wife Ann went so far back then as to suggest on Cavuto that if Mr. Bush ran, Mr. Romney would stay out, as they both represented a similar center of establishment principles and would appeal to the same donor base. This past week, three of Mr. Bush's key advisors have slipped away as Mr. Trump has made unprecedented advances in Iowa, New Hampshire and South Carolina, the three states, as former Governor of Texas Rick Perry has said recently, where the race to 2016 is to be won.
As Mr. Trump rises, and the Real Clear Politics current average has him ahead of the pack in New Hampshire at 28.3 percent, he rises at the expense of Mr. Bush, who is at 9 percent in the same poll.
As the "establishment" candidate, Mr. Bush is suddenly being viewed as circling the drain—the frantic call goes out to Mr. Romney to enter and save the day.
But Mr. Romney is not now and has never been exactly an "Eastern Establishment" candidate, an archetype which Jeb Bush and his famous political family form and fulfill. He brings a somewhat different political ethic and conservative moral base to the Republican Party, in my opinion, a heightened, seasoned and more mature sensibility and Republicans should be delighted to have him.
For it is the current conservative standard that is killing Jeb Bush, a standard advanced to the apogee of provincial incompetence by brother W., sure to be fully outlined in Dick Cheney's new book, Exceptional: Why the world needs a powerful America.
Mr. Romney is not now and has never been exactly an "Eastern Establishment" candidate, an archetype which Jeb Bush and his famous political family form and fulfill.
The rise of Mr. Trump brings a full repudiation of the Republican standard since the rise of the Brothers Bush. The provincialism and political cultism of this era withheld support for two runs to the presidency by Mr. Romney. While establishment conservatives were being exceptional to one another, Mr. Romney advanced by hook or by crook at a cost to himself of a rather large fortune. What a contrast to the day of Dwight Eisenhower and the postwar conservatives. Eisenhower considered Romney patriarch, George Romney, governor of Michigan, to be among the rare few qualified to seek the presidency.
READ Waiting for Mitt Romney: The Fixer Could Tame FIFA (and Maybe the U.S.) 
That current standard now wants the high-minded Mr. Romney to sally forth and save the day against what New York Times columnist Maureen Dowd calls "the Good Son" is touching, but it is not enough. Too much water under the bridge from the Not-So-Good Son, and his peripatetic sidekick in the big cowboy hat, who never fired a shot in anger except that time he shot his 78-year-old quail-hunting partner in Texas, Mr. Cheney.
They will not get Mr. Romney now. Because Mr. Romney actually is "exceptional." And it is quite unlikely after this summer that Mr. Romney could unseat Mr. Trump anyway. Mr. Trump, like Bob Dylan or Sarah Palin, is a full-bore cultural phenomenon. They appear every 60 years or so and change everything. They shatter the orthodoxies of the establishment when it is high time that they find change. Republicans actually have the advantage and the jump on the century that this metamorphosis occurs first in their camp, although it is beginning to spread to the Democrats who have pressed Howard Schultz, chairman and CEO of Starbucks, to join the Democratic primary.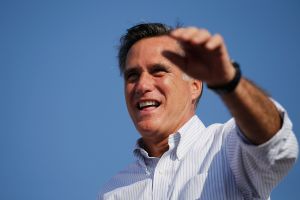 The new form is already taking shape and reformulating what it means to be a conservative. Mr. Trump aside, the first debate brought two new players into the limelight—neither of them politicians—from what might be called "the new normal": surgeon Ben Carson and especially former chief of Hewlett-Packard Carly Fiorina.
Ms. Fiorina's performance in the debate was exceptional. She is a rising star in America today. Unlike the crass and proudly provincial "exceptional" model of Mr. Cheney and W. Bush, which time and history are rapidly leaving behind, she is urbane, tough, smart and worldly wise. She is possibly the most interesting candidate to enter national politics today since Mitt Romney joined the run for POTUS in 2008.
If Mr. Romney suddenly entered today simply to defend the declining Bush dynasty against the rising New York dynamism of Mr. Trump, it would shatter the creative awakening that is happening to conservatism and paralyze the rise to positive influence of Mr. Carson and Ms. Fiorina. It is simply not in Mr. Romney's character to do that.
Mr. Romney praised Ms. Fiorina's talent early on. He even saw the potential of a presidential ticket with two women in 2016; Ms. Fiorina and New Hampshire Senator Kelly Ayotte. Visionary.
Surely President Fiorina should call up Mr. Romney in 2017 to be her first chief of staff, to institutionalize a new political ethic in the rising chronicles of conservatism, possibly even one which could to run the century.
[Disclosure: Mr. Trump's son-in-law, Jared Kushner, is the publisher of Observer Media.]