Beer lovers and connoisseurs are about to get a new haunt.
World of Beer, the chain tavern known for its enormous selection of craft beer, is opening its first NYC location in Chelsea next Monday. The bar and restaurant will be located on 8th Ave between W 25th and 26th streets and will feature a selection of 500 beers including 50 rotating taps.
The company—which has 71 locations in 21 states—has 23,000 varieties of beer in its database. With a draft menu that rotates weekly, this makes for a wide spectrum of offerings that includes Gluten-free beer options, more than 20 varieties of ciders and craft beer cocktails. This, of course, is in addition to the bar-length coolers that will chill 450 bottled varieties, perfectly displayed and categorized by country of origin.
The Chelsea location is partnering with 12 local breweries that will give it a true NYC feel. A few are: Six Point, Kelso and Brooklyn Breweries (Brooklyn): The Bronx Brewery and Gun Hill Brewing Co. (The Bronx); The Blue Point Brewing Company (Patchogue) and Singlecut Beersmiths (Astoria).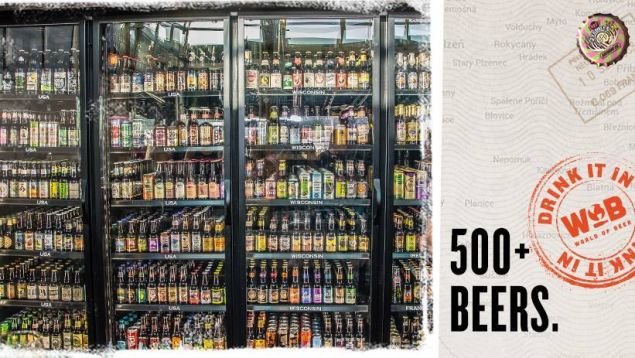 Like the size of its menu, the size of the bar itself will be colossal as well with a 5,000-square-foot space that includes a 1,200-square-foot indoor patio. And there's big beer too—drafts can be served in the "Infusion Tower," a nearly three-foot-tall, three-inch-wide stainless steal pipe designed just for World of Beer.
The franchise's signature "Tavern Fare" menu featuring comfort foods and traditional bar offerings with a contemporary spin will be served at the NYC location as well. Some standout items include a hanging Giant Bavarian pretzel with a 100 year old recipe, a Guinness "brat" slider and the Chimay Burger topped with melted Chimay cheese made at the brewery in Belgium. Additionally, BEERunch will be served on the weekends with waffles infused with Belgian ale and a beer-brined chicken and waffle sandwich.
https://instagram.com/p/60xvShBEnm/
A stage will be used for live music on Thursdays, Fridays and Saturday and beer tastings at other times. You can call World of Beer a sports bar too, for the screens will always be showing the games.