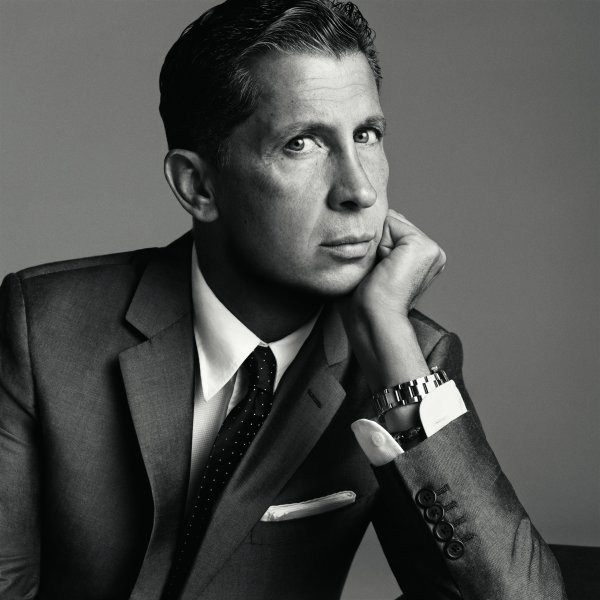 Stefano Tonchi is a very punctual person. It was exactly two minutes past 1:30 and his publicist has already emailed me to know that they have arrived. And they're waiting. Meanwhile, I'm jogging down Greenwich Street, running exactly five minutes late for our scheduled lunch at Locanda Verde.
When I finally arrived, Mr. Tonchi was patiently waiting (or so I hope) at a table in the rear of the Tribeca restaurant, decked out in a khaki suit and a denim button down. Yes, there's also an Apple Watch on his wrist (which he later tells me he adores, since he can pay for taxis with the flick of a wrist) and he was definitely ready to get down to the matter at hand.
Now in his fifth year as editor-in-chief at W, Mr. Tonchi quite a lot to reflect on about during his half decade at the Condé Nast publication. It's a generally agreed upon notion that he has done a great job of cleaning up the glossy, staffing it with well-respected editors, who Mr. Tonchi refers to as characters: Edward Enninful, Giovanna Battaglia, Jane Larkworthy, Rickie de Sole, and so on. But more than just banking on the prowess of the full-time staffers, he prides his relationships with the top photographers in the industry. "Steven Meisel, Steven Klein, Mert and Marcus, Mario Sorrenti, Peter Lindbergh, Inez and Vinoodh, you say it, we have them," he boasted at one point.
So starting with his latest September issue, starring Gigi Hadid as a Post-It girl (and what that term actually means), we worked our way back to day one at W with Mr. Tonchi.
Why did you choose Gigi for your September 2015 cover?
Because she is more than a model. It's the idea of looking at a model outside of the inner circle of fashion and looking at these new girls that are Post 'It' girls, which is a double entendre. The generation is post-"It" girl, but also, they post a lot on social media. And sometimes their audience is larger than the audience of the magazine they're working for. Think about Kendall Jenner, who has 25 million followers [ed. note, at publication time she has 34.7 million]. That's more than Vogue.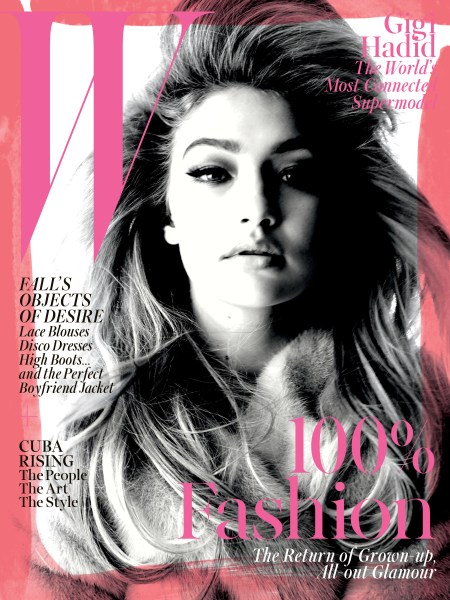 What do you think interviewer, Lynn Hirschberg, added to the story?
She is a great observer of pop culture and changes. She's the one who told me first about reality TV and how it's changing the way we perceive TV and society. She had this idea of Gigi at the intersection between fashion and social media and how the digital revolution has kind of reconfigured the dynamic between mainstream and niche. [Gigi] is really mainstream, but she can also be niche. It's similar to how there's no longer a distinction between uptown and downtown.
What other pages in the September issue are you most proud of?
I'm very excited about our first-ever model competition. I have to say, I was very skeptical. It was not a marketing plan, [where we said] 'O.K., let's do this and make people talk about models.' It was something that was brought up very organically. Edward [Enninful] was upset about some model being constantly hired for every job and sent out one of his usual Instagrams or Tweets, where he said 'I'm sick of today's models and I want new models. Who wants to be a model for W?' Suddenly he got hundreds and hundreds of messages. We ended up [entering in] a partnership with IMG because the quantity was so big and also, you need expertise and some structure. We had a huge amount of people that entered and we cut it down to five. Then we had our readers vote and then Edward and the people from IMG chose this girl from Florida. She looked absolutely incredible in pictures, I could not believe it.
You speak a lot about how important photographers are to your magazine.
I'm very excited about our photographers. They are really one of the great, great values that W offers. When I started five years ago, it was very difficult to keep them on. These people are not very, I would say, friendly; you have to conquer their trust to bring them back. They don't work for just anybody, you don't see their work in every magazine. You have to give them a certain level of creativity and freedom. I had Mert and Marcus [in this issue] and they have a fantastic story.
They did the party spread?
Yes! You know, that could have been a story that I could have stretched on for 40 or 50 pages, or make it the whole issue. But I believe that you need more than just pictures in a magazine. You need to have different lengths, different styles, different voices.
This is your fifth anniversary with the magazine. What was your first day on the job like, half a decade ago?
When I got [to our office], on 48th Street in the Fairchild building, we were preparing to move W from Fairchild. Condé Nast wanted to physically separate [us], but there was no space in their building in Times Square. One of my first days on the job was to see our new floor and figure out what to do with it. I had to fight to get grey carpeting, because it was purple and green. It was fun to be part of Condé Nast, but not in their building. This is the first time that we're with all the other magazines and it's different. As a culture, it's much more corporate. I had to remove a TV screen and it literally took me six months. To bring art into the building [for my office] was four weeks of paperwork. Technically One World Trade Center is part of Port Authority, so they have a lot of rules and a lot of security.
When you first arrived at W, what did you set out to change?
I think W has a great tradition of being more than just fashion, but when I arrived there, there was very little of that left. They lived in a very strange place where it was totally normal to have a 50 page [fashion spread] of somebody torturing somebody else and then nothing else to read for pages and pages. One of my goals, and something that Si Newhouse gave me as a mission, was really to bring back W to a larger audience. My goal was to expand two very important parts of the magazine: art coverage, which was there, but not really organized, and the relevance of the magazine in the Hollywood community with films and celebrities that drive the public's interest, as well as advertising.
What draws your readers to buy W every month?
They come to W to read about something for the first time, to be challenged, to be surprised. Our audience doesn't like the usual. And they don't come to W to find out where to find a dress for less or where to find the 6 trends of the season. A lot of our stories are about things that a certain audience likes to talk about at cocktail parties, lunches, dinners. What is the conversation for the affluent American audience right now? Art, they love to talk about art and compare the art that they bought.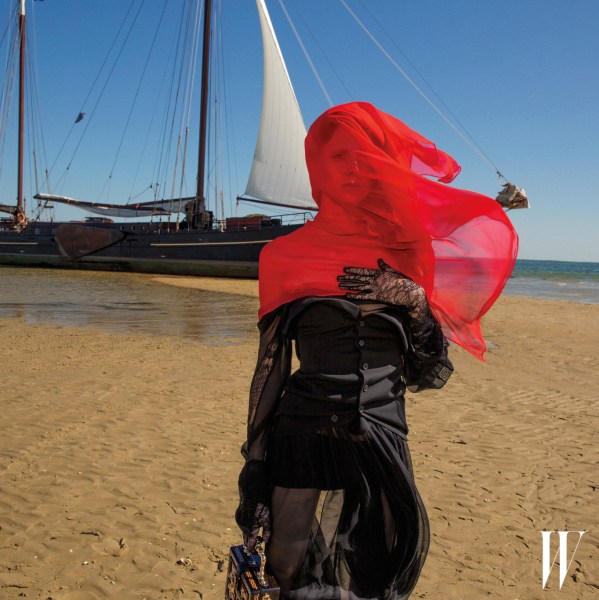 Do you often receive feedback from your readers, in the form of letters or emails?
Yes, I do. Somehow, I'm always surprised as to how few I get. Our content is very provocative, and the U.S. at large is not always so tolerant, but somehow, I think you open W at your own risk and I think people know that. Even recently with the 'Naked Model Story,' as it was called, it was really about actually celebrating these women, talking about building their own brand and using their own bodies to tell their story. I would have expected hundreds of letters or phone calls from crazy people, or people asking to cancel their subscriptions, but no.
This past May you hired Dirk Standen, the former editor-in-chief at Style.com, as digital creative director at W. How did that come about and how has he made an impact so far?
I saw this great opportunity, when they decided to transform Style.com into something different and to absorb a lot of the content into VogueRunway.com. He was very interested in something else, so we offered him the job. The Gigi video [for the September issue] was his idea, and that was really fun. The [August] Pop Issue was a huge digital success, with something like 17 or 18 million reach.
What other projects do you plan on tackling with help from Dirk?
You will see more [changes] in 2016. That is when we are really re-platforming the website, redesigning it and integrating social media into our digital strategy. A lot more is happening on digital, because it brings alive topics that are part of the DNA of W, [which is] a voyeuristic approach to the life of the rich and famous. That's what every kid on his mobile device wants to know. They want to know how actors and actress dress in, where they go, what are they wearing.
Is there a particular cover that's your favorite over the five years?
I would say that 'Good Kate, Bad Kate' is one of my favorites. Kristen Stewart is one of my great September favorites, and George Clooney with Yayoi Kusama, because it is less stuffy and more my W, I would say.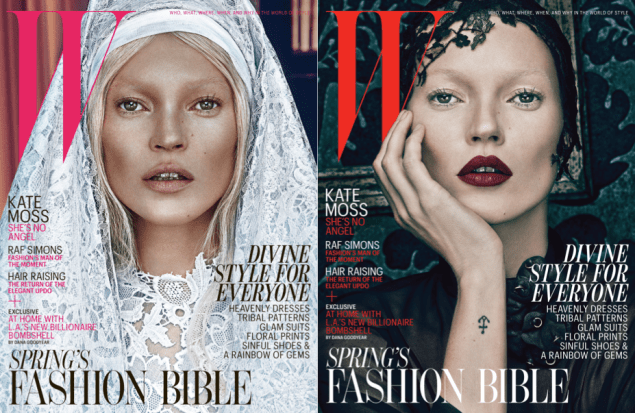 What's your goal for the next five years at W?
To make the imprint of the magazine more and more precious, more special and more collectable, more unique, but different. A little bit like this issue, with gold leaf on the 'W.' I want to make it like a beautiful object, something that you want to hold onto, because I believe that the future of print is to be more special.
Kind of like a coffee table book?
I take [that] as a compliment. You use a coffee table book to send a message to people and say, 'I'm part of this club. I know this photographer. I know this book.' I remember people going around on the subway, holding certain kinds of magazines to communicate how they wanted to project themselves. If [W] is something you put on your coffee table, you're holding onto it when most of the print at this point is disappearing or being seen in the trash.