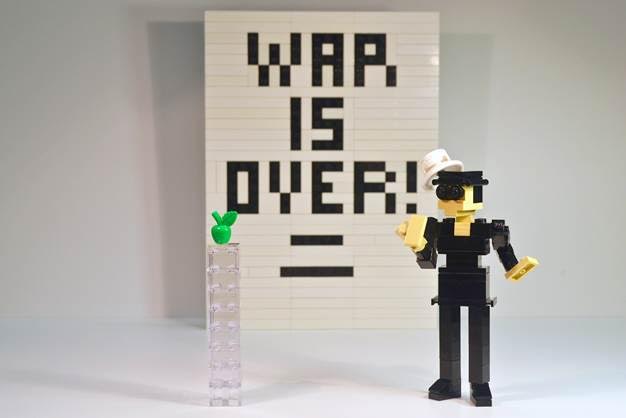 There are many ways for an artist to judge his or her success—a major museum retrospective, a public commission, inclusion in an art history text, a lasting impact—but Yoko Ono has achieved one of the rarest, and kookiest.
Lego "Master Sculptor" Veronica Watson has designed a Ono figurine in honor of the Fluxus pioneer's current show at the Museum of Modern Art.
Incorporating the artist's famous green apple piece, and her slogan art, plus her winsome white hat, the piece was created out of 240 pieces. "I saw the MoMA exhibit in July," said Ms. Watson, who has previously tackled Pablo Picasso's Guernica, "and I thought it was really great; I especially enjoyed reading through a wall line with the text from Grapefruit (1964). I really admire Yoko, I think her work is important, and I think it is great that she has finally gotten her "one woman show!" She continued: "I am always looking for inspirations… especially ones that reference things that are happening in New York or pay homage to famous figures. I knew that MoMA's 'Yoko Ono: One Woman Show, 1960-1971' would be closing in a couple of weeks (Sept. 7), and I thought it would be great to celebrate Yoko with a LEGO build."
The Yoko model, though not for sale (that's a hint, MoMA gift shop) will be on display for the next 3 months at the Lego Discovery Center in Westchester.