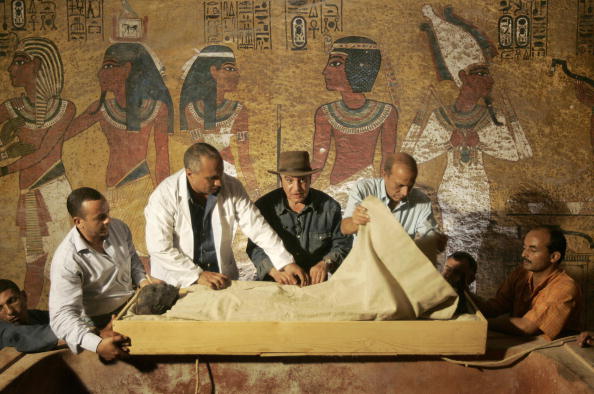 News hit recently that British antiquities specialist Nicholas Reeves may have discovered evidence of a secret chamber inside the tomb of Egypt's King Tutankhamun that holds the remains of Queen Nefertiti, wife and chief consort to Tut's father, Egypt's only monotheistic pharaoh, Akhenaten. But hold your horses—Mr. Reeves' claims are disputed by leading archaeologist and former Egyptian Minister of State for Antiquities Affairs Zahi Hawass, who is well known for his own research on King Tut, reports The Art Newspaper.
King Tut's tomb was first discovered by Howard Carter in 1922 in a virtually pristine state. Carter and his team unearthed close to 2,000 objects, which have gone on to tour the globe in blockbuster museum exhibitions, making Tut into a household name. Indeed, the touring exhibition "The Treasures of Tutankhamun" by the Metropolitan Museum of Art netted over 8 million visitors.
Mr. Reeves, who has held curatorial positions at the British Museum and the Met, says according to digital scans of the walls in King Tut's tomb, taken by Madrid-based art specialists Factum Arte, he's detected two plastered-over doorways he believes lead to undiscovered chambers. Through a reexamination of a representation of Tut on the north wall of the tomb, he now believes the image to be of Nefertiti, based on recurring motifs found in known sculptures of the Queen. This could indicate that the Queen's tomb lies behind those walls.
Alas, Mr. Hawass is more than skeptical. He told The Art Newspaper there was "very little evidence" to support the idea of a hidden burial chamber for Nefertiti connected to Tut's, and said he thinks the theory will "die."
Mr. Hawass may have reason to be wary. In 2000, he oversaw excavations near Tut's tomb based on radar scans done by Mr. Reeves that pointed to the discovery of a storage chamber, but nothing was uncovered.
Perhaps best known for leading a team that performed a full CT scan of Tut's mummy in 2005, Mr. Hawass is credited with revealing the congenial defects and ailments that likely caused his death.
However, Mr. Hawass' own career is filled with as much controversy as fame.
His rise in the Egyptian ministry was largely due to his connections with the regime of former Egyptian president Hosni Mubarak, from which he was ousted following uprisings in 2011. He was also accused of smuggling artifacts from the Great Pyramid of Giza in 2014. And he was nearly sentenced to a year in prison due to involvement with a rigged contract bid for the gift shop at the Egyptian Museum in Cairo (that case was overturned).
A sort of modern day Indiana Jones—he's often pictured in a wide-brimmed hate and khakis on digs—Mr. Hawass was also a the star of a History Channel reality show in 2010, called Chasing Mummies. Mr. Hawass was noted for his spectacular on-screen flip-outs, frenzied enthusiasm over potential discoveries, and abusive verbal tutelage of trainees.
On Mr. Hawass' brief foray into reality television, The New York Times' Neil Genzlinger wrote in 2010, "One hopes that this show will, like some of those ancient pharaohs, die young, or that Dr. Hawass will unearth some ancient Egyptian chill pills and swallow a generous helping."
Here, Zahi Hawass in a clip from Chasing Mummies.