The murder of Cecil the Lion inspired a remarkable outpouring of social media activism directed against trophy hunting and Walter Palmer, the Minnesota dentist who spent $55,000 to hunt Zimbabwe's tourist icon. But another monster remains in the midst that is decimating the wildlife of this African nation; its dictator who has held office since 1980, 91-year-old Robert Mugabe.
Mr. Mugabe recently threw himself a birthday party in February at an exclusive lodge, spa and golf course in Victoria Falls, Zimbabwe, which was estimated to cost $1 million. The party with nearly 20,000 in estimated attendance featured main courses of a young elephant, two buffaloes, two sables, five impalas, a stuffed lion and crocodile as a gift along with 40 cows and another elephant. The dictator also gave a 90-minute speech to his guests in which he called for the seizing of foreign owned safaris within the country's borders, similar to his land reforms that have been disastrous for the country.
In 2000, Mugabe had landowners expelled under false pretenses that they were ruining the country's economy, had their land seized and divided up among his supporters. The result was ruinous for the country's economy and wildlife poaching began to spiral out of control. According to a National Geographic report, by 2007 only 14 private game farms existed in the country, in comparison to the 620 prior to Mugabe's land reforms in 2000.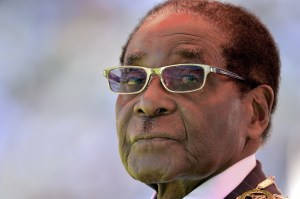 In 2002, the United States and the European Union imposed sanctions on Mr. Mugabe's administration in response to allegations of human rights violations and election rigging. Since then, Mr. Mugabe has been outspoken in his sentiments against the United States and Britain while the majority of Zimbabwe's population live in extreme poverty, dependent on food aid or driven to illegal practices such as poaching to eke out a living. Despite his vocal anti-Western sentiments, his country abandoned its own currency for the US dollar in 2009 after suffering from hyperinflation.
When Mr. Mugabe tripped and fell in public earlier this February, his ridiculous sense of superiority revealed itself. He ordered journalists who caught the fall on camera to delete the photos, then had his administration deny the fall. ''Nobody has shown any evidence of the president having fallen down because that did not happen," Information Minister Jonathan Moyo told the state-owned Zimbabwe Herald. Mr. Mugabe also fired 27 members of his security staff as a result of the fall.
Mr. Mugabe has also been highly outspoken against gay rights, compared himself to Hitler at a funeral of one of his cabinet ministers, and has been quoted saying, "only God who appointed me can remove me" in response to opposition to his long rule.
Mr. Mugabe's administration is also responsible for taking money from wealthy sadists like Walter Palmer for permits to hunt endangered animals in Zimbabwe. As culpable as Walter Palmer and every other trophy hunter surely are, leaders like Robert Mugabe, who blatantly profit from the exploitation of his country and its resources, need to be held accountable as well.
Please Read: Why Not To Get Angry Over The Fuss Made About Cecil