Some New Yorkers have medical conditions that prevent them from eating gluten, that pesky protein found in wheat, barley and rye. Others ditch gluten on the deranged misconception that the diet leads to weight loss—in which case, may I remind those kind folks that a 20-pound block of lard is, technically, gluten-free. But I digress.
No matter which gluten-avoiding camp one is in, everyone gets a hankering for a dessert now and then. And while certain NYC favorites like Magnolia Bakery's cupcakes and Dominique Ansel's cronuts are tragically off-limits, other sugary spots in the city are serving up delectable gluten-free treats—treats that, believe it or not, don't taste like cardboard dusted with sawdust. From sprinkle-coated towers of ice cream with gluten-free cones to colorful cloud-like macarons, here are some of the best.
Macarons at Maison Ladurée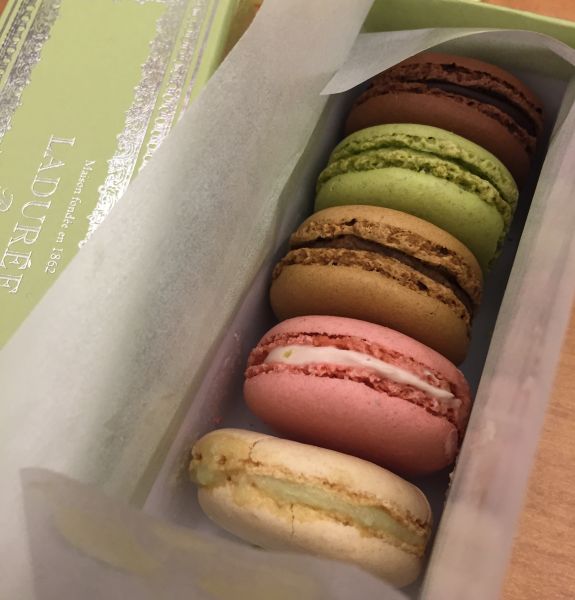 This delightful Parisian pastry shop was founded in 19th-Century France, but it thankfully now has locations in Soho and on the Upper East Side. Maison Ladurée is famous for its multi-colored array of heavenly macarons—dainty treats consisting of two round pieces of meringue, joined together by a yummy layer of buttercream or jam. The best part, besides the light, sweet treats melting on the tongue? They're made with almond flour—not wheat flour.
Maison Ladurée, 864 Madison Avenue and 398 West Broadway, www.laduree.com
Gluten-Free Cones at Big Gay Ice Cream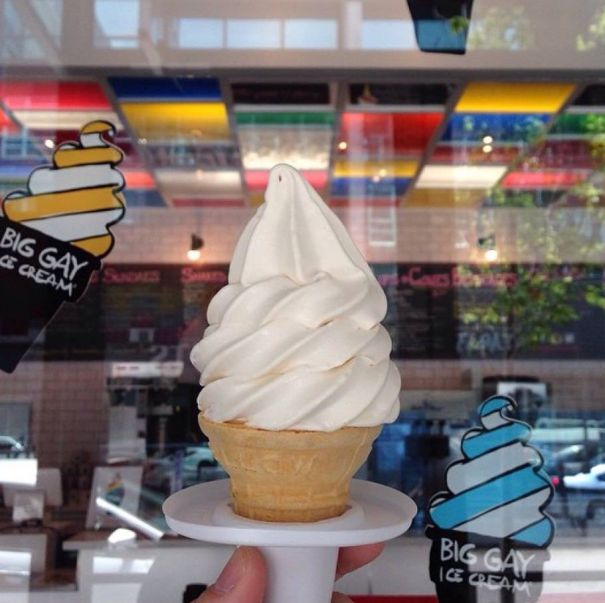 Most ice cream is naturally gluten-free, as long as customers aren't ordering, say, cookies n' cream or chocolate chip cookie dough. The real challenge? Finding an ice cream spot that offers gluten-free cones. Because chocolate-dipped vanilla soft-serve just isn't as fun when eaten out of a cup.
Big Gay Ice Cream thankfully offers gluten-free cones to hold their famously-elaborate ice cream concoctions—think vanilla ice cream with dulce de leche, sea salt and chocolate chips. Though most of their signature items are not gluten-free (many contain crushed pieces of flour-filled baked goods), visitors can customize their own gluten-free combinations from the shop's lengthy list of toppings. Whipped cream, chocolate sauce and maple syrup, anyone?
Big Gay Ice Cream Shop, 125 East 7th Street and 61 Grove Street, www.biggayicecream.com
Corn Cookies at Schmackary's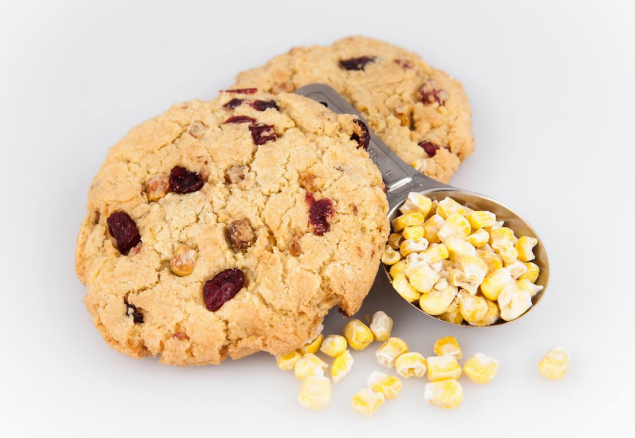 The goofy name may be embarrassing to say out loud, but this bakery's gluten-free offerings are anything but shameful. One can walk in on any given day and find delectable gluten-free cookies in intriguing flavors like "Monster" (gluten-free oats, peanut butter, M&Ms, semi-sweet chocolate and raisins) or "Yogi Bare" (gluten free oats, peanut butter, applesauce, cranberries, almonds, sunflower seeds, pumpkin seeds, raisins, maple syrup and cinnamon). My personal favorite is "Sweet Corn," a cookie made from corn flour, cornmeal, sweet corn, cranberries and pecan bits—the perfect blend of salty and sweet.
Schmackary's also has an online menu that helpfully denotes which of its daily offerings is gluten-free.
Schmackary's, 362 West 45th Street, www.schmackary's.com
Cookies and Cupcakes at Tu-Lu's Gluten-Free Bakery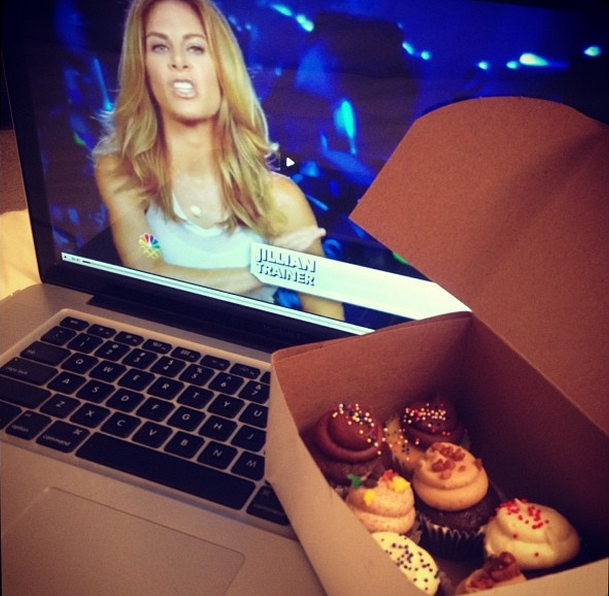 Tu-Lu's Gluten-Free Bakery was a dessert staple when I lived near the East Village (okay—and after I moved to a different neighborhood). Tucked away on East 11th Street, this cute little bakery serves up awesome cupcakes, cookies and brownies, plus other non-dessert-y gluten-free items like bread, crackers, granola and paninis. When stopping by, be sure not to miss the snickerdoodles.
Tu-Lu's Gluten-Free Bakery, 338 East 11th Street, www.tu-lusbakery.com
Unique Baked Goods at Jennifer's Way
Just a few blocks from Tu-Lu's is Jennifer's Way, another fabulous gluten-free bakery in the East Village. The bakery, founded by Crash actress Jennifer Esposito, offers heaps of different gluten-free (as well as soy-free, dairy-free, egg-free and refined-sugar-free) treats, from classics like cupcakes and donuts to harder-to-find items like whoopie pies and poptarts. The bakery also takes orders for full-size cakes.
Jennifer's Way, 263 East 10th Street, www.jenniferswaybakery.com
French Delicacies at Dominique Ansel Bakery
Yeah, yeah, so the cronut is a no-go. But that doesn't mean everything at Dominique Ansel's legendary Soho bakery is off-limits to gluten-free folk. The bakery has a number of gluten-free items, including the "Giant Blackberry" pictured above, described on the menu as "milk chocolate and rosemary mousse filled with homemade blackberry jam over a chocolate dacquoise cake." Um, yes please? Other gluten-free items on Dominique Ansel's menu include a strawberry pistachio pavlova, a four-textured chocolate cake, and chocolate pecan cookies.
Dominique Ansel Bakery, 189 Spring Street, www.dominiqueansel.com 
Coconut Macaroons at Magnolia Bakery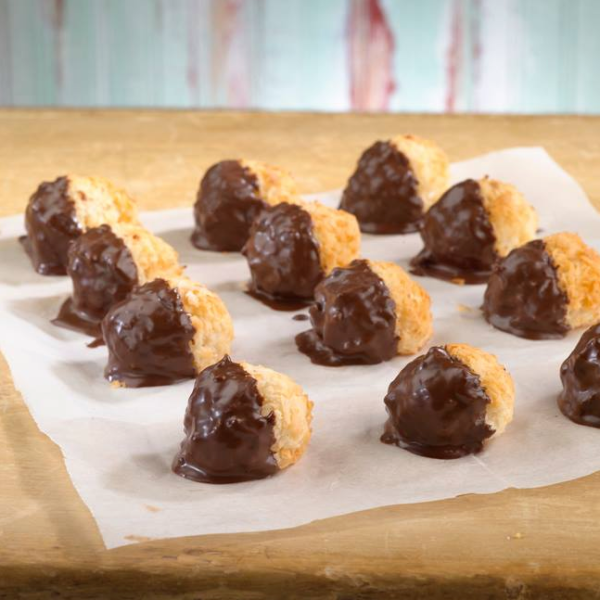 As with the case of Dominique Ansel Bakery, not all of Magnolia Bakery is off-limits for the gluten-free.
Macaroons, generally made from ground almonds, coconut, egg whites and sugar, are naturally gluten-free, and a yummy option for lovers of coconut. If one can bear the sight of the bakery's famed banana pudding (it contains gluten, sadly), Magnolia does sell coconut macaroons, both plain and chocolate-dipped.
Magnolia Bakery, various locations in NYC, www.magnoliabakery.com
Mango Sticky Rice at PURE Thai Cookhouse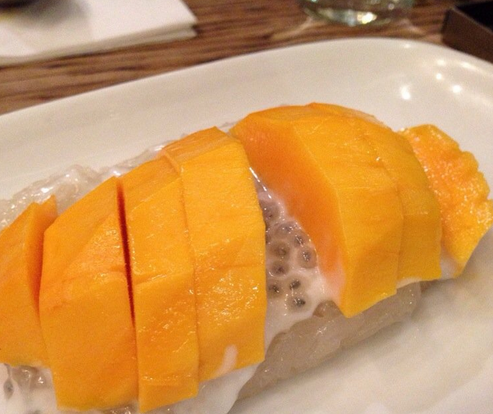 It's an unusual choice, but this Thai dish is one of my favorite desserts of all time. It's also naturally gluten-free.
One can find mango sticky rice at most Thai restaurants. For those unfamiliar with the crave-able treat, it's generally served as a bed of warm, sticky coconut-flavored rice topped with coconut sauce and slices of ripe, sweet mango. The mango sticky rice at PURE Thai Cookhouse in Hell's Kitchen is regarded as one of the city's best.
PURE Thai Cookhouse, 766 9th Avenue, www.purethaishophouse.com
Sweet Yogurt Creations at Chobani SoHo
Chobani is more than just the Greek yogurt cups people pile into their carts at the grocery store. The beloved brand also has a Soho shop dishing out jars of yogurt topped with mouth-watering combinations of sweet and savory toppings.
The cafe's sweet options make for the perfect healthy dessert. There's a PB&J-inspired option with peanut butter, red grapes, Concord grape jelly and roasted peanuts, one with pistachios, dark chocolate, orange, mint and honey, and another with toasted coconut, pineapple and toasted hazelnuts.
Chobani SoHo, 152 Prince Street, www.chobani.com
Mashbar at Hu Kitchen
Hu Kitchen is an absolute culinary haven for the gluten-free. If you have room after feasting on their entirely gluten-free menu that includes everything from elk meatloaf to paleo kale caesar salad to Moroccan chicken stew, head on over to the restaurant's mash bar—kind of like Pink Berry's fro-yo bar, but entirely gluten-free, and with a healthier twist. Try chia pudding topped with berries and cashew cream, or taro pudding topped with mango, berries and puffed quinoa.
Hu Kitchen, 78 5th Avenue, www.hukitchen.com