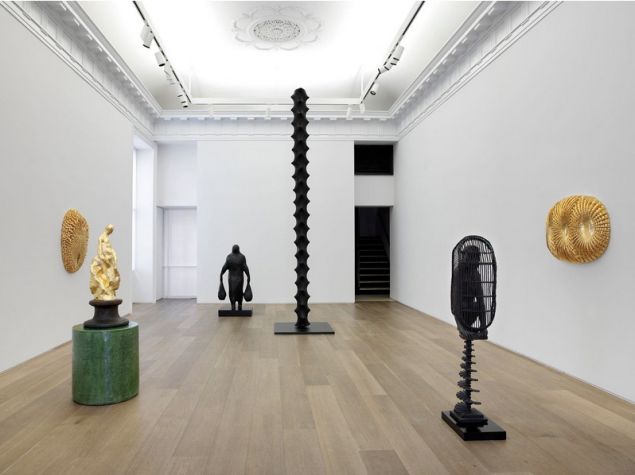 TUESDAY, SEPTEMBER 15
Opening: "Johan Creten: God is a Stranger" at Galerie Perrotin
A Belgian artist who lives and works in Paris, Johan Creten makes ceramic, resin and bronze sculptures that are inspired by both art history and the mundane. For his first solo show in New York since 1999, Mr. Creten presents several of his seductive ceramic torsos covered with glazed clay flowers, a hybrid eagle cast in black resin that evokes a bird stuck in an oil spill and a bronze column, which pays homage to the Romanian modernist Constantin Brancusi, amongst other whimsical works.
Galerie Perrotin, 909 Madison Avenue, New York, 6-8 p.m.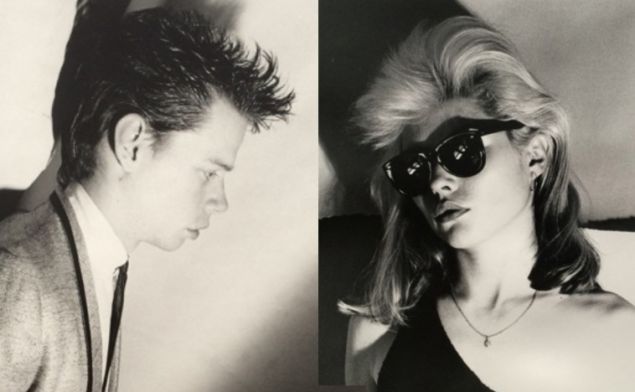 Opening: "The Downtown Decade: NYC 1975-1985" at Rare / Glenn Horowitz Bookseller
An overview of New York's creative scene between 1975 and 1985, this exhibition features art, music, literature and ephemera by some of the movers and shakers that made life in the city more fun back in the day. From geometric abstractions on paper by Philip Taaffe and black-and-white photographs of downtown celebs by Jimmy DeSana, Christopher Makos and Marcia Resnick, this show—which comes with its own period soundtrack playing in the gallery—has something for everyone. Snap up vintage copies of the bohemian newspaper East Village Eye and first edition books by William S. Burroughs and Allen Ginsberg, signed by the authors.
Rare / Glenn Horowitz Bookseller, 17 West 54 Street, New York, 6-8 p.m.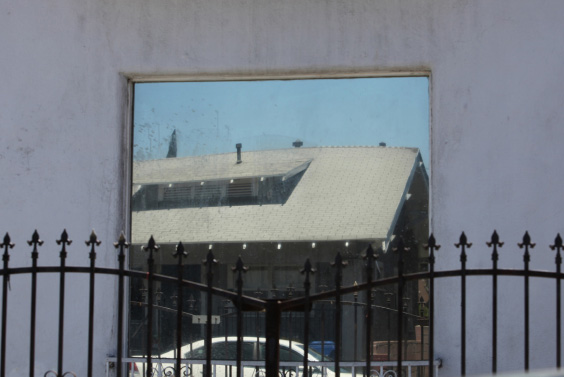 Opening: "Rachel Khedoori" at Hauser & Wirth
An L.A.-based artist who investigates architecture with photography, sculpture, installation and film, Rachel Khedoori takes over three floors of the gallery's Upper East Side townhouse for her first solo show in New York City in 16 years. Ms. Khedoori presents two sculptures (one of stacked rooms and the other that deconstructs the spaces of the first sculpture) on the first floor. On two, she offers photographs of L.A. house exteriors that focus on windows and the environs reflected in them and on three an installation consisting of a wallpapered space in one room and an disorienting film of that space screened in a facing chamber.
Hauser & Wirth, 32 East 69 Street, New York, 6-8 p.m.
WEDNESDAY, SEPTEMBER 16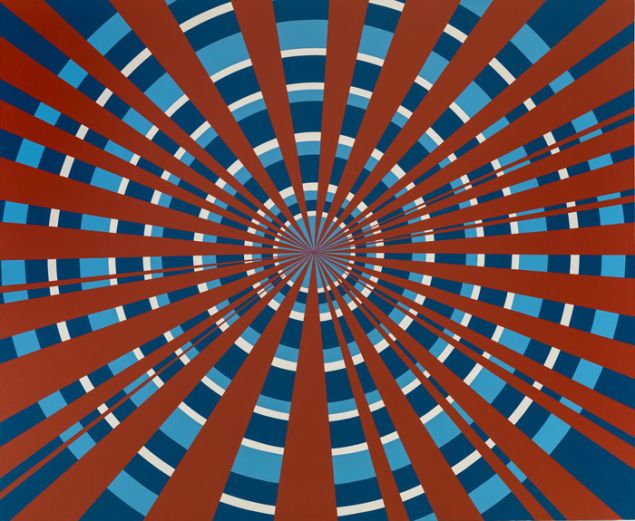 Opening: "Nassos Daphnis: Pixel Fields" at Richard Taittinger Gallery
A Greek-American artist who showed with the celebrated Leo Castelli Gallery for 30 years, Nassos Daphnis was known for his hard-edged abstractions. In the late-1980s he started using computer generated graphics from an Atari ST as studies for his colorful, geometric paintings. Truly ahead of his time, Mr. Daphnis' dynamic canvases are now seen as a precursor to the kind of pixelated paintings and photographs popular with today's younger artists.
Richard Taittinger Gallery, 154 Ludlow Street, New York, 6-8 p.m.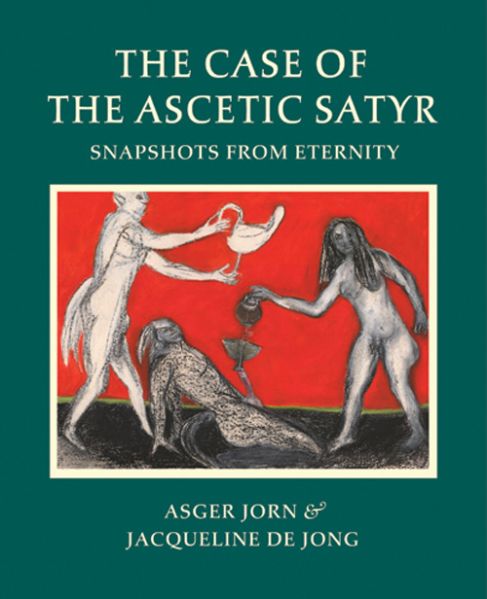 Talk / Book Launch: "Asger Jorn & Jacqueline de Jong: The Case of the Ascetic Satyr" at Blum & Poe
In conjunction with the exhibition "The Avant-Garde Won't Give Up: Cobra and Its Legacy," a group show that focuses on the art of the Cobra movement in Europe in the 1940s and '50s, Artbook | D.A.P. and Blum & Poe present artist Jacqueline de Jong in conversation with Kevin Repp, curator of Modern European Books & Manuscripts at the Beinecke Rare Book and Manuscript Library, Yale University. The talk is followed with a book signing by the contributors to Mr. Jorn and Ms. De Jong's "erotic novel" The Case of the Ascetic Satyr.
Blum & Poe, 19 East 66 Street, New York, 5-7 p.m., RSVP required
Opening: "Wolfgang Tillmans: PCR" at David Zwirner
A celebrated German photographer who has been exhibiting internationally since the mid-1990s, Wolfgang Tillmans makes his Zwirner solo show debut with a massive, two-gallery exhibition of more than 100 recent photographs of family, strangers, objects and environments that he finds fascinating on his world travels. The images are printed in a variety of sizes and thoughtfully installed by the artist to make the presentation itself a work of art. Mr. Tillmans also offers a new "table" installation of images of architectural elements and telescopes that explores color perception and a new, split-frame video that captures a rhythmic dance to the beat of the dancer's steps.
David Zwirner, 525 and 533 West 19 Street, New York, 6-8 p.m.
Talk: "Actual Size: Experimental Jetset" at Cooper Hewitt
A Dutch design firm founded by Erwin Brinkers, Marieke Stolk, and Danny van den Dungen in Amsterdam in 1997, Experimental Jetset has done graphic design for London's Victoria and Albert Museum, Amsterdam's Stedelijk Museum, and our own Whitney Museum of American Art. In 2007, the Museum of Modern Art acquired a large selection of the firm's work for its permanent collection. In conjunction with the exhibition "How Posters Work," the team discusses its idiosyncratic design projects, including the Dutch pavilion at the 2014 Venice Architecture Biennale.
Cooper Hewitt, 2 East 91 Street, New York, 6:30-8 p.m., $15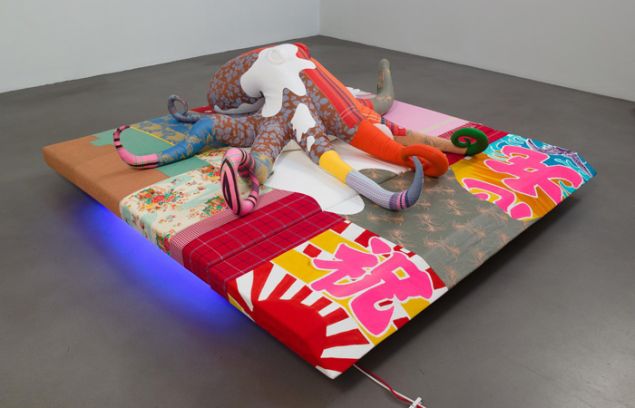 Opening: "Cosima von Bonin: CvB Singles Uptown Remix" at Petzel Gallery
Somewhat of a greatest hits show, "CvB Singles Uptown Remix" offers a survey of wall hangings and fabric sculptures created by Cologne-based artist Cosima von Bonin since 2000. Look for quilted Rorschach test images inspired by Andy Warhol, a mobile of three giant sculpted birds, a stuffed octopus atop a patterned futon and a soft sculpture of a big, scarfed St. Bernard sitting on a jumbo gift box—all crafted with great wit.
Petzel Gallery, 35 East 67 Street, New York, 6-8 p.m.
THURSDAY, SEPTEMBER 17
Reading: "Poetry Under Fata Morgana" at Mad. Sq. Art
As part of the programming for Mad. Sq. Art's exhibition "Teresita Fernández: Fata Morgana," a sprawling installation of golden canopies covering the walkways of Madison Square Park, Ms. Fernández and poet Emanuel Xavier have organized a reading of poetry by five Latino poets. The poets include Mr. Xavier, who has been featured on Russell Simmons presents Def Poetry and has spoken at the United Nations and the recent TED talks in Bushwick. Also reading is Sandra María Esteves, who is known as the "Godmother of Nuyorican Poetry," as well as the talented Bonafide Rojas, Machete Movement and True.
Madison Square Park, East 23 Street and Madison Avenue, New York, 6-7:30 p.m.
Opening: "Pouran Jinchi: Black and Blue" at Leila Heller Gallery
An Iranian-American artist based in New York, Pouran Jinchi takes text from Sadegh Hedayat's modernist classic, The Blind Owl, as her point of departure for a new series of paintings, sculptures and drawings that blur the boundary between calligraphy and abstraction. Repeatedly using a passage from the book that comments on the repressive society in which she lived, Ms. Jinchi—who is currently showing in the 56th Venice Biennale—creates works with a palette drawn from the colors of a bruise as it heals in response to social and political violence in the Middle East.
Leila Heller Gallery Chelsea, 568 West 25 Street, New York, 6-8 p.m.