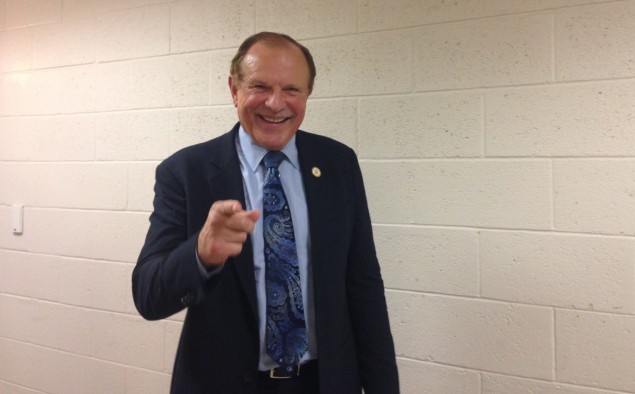 As the guest speaker at the Union County Democratic Committee's speaker series on Wednesday, state Sen. Ray Lesniak described the kind of governor he thinks New Jersey needs after Governor Chris Christie's term ends.
While he claims that he will wait until after the 2016 presidential election to announce a run, Lesniak is seemingly positioning himself for the spot.
Here are ten of the qualities he says New Jersey's next governor needs…
To be more interested in New Jersey than "his own political ambitions."

Governor Christie is currently facing ever-increasing criticism for his time away from his home state.

A governor who will give N.J.'s teachers "a hug and a thank you."

Last month, Governor Christie said that the national teacher's union deserved a "punch in the face." That instance was part of a long line of issues between Christie and teachers unions. Lesniak, though he has a contentious history with the board of education in his hometown of Elizabeth, believes the Christie administration has undervalued teachers.

Someone who will "stand up to ExxonMobil."

A recent $225 million settlement let ExxonMobil off the hook for oil contamination cleanup in N.J. that was initially valued at costing nearly $9 billion. Governor Christie touts the settlement as a success. Lesniak, on the other hand, claims that the settlement goes too easy on the corporation, making them pay "only three cents on the dollar." One of Lesniak's main focuses is the cleanup of Morses Creek in his home county of Union.

Who listens to questions from residents and "doesn't tell them to sit down and shut up."

Governor Christie's brash style has become something of a trademark for the sitting governor, even as he seeks the presidency. Lesniak's style is notably different.

Who will "stand up against animal cruelty."

Lesniak has been a longtime advocate against animal cruelty. He has introduced legislation banning the ivory trade, restricting the import of endangered species through ports operated by the Port Authority and against gestation crates for pigs.

Someone who ensures pensions for employees

Governor Christie slashed the state's contribution to the pension fund earlier this year. That decision was upheld by the state Supreme Court but unions are now petitioning the federal Supreme Court to reverse the decision. According to Lesniak, if "you have earned it, it is yours, you deserve it."

Who will support Obamacare.

According to Lesniak, support for the Affordable Care Act is critical to the future of New Jersey. Christie has said the law needs to be "fixed."

Who focuses on treatment of addiction before incarceration.

The governor and Lesniak have similar views here. Christie touts treatment before incarceration as an important reform during his gubernatorial run.

Who demands equal pay for women and stands up for Planned Parenthood.

Conservatives have panned Planned Parenthood this year pushing for defunding of the healthcare provider. As he did as governor, Christie has vowed to defund PP nationally if elected president. Lesniak has been a long-time supporter of PP and other issues that primarily impact women like equal pay for equal work. In 2011, he was honored by N.J.'s Women's Political Caucus for his work.

Who pushes for universal background checks for firearms and a ban on assault rifles.

Lesniak is an Army veteran. He said that "assault weapons belong in our military and in the hands of police officers if they need them." He does not believe that they should be sold to the general public.
Lesniak, it seems, it looking to position himself as a counterpoint for Governor Christie's time in office.