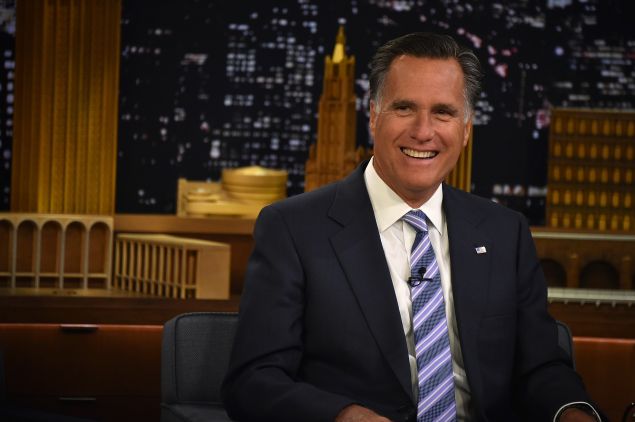 After two debates, five Republican candidates jump directly to mind when I think of who would make an effective president in 2016 by temperament and abilities. None of them will be on the stage in the next debate. They are my New Hampshire Senator Kelly Ayotte, who has also been suggested by former Massachusetts Governor Mitt Romney; South Carolina Governor Nikki Haley, whose singular leadership has effectively brought the Palmetto State through the greatest positive changes in business and culture since integration; Governor Brian Sandoval of Nevada, a sterling, contemporary representative of Western conservatism's infectious business spirit; General David Petraeus; and Mr. Romney.
All of these are "establishment" figures. All would be in tune with the rising political consciousness of America today without abandoning the traditions.
It is make or break time for former Florida Governor Jeb Bush, the Washington Post reports, and top donors warn that "the former Florida governor needs to demonstrate growth in the polls over the next month or face serious defections among supporters."
I do not think Mr. Bush will go forward. But his departure now should tell us something about how we got here and where we are heading: We defaulted to the old families and to a third Bush as we have not been able to envision our immediate future in confidence. So we defaulted to the old families. But leaving them behind now suggests we are approaching the moment of change through the glass darkly. We are ready to move, but to where? Mr. Bush's departure from the race will bring us back to the beginning and to a better perspective.
And at the beginning, the question for traditional conservatives was, "Who will best represent the Establishment?" Have as many as you like in the assembly, riding their Harleys, playing guitars, quoting the Bible, quoting Limp Bizkit. It's all good, but this is primarily a management position we are searching for and the candidate we need should have some prodigious skills there as well. Certainly Jeb Bush, as Governor of Florida does. Certainly Mr. Romney does as well.
If after the next debate something more does not emerge, we might follow corporate best practices again and draft a fixer.
From what we on the outside heard in snippets on Cavuto and in passing reports, Mr. Bush and Mr. Romney met early on to discuss who might best be the representative Establishment candidate. Who could most effectively raise money, win the nomination, beat Hillary, and this is key: govern effectively.
If Mr. Bush drops out, that question must be asked again of the others.
The prelude, run up and first debate brought a big splash. Others rise now, but part of the rising effect may only be an apparition from the decline of the front runner.
Former CEO of Hewlett-Packard Carly Fiorina and retired Johns Hopkins neurosurgeon Ben Carson are now gaining position. Each would mean a new approach, a new kind of political order, but no specific vision of that future has yet formed and there is no suggestion that it will. It does not evoke an attitude of confidence, but one of apprehension. Each would be a gamble.
The idea of applying corporate culture to government takes hold here as an auspicious new approach, yet it has not been clarified or explained how or why a business chief like Ms. Fiorina, or a corporate manager and surgeon with Mr. Carson's organizational skills, would serve well in a public forum as exalted as the Presidency.
But it is good that the Republican debates started so early. There may be time for a reboot. And since the corporate world joins today with the political, we might do what corporations do when the first wave doesn't work out: Proceed with a second search.
There are others who will follow former Texas Governor Rick Perry and Wisconsin Governor Scott Walker and soon fall away: Mike Huckabee, Rand Paul, Rick Santorum, George Pataki, Lindsey Graham. But if we started again with a new crew, former New York Governor George Pataki should certainly be again included, as when did a very successful three-term Republican governor of liberal New York not qualify to be President of the United States? This needs examination, as the problem here may be in our own desire for distraction and novelty and not with the governor.
And Mr. Petraeus should certainly be drafted into the mix. His thinking on future economic prosperity, converging efforts not so much with Asia but throughout the North American continent formulated with former president of the World Bank Robert Zoellick must be fully aired. It is well advanced over the dated think tank positions and the dangerous ad hoc thinking being put forth by those who will come to debate again on October 28.
The candidates still standing have not yet framed an auspicious future for America. If after the next debate something more does not emerge, we might follow corporate best practices again and draft a fixer. Like the 2002 Winter Olympics committee did when it all started going to pieces. They hired Mr. Romney. And we should keep him in the wings as well, on retainer.
Because if Jeb Bush drops out this month the line up may soon appear random; entertaining, like American Idol, but frightening as well when we think of the possibilities ahead for America and the world.
Mr. Romney's was always the better default position than Jeb Bush's. If Mr. Bush leaves and donors say they are losing faith, as the Post reports, mainstream and establishment cash and opinion should turn quickly then to Mitt Romney.