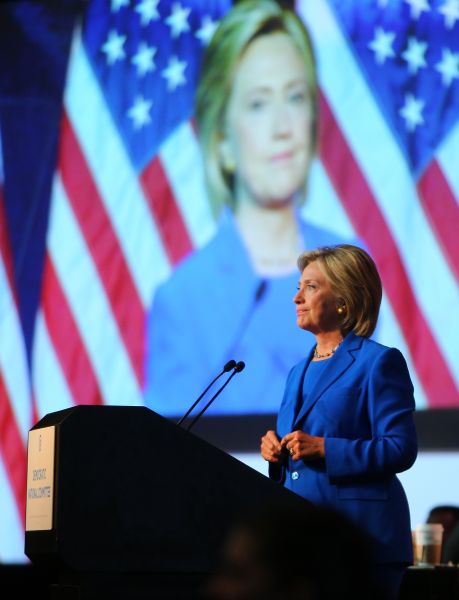 In 2012, the Republican Party thought it would be able to recreate the 1980 election of Ronald Reagan by unseating a sitting Democratic president. The GOP had been waiting 32 years for another delicious upset, and the most optimistic members of the party thought it could happen.
President Barack Obama was overseeing a still struggling economy, and the unemployment rate was hovering around 8 percent despite administration projections that the stimulus bill would drop it to 6 percent. Republicans gleefully trotted out the meme that "no president since Franklin Roosevelt has been elected with an unemployment rate above 7.2 percent."
Conservative circles compared Obama to President Jimmy Carter, due to their foreign and energy policies. These same circles believed a Ronald Reagan-type could be found to easily hand Republicans the election. But as desired potential candidates like then-Senator Jim DeMint and New Jersey Gov. Chris Christie (it doesn't matter what opinions of Mr. Christie are today; in 2012 he was golden), the party settled for the same candidates of yesteryear. And they lost.
It is the same problem plaguing Democrats in 2016.
Martin O'Malley, the "freshest" candidate in the Democratic primary right now, could gain some traction, especially given Clinton's unpopularity
Republicans in 2012 fell back on previous failures – Mitt Romney and Texas Rep. Ron Paul lost the presidential primary in 2008 to Arizona Sen. John McCain, Newt Gingrich had resigned from the House 13 years earlier, and former Sen. Rick Santorum had lost his re-election bid six years earlier by an eye-popping 18 points. The best hope some Republicans had for a 1980 repeat was then-Texas Gov. Rick Perry, who bottomed out spectacularly after a couple debates.
In 2016, though Perry and Santorum are running again, they are currently considered lower-tier candidates. I have to point out that former Fox News host/2008 presidential candidate/Arkansas Gov. Mike Huckabee is running again and polling in the top 10 of the large GOP field, but he's filling a specific niche and unlikely to become a frontrunner. Personally, he's on my list of "they're still running?" candidates.
Republicans in 2016 have the wider, fresher field. They currently have three candidates polling in the top 10 who have not previously held political office: Donald Trump, retired neurosurgeon Ben Carson and former Hewlett-Packard CEO Carly Fiorina (who previously ran for the U.S. Senate in California and failed). Other than former Florida Gov. Jeb Bush, the rest of the top Republican candidates are relatively new to the national scene, having been elected in 2010 or 2012.
The same cannot be said for the current crop of Democratic nominees. For them it seems, to borrow a concept from political cartoonist Gary Varvel, they are digging through the recycling bin for a candidate. The frontrunner and presumed nominee, Hillary Clinton, previously failed to run for the president, coming in second in 2008 to Obama just as Mitt Romney came second to McCain. Polling second for the confirmed Democratic candidates currently is Vermont Sen. Bernie Sanders, but he is hardly an unknown entity prior to his announcement. He's served in the Senate since 2005 and as the only outspoken socialist in Congress, he's been a well-known figure in the media for some time.
The only other announced Democrat who poses a threat to Clinton is former Maryland Gov. Martin O'Malley. He's also the "freshest" candidate in the Democratic primary right now, having gained national attention as the governor. He could gain some traction, especially given Clinton's unpopularity.
Just as Republicans had in 2012, certain popular members of the Democratic Party have announced they would not run in 2016 – most notably populist Sen. Elizabeth Warren.
Mr. Biden isn't the only candidate Democrats have considered besides Ms. Clinton.
It is unlikely that any other Republicans will enter the presidential race, but there is still intense speculation that Vice President Joe Biden (who is yet another previously failed presidential candidate) will tip his hat. The most convincing of this speculation comes from President Obama himself, who gave Mr. Biden his "blessing" to run if he wanted. It was on one hand a vote of confidence in his VP and a slap in the face to the presumably inevitable Hillary Clinton. (Despite Ms. Clinton's service to the Obama administration as Secretary of State, on a personal level, it's widely known that there's a lot of daylight between the Obamas and the Clintons; political junkies will never forget Mr. Obama's searing dismissal of Ms. Clinton's "likability problem" when he scowlingly told her during an ABC debate, "You're likeable enough, Hillary.")
But Mr. Biden isn't the only candidate Democrats have considered besides Ms. Clinton. One month ago social media was abuzz with rumors that Al Gore advisers were looking for a "path" for him to run. That's the same Al Gore who lost the presidency to George W. Bush in 2000 and now spends his days trying to save polar bears (when he's not making millions selling a cable channel to Al-Jazeera). Of course, such a notion of Mr. Gore running was quickly dismissed by his other associates.
But it did lead to some Twitter jokes about who might be next for Democrats to try and draft. Maybe John Kerry? We know the Democrats like secretaries of state.
As I've previously pointed out, Republicans aren't entirely free from the recycling bin comparison. Earlier this week reports surfaced that some in the GOP were again looking to Mitt Romney to enter the race and take over for Jeb Bush, whose campaign is floundering against that of Donald Trump's.
But Mr. Romney wasn't being speculated about because Republicans are unhappy with the current crop of candidates (and Mr. Trump may be the current frontrunner, but he does not have the "inevitable" branding that Ms. Clinton has). No, Mr. Romney was being suggested because a single subset of Republican supporters – known as the "establishment" – were looking for someone presumably better than their current candidate, Bush.
This is not to say that 2016 will go for Democrats the way 2012 went for Republicans. But the Party isn't instilling any confidence when it can't produce a fresh candidate in an open election.