The cool girls will have plenty to wear come spring thanks to a crop of rising female fashion talents who presented their spring offerings back-to-back earlier today.
Gabriela Hearst presented her third-ever collection this morning that was one-part minimal and one-part color and texture-infused. "I'm exploring color more than ever before so that's a big theme of this collection," Ms. Hearst told the Observer, though she herself was chicly clothed in a white silk top and black pants from the line. "We are also all about non-traditional tailoring, like a classic item with something a little unexpected."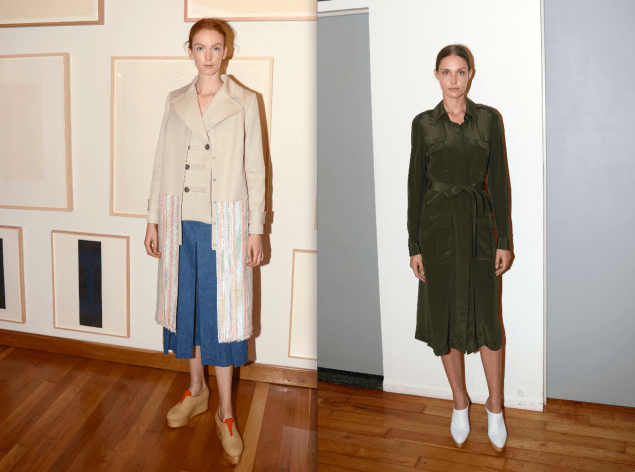 Ms. Hearst's surprising take on basic pieces was evidenced through staples done her way. A chic camel trench coat featured the entire lower half swathed in pink reversed tweed. A cashmere pea coat offered cool silk georgette pleats on the back, and even the most minimal items, a white silk T-shirt, a classic pant had Ms. Hearst's signature "stirrup" style hardware. Brought up on a ranch in Uruguay, Ms. Hearst seldom strays far from her roots. Everything from feminine white prairie dresses to cozy cashmere ponchos reflect her inspired childhood. "I have a right to do a poncho," she said. She sure does.
Tanya Taylor's presentation was buzzing this morning with big-tag buyers, editors and general scenesters. The designer's star is on the rise and her collections keep getting stronger (hint: more saleable) than ever. For spring she is slowly moving away from her signature hyper-feminine print dresses and skirts to something a little more in the way of 1960's prep. But Polo, this is not. In Ms. Taylor's world that means jumpsuits in desert-hued stripes, seersucker cotton plaid dresses and patchwork leather and dotted denim jackets layered over cotton twill separates. It was funky, a little irreverent and will appeal to a larger audience than in seasons past.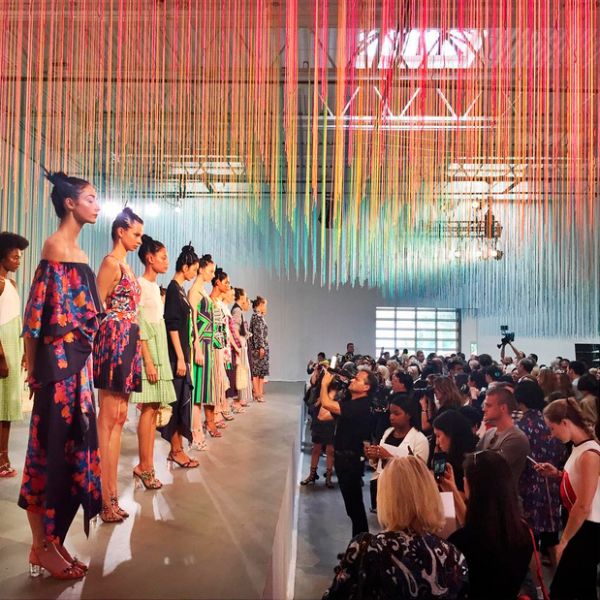 Later on in the day, street style favorite Rosie Assoulin also presented her spring collection to all the big hitters. After having won the CFDA Swarovski Award for Womenswear in June, Ms. Assoulin is garnering serious attention for her swoon-worthy pieces that are as appropriate at the MET gala as they are on the street.
Perhaps playing to the celebrity machine, she featured a wealth of red carpet gowns in pastel hues of blues, pinks and greens, mixed in with her signature crop-top-wide-leg-pant-combo in bold reds, yellows and gold. Ms. Assoulin's strengths are in making a black-tie look seem cool and casual, as evidenced through layering tank tops underneath gowns, showing just a hint of lingerie and pairing every look with flats. Nothing looks overdone, yet the pieces themselves are larger than life.