Fashion influencers come in many forms. Design teams, trend forecasters and the ever-present muse all play a part in the clothing that rocks the runways, but most important by far, are the people who actually buy those looks. Without the adventurous spirit, impeccable taste and, let's be honest, deep pockets of the true fashion shopper, the business would be lackluster. These women inspire around town with always-pulled-together looks and a sense of stylish purpose.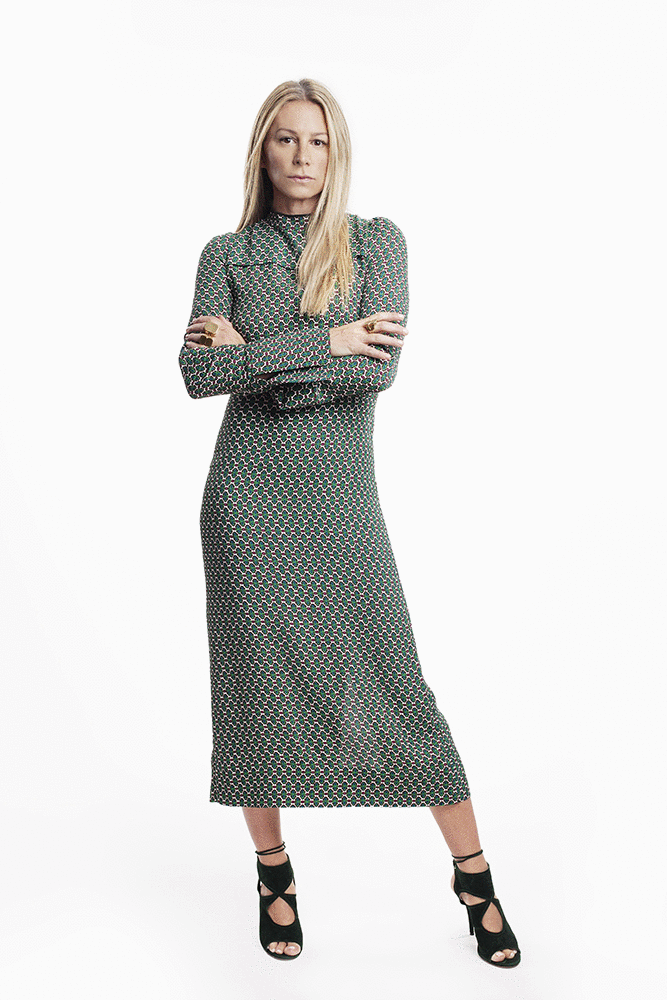 Jennifer Fisher, Founder and creative director at Jennifer Fisher Jewelry
What items have you already purchased for fall? Right now, I'm really into this line Steve J. and Yoni P. They make my new favorite jeans; the front of the leg is uneven, so it looks really great with heels. I buy a lot of Stella McCartney and a ton of Acne. I'm also really into this new designer Jacquemus and I bought a couple of his pieces recently.
What about shoes? Gianvito Rossi are great. I've had four foot surgeries, so I am picky about shoes. Recently, I've been buying a lot of Aquazzura heels, because they are fairly comfortable. At work, I always keep a pair of Céline shower slippers under my desk.
Where do you do most of your shopping? I love Net-A-Porter. My doorman makes fun of me if there is no bag from them waiting when I get home. It's so much easier for me to shop there, being a mom and running a brand. It's just hopping online for a few minutes and then I send back what doesn't work. I also hate dressing rooms because the lighting is always terrible.
Will you be investing in a bag this season? There's this Gucci python bag that I really want. It reminds me of a bag that I bought when Tom Ford was there, so it's sort of nostalgic. My fall bag might be that, though I do have my eye on a lot of Céline, too.

Are you planning any new beauty transformations for the cooler weather? This year I'm going to make my hair even lighter for fall.
And what about makeup? I'm a stickler for finding the best clear lip gloss, because I don't wear a lot of makeup. Right now I love Gloss Voluptué from Yves Saint Laurent. They are clear but have an undertone of color to them. 
What's on your to-buy list? This Fendi coat that I'm dying for. It's a patchwork, wool coat. I just pulled it up again while I'm on the phone with you and put it in my cart. It's expensive but I really, really want it.  Actually, I'm buying it right now.
Erin Walsh, Celebrity Stylist

What is your approach to building a wardrobe each season? It starts with what's flattering. Usually I center it on basic staples: the perfect belt, my favorite jean, blouse and jacket. I just got a Saint Laurent jacket, which is so expensive, but so beautiful, especially the cut on the shoulder. You don't need 80 floral tops, but if you have a couple of prints that you can mix in and different textures, that's great. I also think it's fun to use accessories to make your staples stretch. 
Where do you go for staples? The Row and Alexander Wang. I also just bought some high-wasted Acne jeans in Stockholm.
And for those bold, statement pieces? I thoroughly loved all of the Dries Van Noten prints. Whether that's silky tops or dresses or pants. Isabel [Marant] is an interesting go-to for jackets, especially when it comes to applying feminine proportions to masculine ideas.
What are your go-to shops in New York? Barneys is a mecca, but I've also always been a huge vintage shopper. The first vintage store in New York where I bought anything was Stella Dallas. They have really fun party dresses. I love Isabel Marant and Steven Alan is down the street from me; they always have a really good mix. Kirna Zabete does too.
Will you be investing in any new bags? I still want that really big Céline bag, but I haven't gone for it yet. I also want one of the Mansur Gavriel bags. Their tans are gorgeous. I'd go for one of their backpacks, but I love the totes, too. What Proenza [Schouler] is doing is amazing and so is the Jason Wu Diane bag. Also, I'd take anything from The Row, especially their alligator bag. 
Your client list includes Kerry Washington and Sarah Jessica Parker. What do they ask you about fall dressing? Everyone is always interested in denim. They ask about what's cool and what they should be buying.
And what is that? Cropped skinny jeans, but never jeggings. I don't think jeggings are flattering on anybody, even a 14-year-old model. 
What will your new baby Matilda be wearing this fall? Bonpoint has the prettiest color palette, but you can't have your baby's whole wardrobe from there because it's quite expensive. But I did get a baby faux fur vest from Zara!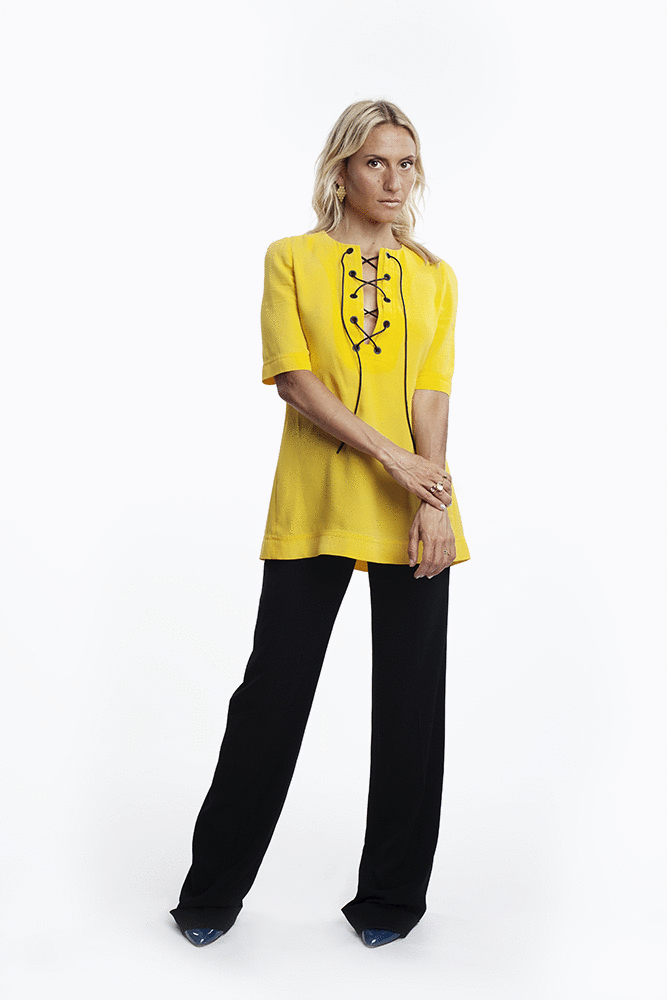 Lola Rykiel, PR Director at Sonia Rykiel
How do you approach shopping for fall? I like to start each season with a new pair of Manolo Blahniks. You know when you're going back to school and you want to get a new staple? A pair of Manolo's for me is always that. [This season] they've done some really cute Mary Janes in black.
What's the next item you will buy? Winter is so hard to think about, but when I think about having a chic, yummy coat, it makes me feel like things will be O.K. There's this Sonia Rykiel coat that I have my eyes on, which is pink with shearling. It looks really bohemian, like it belonged to a groupie, but it's so me. I also love Mr. and Mrs. Italy fur jackets, which are sold at Browns [in London].
Where do you do your Fashion Week shopping? I always get to Paris a bit before the Sonia Rykiel show and do all my shopping there. My favorite is a shoe store called Moss on Rue de Grenelle. They were selling Gianvito Rossi before everyone was talking about him and were the only ones selling Golden Goose [in Paris] for years. They always have the perfect ballerina from Givenchy; they really have the right eye. I also love Marie-Hélène de Taillac, a jeweler on Rue de Tournon. Her stones are very simple, but at the same time very dramatic.
In New York, where do you usually shop? I go to the vintage markets on 25th Street between Fifth and Sixth Avenue. Marlene Wetherell is my favorite. You can find original pieces there. I also like Acne for really good jeans and staples.
Who are some of your style icons? Especially being French, I love Carine Roitfeld. I always heard my grandmother [Sonia Rykiel] say how Carine had something special, which was a huge compliment from her. She's been around for a long time and I think she's amazing, beautiful and chic, and she knows herself. That's a really good quality.

What will your fall beauty regime consist of? I usually get my beauty products at Katresha Pure Skin Care in Laguna Beach, Calif. It's completely organic and non-toxic. Each time I go, I get my full skincare range, from the cleanser to the exfoliating mask, everything! I'm continuing that, especially since I've been sitting in the sun.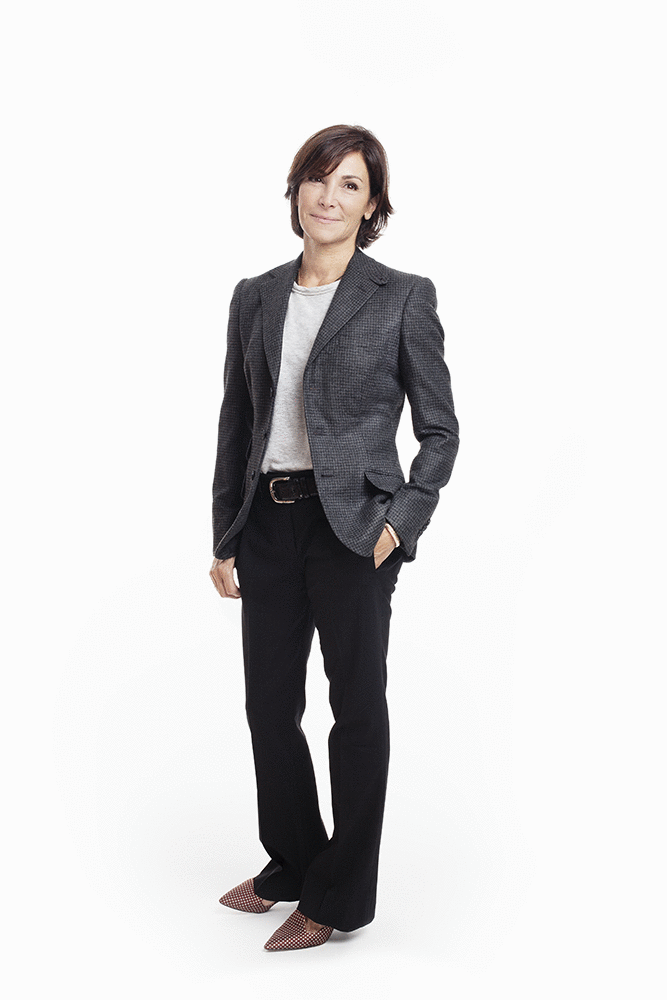 Lynn Tesoro, Founding Partner at HL Group 
What are your favorite brands? I'm a minimalist at heart. My go-to's are Prada, Ralph Lauren's made-to-measure jackets, The Row and Maison Margiela for trousers. Also, the way Dries Van Noten mixes and does layering is sort of amazing. 
What's your approach to fall shopping? When I go shopping specifically to buy something, it never works out. I'm a big tear sheet girl, so all my magazines have little notes I make for myself.
Will you be buying a new bag for fall? I actually just purchased a Mark Cross Hart bag in Marron. They're doing such great bags and I hadn't bought a new one in a while.
And what about jewelry? I wear a gold ID bracelet and a few watches I switch off and on, but my jewelry stays pretty consistent, with the occasional addition of pearls from Vita Fede. 
How do you approach getting dressed for New York Fashion Week? HL Group is doing approximately 15 shows this season, not counting presentations and other events. The role I occupy should not be too loud, which is why the suiting and the soft tailoring, my uniform if you will, is something I have always prescribed to. I'm going from first thing in the morning to late at night, so the change of a shoe or an underpinning or a makeup refresh is just easier if I have a simple look.
What are your favorite stores in the city? Of course there are the obvious ones, like Bergdorf [Goodman] and Barneys, but I always find great stuff at the Martin Margiela store. Same with Jeffrey's. I'm also on Net-A-Porter quite a bit and find some interesting things on MyTheresa.com, too.
Who are some sales associates in the city you like to shop with? There's a great girl at Prada, Michelle Kim. She's the kind of person that when I ask, "What about that piece?" She says, "Absolutely not!" And she'll disappear in the back and will bring forward an even more amazing piece, instead. I can shop in 20 minutes with her, since she has known me for around 15 years.