Technically speaking, Milan Fashion Week is so over. The fashion flock has officially departed Italy and descended upon Paris, for today marks the first day of shows in the City of Love.
Before we delve into designs revealed during the last week of Fashion Month, let's reflect on the most glorious moments of MFW. Having already touched upon the nautical trend and Jeremy Scott's quirky car wash at Moschino, we'd like to talk about five other moments that stood out from the blur of constant catwalking (and Instagramming and Twittering).
1. Models took selfies at Dolce & Gabbana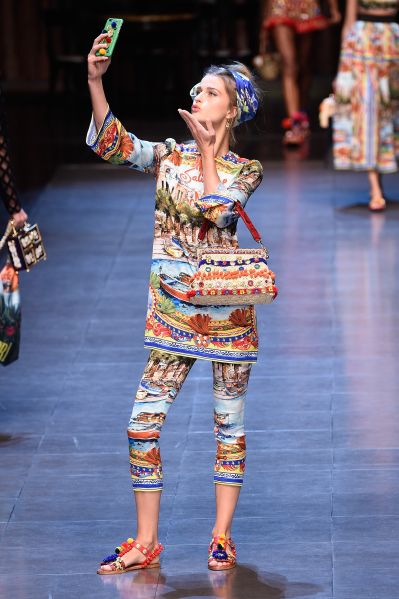 Clued into what's really important these days, Domenico Dolce and Stefano Gabbana encouraged the girls in their show to take selfies on the catwalk. Those images, which included peeks at the festive and print-heavy collection, were then splashed across huge screens in the venue. Leave it to Dolce & Gabbana to redefine the meaning of instant gratification.
2. The huge cat statue at Arthur Arbesser
Mr. Arbesser finished off Milan Fashion Week with a playful tone. Among the peplums and many stripes, the designer plopped a large feline on the runway. This was not just any cat; the furry creature was culled from the art of Balthus. The Polish-French painter also inspired the rest of the collection, which was a nod to young girls.
3. Peter Dundas paid homage to the '80s at Roberto Cavalli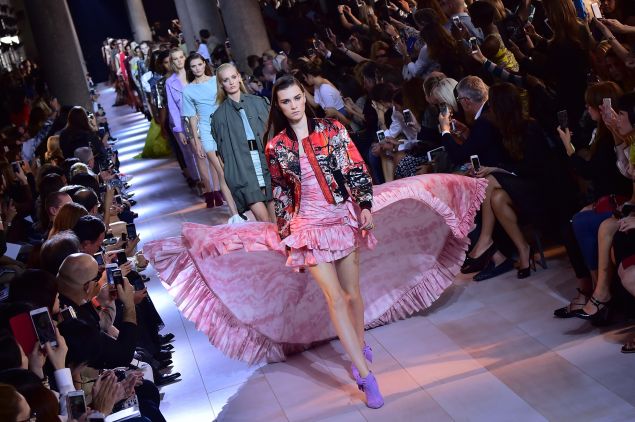 Marking his return–and inaugural collection as creative director–at the esteemed Italian label, Mr. Dundas offered a menagerie of acid-wash colored denim, in addition to a lot of ruffles, ruching and plenty of leather separates. While some outlets thought the designer needed another season to settle into his new role, others applauded Mr. Dundas for his use of the Cavalli archives, despite the busyness of the entire collection.
4. Versace's designer-studded front row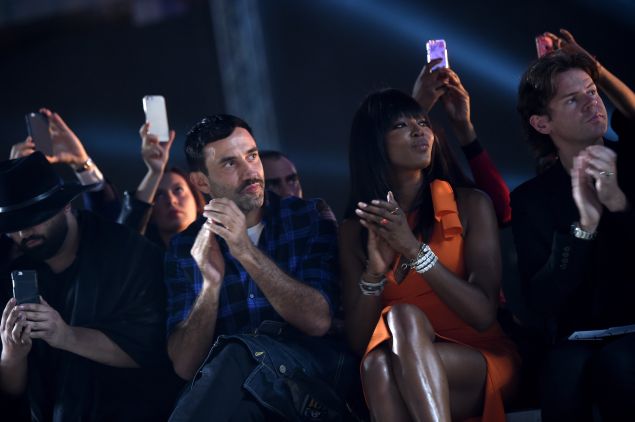 Forget about A-list celebs hogging the spotlight; this season snagging a fashion designer in the front row is preferred. And Donatella Versace is taking that notion seriously. Her notable attendees included Riccardo Tisci, Christopher Kane and Fausto Puglisi (not pictured above). Also present were Naomi Campbell, Heidi Klum and Joe Jonas.
6. Golden lips at Prada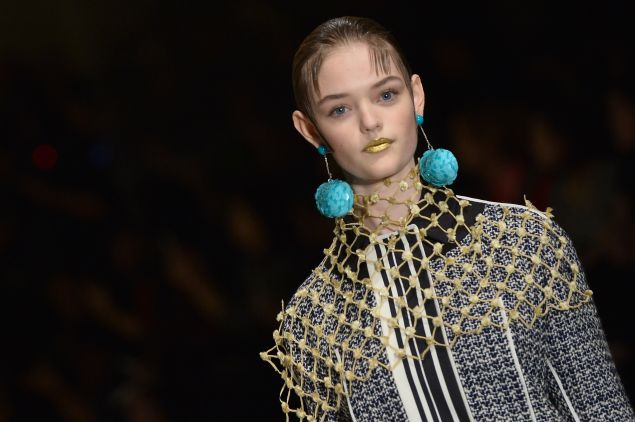 If Miuccia Prada tells us to go for the gold, we'll do it. Especially if she's referring to a lip color. When paired with large, swinging earrings (reminiscent of say, a wrecking ball), this is one bold look that is not to be forgotten.