So far in 2015, the economy added an average of 212,000 total non-farm jobs. August data shows that we remain on pace for another solid year of economic growth.
1) The "real" Unemployment Rate
There have been a few politicians with agendas trying to convince their followers that the official unemployment rate is much higher than reported. That's a load of malarkey! The official unemployment rate (5.1%) is the unemployment rate: it's a definition that's been consistent since we first began measuring unemployment.
2) Other measures of Unemployment, U-4, U-5, and U-6
Of course, in a country of over 300 million people, no single number can tell the full story. But contra Presidential candidate Donald Trump, other measures of unemployment have also been falling in recent months and years. If we add in people who stopped looking for work in the last year (what BLS calls "marginally attached" to the labor force), we get the U-5 rate, which is currently 6.2%, back to levels seen in recoveries in 1997 and 2005. If we add in people who are working part-time but want full-time work, we get the U-6 rate, which is currently 10.3%. Yes, both of these numbers are (by definition) bigger than the official unemployment rate (and U-6 is still a bit too high, suggesting there's still slack in the labor market), but when politicians trying to pull big, scary-sounding numbers out of their hats (18%!! 40%!!), don't let them scare you.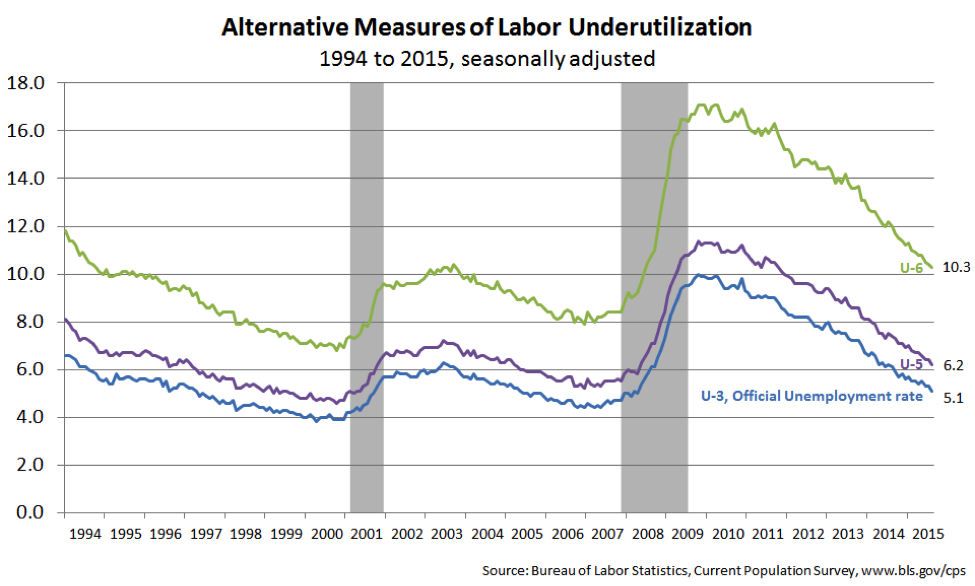 3) The payroll number will be revised, and probably revised up
While adding 173,000 total non-farm jobs is good, it's below our 2015 average of 212,000 jobs/month. It's important to understand that the margin of error for the payroll number is ±105,000. Interestly enough, the August data's first release, the initial number prior to two more revisions, has been softer than its third release (which comes out two months after the initial). Since 2009, the August data seems to get revised up, maybe the same will happen for this month's release as well, but it's all within the margin of error.
4) Job Growth remains steady
This month the economy added 173,000 total non-farm (TNF) jobs, and we are averaging 212,000 TNF jobs/month in 2015. If this monthly pace continues, we will add 2.5 million jobs by the end of the year, behind last year's growth but still better than any other year since 2005. Last year's pace of 260,000 jobs/month played a significant factor in an improving labor market, but this year's pace, though slower, still enough to lower unemployment (albeit slowly) if the pace continues.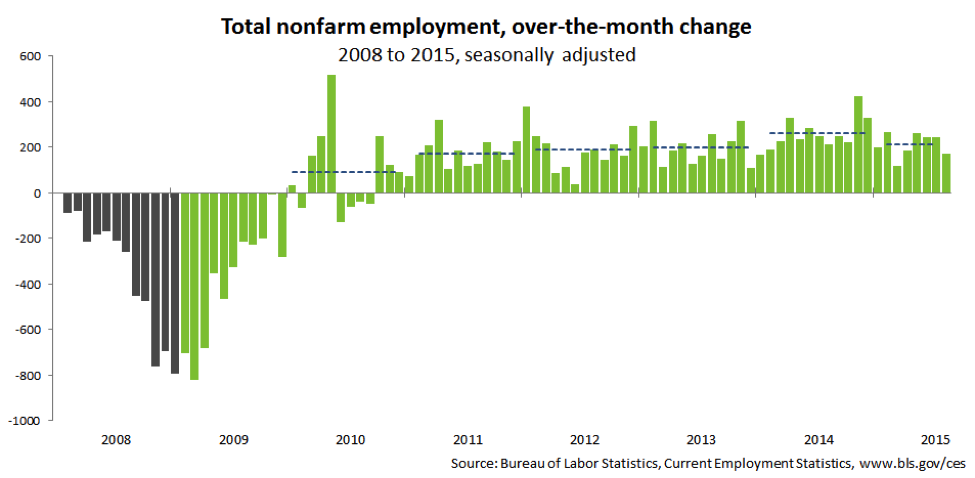 5) Broad base growth in the economy
This month's job report shows that growth remains broad-based, which is another healthy sign for the economy. Despite the roller coaster ride we saw on Wall Street and the continuing fall of the Chinese economy, U.S. companies are pushing through these major headwinds and we hope to see this trend continue. Although, there are concerning signs with manufacturing and the continued fall of mining and logging jobs, partly because of lower energy prices.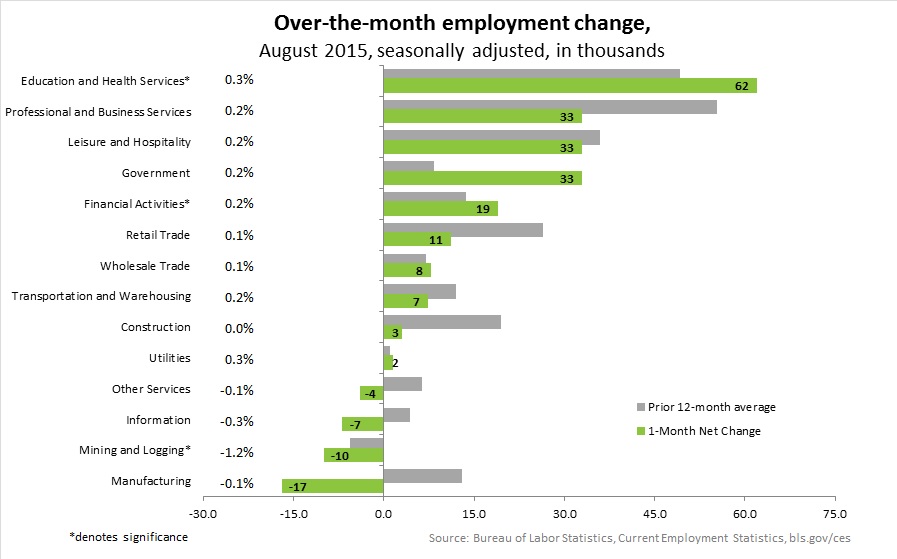 Harin J. Contractor (@harincontractor) & Charles Carson (@CharlesC1983) are former economic policy advisors to the U.S. Secretary of Labor.