Fashion Week is not always about scoring that coveted solo show. Two heads are often better than one, as they say, and for some designers, Fashion Week is a chance to debut cutting-edge collaborations with other brands.
As usual, this year's Fashion Week has no shortage of stylish collabs set to make their way down the runway. From denim and silver jewelry to chic dresses and luxury watches, take a deeper look at of some of them here.
Novis x Malone Souliers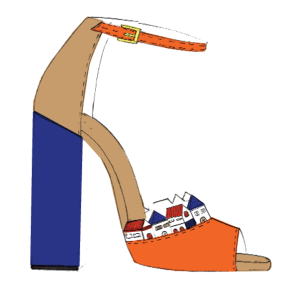 Malone Souliers has teamed up with Novis for a fabulous footwear collaboration. The exclusive footwear—which so far, we've only seen in the above sketch format—will be presented at NYFW alongside Novis's SS16 collection.
"This season, we really explored and played with new techniques and elaboration," Malone Souliers founder, designer and creative director Mary Alice Malone told the Observer over email.
Jordana Warmflash, owner and designer at Novis, said she's "always on the lookout for footwear brands that create elegant yet audacious shoes and appreciate the impact, and expressive capabilities, of color."
"As soon as I laid eyes on Malone Souliers's beautiful footwear," she said, "I was eager to connect with Mary Alice and Roy Luwolt and see what we could make happen."
Cushnie et Ochs x Oliver Goldsmith
What's old is new again when it comes to the chic sunglass collaboration between Oliver Goldsmith and Cushnie et Ochs.
To compliment Cushnie et Ochs's SS16 collection, the brands have teamed up to release a limited edition Kolus: the same Oliver Goldsmith glasses worn by legendary Beatle John Lennon back in the early '60s. The look of the new Kolus will be exactly the same as it was back when Mr. Lennon was an OG customer. The frames were even hand-made individually in OG's studio, "just as they were made when we were making them for John Lennon 50 years ago!" Claire Goldsmith told the Observer over email.
The Kolus may keep with the old school glamour for which OG is known, but to Carly Cushnie, it also embodies the style of a more recent era.
"We really loved so many of [OG]'s vintage frames," she said, "but the Kolus really spoke to us as a way to combine both an uptown feel and a more urban '90s hip hop vibe."
Chris Gelinas x Oliver Goldsmith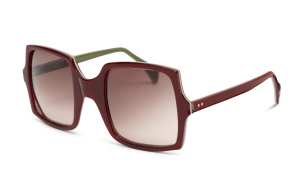 Oliver Goldsmith is launching another '60s-inspired NYFW sunglass collaboration, this time to pair with Chris Gelinas's latest collection.
The idea for the collab came about over a coffee meeting between Claire Goldsmith and Mr. Gelinas, where they "really hit it off," in Ms. Goldsmith's words. At some point Mr. Gelinas mentioned his muse, a '60s-era Marianne Faithfull. "From there, it has been a natural progression leading to this gorgeous frame," Ms. Goldsmith recalled.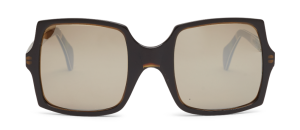 The resulting sunglasses—called, appropriately, "Marianne"—are based on a 1968 Oliver Goldsmith frame called Moosh, which Ms. Goldsmith described as quite "harsh"—"very square, but contoured in all the right places to make it a classic look of its time." In creating the Marianne, they "enlarged the frame a little for glamour, and then softened some of the edges to make it a little more contemporary."
For Mr. Gelinas, the Marianne "really completes the world of the CG woman this season," as he told the Observer over email. "The colors and bold shape are the perfect compliment to the clean lines and crispness in the clothes."
Simon Miller x Rebecca Pinto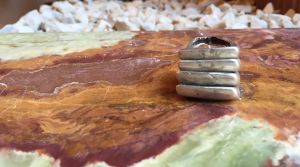 Saddle up for the collaboration between L.A.-based denim brand Simon Miller and NYC jewelry designer Rebecca Pinto: a sterling silver jewelry collection inspired by modern art and architecture in the American Southwest.
"Both Simon Miller and I share a love for aged materials, modern design, stacking and layering and the combination of different textures and treatments," Ms. Pinto told the Observer over email. "We both approached the collaboration with similar visions for the collection, and naturally landed on chunky aged silver in modern, geometric silhouettes."
This is not the first time Simon Miller has worked with other designers, but the collab does mark the brand's first jewelry collection. "We are good friends with Rebecca from Rebecca Pinto, so it was an easy collaboration to get started," Simon Miller creative directors Jake Sargent and Daniel Corrigan said jointly over email.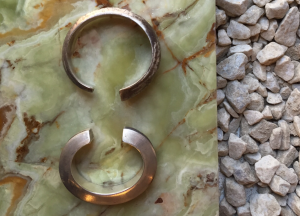 "[Ms. Pinto]'s personal style is very Simon Miller," the duo said, when asked why their aesthetic pairs well with Ms. Pinto's. "She is always in great jeans and a t-shirt, with amazing jewelry. We love how she pairs accessories with our clothing, and we both love silver—how it ages, and the play on aged materials with modern shapes."
The jewelry will retail from $200 to $850, beginning in January 2016.
Simon Miller x Moscot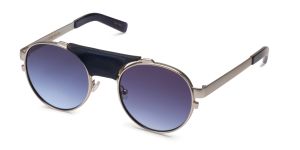 Simon Miller also teamed up with NYC eyewear brand Moscot to debut a "glacier-inspired" sunglass, as the press release described it. The sleek item, dubbed SM x MOS 101, features round indigo-tinted lenses and thick metal frames, and retails for $450 on Moscot.com and SimonMillerUSA.com, as well as in other specialty shops.
"The SM x MOS 101 is made in Japan, combining Japanese craftsmanship [and] Moscot's classic designs with our indigo influence for a modern interpretation of a vintage glacier glass," Simon Miller creative directors Jake Sargent and Daniel Corrigan said jointly over email. "The frame features extra thick metal construction, oversized eyewire screw mechanisms, and round, flat flenses with gradient blue tint. A snap-on, hand-dyed indigo leather sweat bar compliment the frame's lenses."
Harbison x G-Shock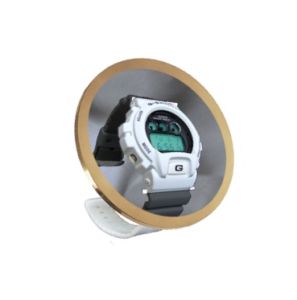 The feminine meets the—ah—aquatic in the Fashion Week collaboration between Harbison and G-Shock.
The Heathered printed watches from G-Shock's S-Series will pair with Harbison's SS16 collection—a collection inspired, according to Charles Harbison, by "midcentury design and deep sea life, particularly the underwater afterlife of my renegade surfer-girl muse." To carry the theme through to the watches, Mr. Harbison even created "a custom scuba 'halo' for the watches specifically for the runway."
G-Shock's new streetwear-inspired Heathered watches come in white, purple, orange and green, each featuring the speckled pattern one would find on a heathered clothing item.
"Harbison was founded on principles of contradiction, and in particular, we've always explored a masculine-feminine dichotomy," Mr. Harbison told the Observer. "The S-Series felt like a very natural pairing for Harbison—our girl is feminine with a masculine edge, and she's not afraid to pair a cocktail dress with a sporty watch."