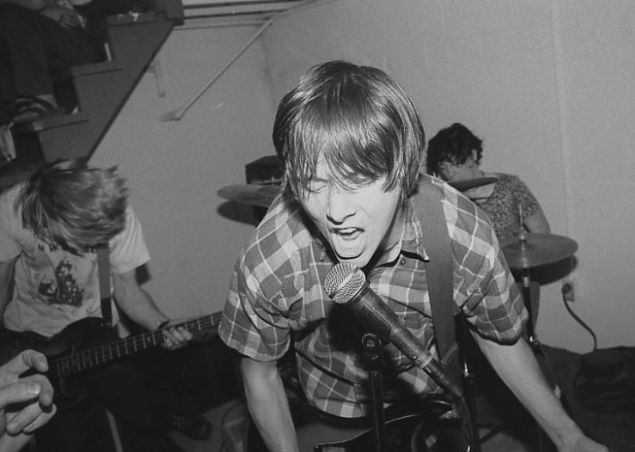 There was a time when chronological collections of a musician's work were always released as box sets. They were mainly a phenomenon pre-digital music revolution, and aside from the "super deluxe editions" on Rhino Records' Handmade imprint, Neil Young's Archives Volume 1 was the only box-set in the last 10 years that either focused on unreleased material, or championed the dying medium of CDs. Mr. Young himself even recommended purchasing the collection on Blu-Ray audio. No word yet on a Volume 2.
Digital music didn't kill reissues, but today's reissues more commonly offer each album individually, through the now standard "reissue series." Led Zeppelin started an "extensive reissue campaign" in June, and while the first three numbered albums were released in a super limited box set too, they're being advertised first and foremost as standalone purchases, digitally remastered and optimized for our mp3 culture. David Bowie follows suit in September, playing off opening Ziggy Stardust track "Five Years" with an extensive series of reissues from his fertile period of 1969-1973 and a "Five Years" box set. He's had a good track record with compilations, particularly with his "Sound + Vision" box in 1989 and updated reissue in 2003. But aside from collectors and crate-diggers, the demographic of people who invest in such massive, costly compendiums is ever shrinking.
Empire might not be a viable entry point into Unwound's music—it's ultimately a collection for completists.
As such, the post-hardcore outfit Unwound is preaching to the choir with Empire, the final collection in their extensive reissue series. Compiling the last two albums they made as a band before breaking up, 1998's Challenge for a Civilized Society and 2001's double-album Leaves Turn Inside You, the collection is complete with a bonus disc of b-sides, demos and bonus tracks. Avoiding the gaudy, material-heavy box entirely, Empire exists only as a deluxe LP set and a digital download. For fans of this cult band, the vinyl and the 15,000-word essay that accompanies are undoubtedly the collection to own, a physical swan-song. While the digital download is certainly an option, Empire ultimately feels reliant on the context and cultural significance of Unwound in order to be meaningful. And so for new listeners and the musically curious, Empire might not be a viable entry point into Unwound's music—it's ultimately a collection for completists.
Washington, D.C., had Fugazi; Boston had Mission of Burma in the 80s; but Olympia, Wash., had Unwound. Formed in 1991, the same year that legendary independent label Kill Rock Stars began there, too, Unwound stuck out as a band that could balance being literate, even erudite, while still sounding heavy. They quickly became Kill Rock Stars' darlings, ultimately releasing six albums on the label. Unwound's sonic trajectory first honored the sounds of their aforementioned sonic forbearers, then threw some synth into the mix on 1996's Repitition (No relation to Fugazi's Repeater), and ultimately stepped up the production with the release of Challenge in 1998.
The Challenge songs that kick off this collection are a difficult entry point because they sound like a band at odds with itself. Between the adventurous, marathon productions of "Sonata for Loudspeakers" and "Side Effects of Being Tired," the short blast of "NO TECH!" is an insincere reassurance to the inevitable scenester who consistently claims "I like their old records better!" as a gag reflex. These are the songs of a band in the throws of transformation, embracing structures that would come to be hallmarks of the emerging "post-rock" genre that contemporaries like Godspeed You! Black Emperor began to boldly hone with their debut one year prior.
By the time the Leaves song cycle begins, the previous album's sonic dalliances seem like just a phase. "Look a Ghost" and "December" sound like the same old Unwound. Then "Treachery" comes on, stereo synthesizers blasting for a good 20 seconds before any guitars come in, a "look what we're doing now!" moment that nods to the song's title. "Scarlette" thrillingly merges Sonic Youth noodling with angular heaviness, while the orchestral "Terminus" and "Radio GRA" are bold, epic reaches toward nothing in particular. The former grows and swells, thrillingly full and lush, as frontman Justin Trosper sings, "Fake me I'm not fucked, wake me I'm awake, shake me I'm a jerk, wash me I'm a lake." Indeed, fucked they were.
Unwound played their last show to the Olympia audience that birthed them in 2002. An online product description about this Empire collection attributes Unwound's demise to poor media exposure post-9/11, but to this listener, they just kind of sound bored.
In that moment, a command of tone, craft and creativity seemed on display, a command that seems buried behind all the fancy production on these final albums.
None of this is to say Unwound weren't meaningful to many people—in a city that gave birth to the riot grrrl punk scene, they too were lauded as harbingers of something new, edgy and fresh. Fans fucking love these final albums, and herald them as secret classics. They also talk about the Unwound's strong DIY roots, noting how the band made an effort to play all-ages shows, even if it meant the show happened in a basement and not a club. At that final show the band closed with "Kantina" off '93's Fake Train. Wielding his guitar above his head like a literal axe, Mr. Trosper brought it close and then further away from his amplifier, as dissonant drones transformed into textures, carrying the song and ultimately the band into a sea of noise that would make My Bloody Valentine blush. Pardon this listener for becoming the very "I like their old shit better" scenester he scorned, but in that moment a command of tone, craft and creativity seemed on display, a command that seems buried behind all the fancy production on these final albums.
The albums on Empire sound antithetical to an album like Fugazi's Red Medicine, which heavily experimented with textures like scratches on strings as a new method of sonic expansion. Unwound ultimately achieved such experimental heights through production flourishes, not just the musicianship of four talented players. As such, Empire may serve a cautionary tale to any artist who finds themselves temped by such flourishes—you can make songs sound bigger and fuller, but that's not the same as creative evolution.