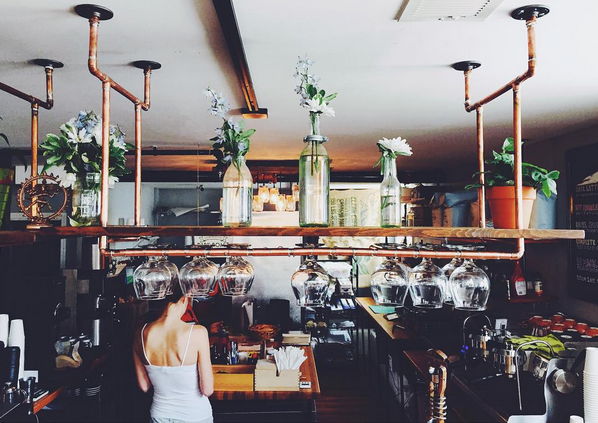 In its two years in existence, Hidden Grounds, a coffee shop located just south of NYC in New Brunswick, New Jersey, has garnered a massive fan base of coffee lovers. What's been drawing them in is the underground café's thoughtful and relaxing botanical ambiance, the selection of international teas and coffees (ground fresh daily, of course) and the BYOB open mic nights and events.
There's also their signature cold brew, which flows fresh from a tap system. The cool, draft-drawn Creole style coffee is made with an uncommon technique and unique ingredients that give the drink the flavor that's making it so popular in stores (their own as well as others), coworking spaces and even Google's NYC headquarters.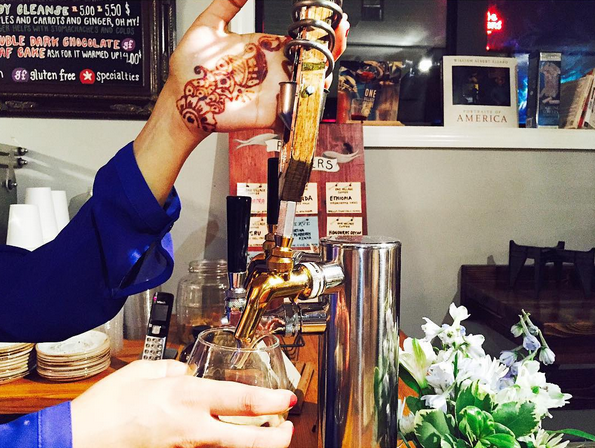 Anand Patel, who co-owns Hidden Grounds along with Spoorthi Kumar, said that with all of the love, they've also seen people begging them to open more locations. They know they're too new and aren't ready financially for that step yet, but they're still looking for ways to expand their business.
They got a little innovative and came up with the idea for "Cold Brew on Wheels," a custom-built bike that dispenses cold brew from beer taps.
"It made a lot of sense since there are countless events for food and drink trucks all around Jersey and NYC," Mr. Patel told the Observer. "It would be our dream to serve people at the Pier 13 Hoboken food truck and Brooklyn Flea Market if we are able to raise enough money for it."
To fund the bike, they launched a Kickstarter campaign with a $7,000 goal, which has raised a little under $1,000 so far and has 22 days to go.
The bike would feature a front counter that holds a hot kettle, a coffee/tea dripper and the cold brew tap system. As per the picture, it would also be made of wood and topped with flowers, making it sure to maintain the Instagram-worthy vibe of the retail location.
"The difficult part was designing an experience similar to what we offer at our retail location," Mr. Patel said. "For that, our branding and product would have to be rigorously created, maintained and enhanced."
This is not the first brewing bike to be made, but they are certainly few and far between. Besides, the innovative part of this project is not the bike, but the business plan. Small businesses are prone to opening more locations prematurely, which leads them to stretch themselves too thin and drain their profits. Hidden Grounds came up with a way to expand that is not only affordable and low-risk, but completely on-brand. Additionally, it's creative. A bike parked on the street pouring cold brew coffee out of a beer tap would certainly draw in attention and customers.