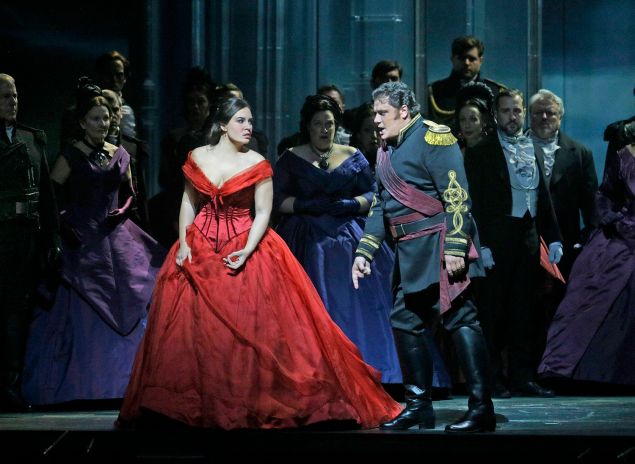 The Metropolitan Opera's opening night on Monday boasted everything you might ask for in a gala evening: a red carpet, paparazzi, socialites in couture gowns, Hollywood divas like Helen Mirren, Bette Midler and Ellen Burstyn—even the Met's prima donna assoluta Anna Netrebko, voluptuous in strapless ice-blue satin and dripping with diamonds.
Well, practically everything. All that was missing was a spellbinding performance of that night's opera, Otello. Despite some splendid moments, the new staging of Verdi's 1887 masterpiece seemed flat and pedestrian—anything but festive.
Musically, the opera was in the very best of hands. Conductor Yannick Nézet-Séguin led as assured and polished an account of this demanding score as has been heard at the Met in more than a generation, ranking with the finest work of maestros James Levine and Carlos Kleiber.
In fact, Mr. Nézet-Séguin's reading seemed to combine the best elements of the two elder conductors' styles. Rhythmically, the performance featured a subtle but palpable tension from first note to last, a Levine-like sense of propulsion as exhilarating as downhill skiing. Even the more pensive sections of the score—Desdemona's "Willow Song," for instance—sustained this momentum, and the faster moments, such as the third act "scherzo" trio, shimmered like pools of mercury.
In their dour 19th century costumes by Catherine Zuber, the chorus might have been denizens of Bleak House who stumbled into a disco by mistake.
Mr. Nézet-Séguin even avoided one of Mr. Levine's few faults in conducting this opera: an occasional vulgarity in the loudest moments of the score. In the opening storm scene, for example, Mr. Levine used to whip the Met orchestra into a mighty wall of noise, viscerally exciting but opaque in texture, all brass and percussion. Mr. Nézet-Séguin's conducting here was more reminiscent of Mr. Kleiber's legendary 1990 performances at the Met, offering a more transparent sound that conveyed the requisite terror without sacrificing the elegance of Verdi's intricate orchestral writing.
Mr. Nézet-Séguin is not only a poet but a savvy craftsman as well. One of an opera conductor's most challenging tasks is to coax the orchestra to follow an individual singer's vocal phrasing, which can vary not only from artist to artist but from one night to the next. This maestro never let his gaze wander from the stage, seeming to intuit when, for instance, the Desdemona, Sonya Yoncheva, would allow her rich soprano to linger over a particularly delicious phrase, or when the Otello, Aleksandr Antonenko, might nervously rush the music forward. With Mr. Nézet-Séguin as a musical partner, singing this opera must feel like dancing with Fred Astaire.
Truth be told, though, the only real Ginger Rogers on the stage was Ms. Yoncheva, whose musicality and finesse made her a worthy collaborator with Mr. Nézet-Séguin. She was at her most exceptional in the gently soaring phrases of her duets with Otello, technically difficult moments that seemed to flow from her like spring water. Now and then, as when she performed her first solo, beginning, "Quando narravi l'esule tua vita" ("When you told me of your life in exile"), one almost forgot that she was singing. Her expression was as natural and unaffected as speech.
Now, Desdemona is a big sing, with a number of moments demanding the depth and fullness of tone of a spinto soprano instead of Ms. Yoncheva's more slender sound. In general, though, she made a convincing case for her slightly scaled-down approach, with only a couple of shrill high notes marring an otherwise gorgeous performance.
Sadly, Mr. Antonenko failed to rise to her level. He is an interesting artist with many of the raw materials of a great Otello, including a big, steely tenor as well as a menacing physical presence that makes the character's murderous rage seem both plausible and terrifying. But his singing is wildly inconsistent, with a hard, unromantic timbre and an unreliable sense of pitch, flat in the middle register and gratingly sharp on top. What's worse, his phrasing is generally unimaginative. All the notes are there, but precious little of the music.
Some of these shortcomings might have been camouflaged had Mr. Antonenko given a more persuasive acting performance, or, to put it more bluntly, if he'd been able to act at all. As I mentioned before, he seems a good type for Otello, but here he behaved the identical way he did in previous Met seasons' productions of Carmen, Norma and Il Tabarro: stiff, isolated and distracted.
What did work for him was the Met's highly publicized decision to present Otello without the traditional blackface makeup. Paradoxically, it spotlighted the opera's theme of the difficulty, if not the impossibility, of assimilation into an alien society. With no external characteristic marking Otello as "other," his inability to understand the workings of his adopted culture felt all the more poignant and tragic.
Changing a shade of foundation makeup may sound like the tiniest of details, but in this Otello it was one of the few dramatic ideas that landed. Tony-winning Broadway director Bartlett Sher's approach to the piece was conservative to the point of being timid, treating the heightened text and musical vocabulary of the opera with disproportionate restraint. His take might be called "sober," backing away from the romantic and melodramatic elements to try to create an honest and human-sized drama. Such a method might have worked if the production had sustained visual interest and dramatic impetus, but many scenes in this Otello felt like a desultory rehearsal, wan and listless.
Mr. Sher's concept for the opening storm sequence, for instance, showed some promise: a vast crowd in a dimly lit shelter surrounding a distraught Desdemona in her wedding dress. But it's not a short scene, and after the opening image, nothing much happened: everyone just stood staring into the auditorium for minutes on end. Despite Mr. Nézet-Séguin's virtuoso conducting, and eye-popping strobe lighting by Donald Holder, there was little sense of danger. In their dour 19th century costumes by Catherine Zuber, the chorus might have been denizens of Bleak House who stumbled into a disco by mistake.
Mr. Sher's best work was in the theatrically gripping third act, a genuinely tense confrontation between Otello and Desdemona followed by a staging of the trio in which Otello is spying on Cassio and Iago that made full and imaginative use of Es Devlin's constantly moving set. The most striking element in her design was a set of three-dimensional walls that seemed to be constructed of glass. In effect, then, the characters inhabited a castle built on the principle of the Philippe Starck "Ghost" chair, a perfect setting for this opera's themes of suspicion and deception.
But even so suggestive a locale couldn't rouse Željko Lucic's dozy Iago. The artist, so gripping last season in Macbeth, here plodded through his staging and bawled out his lines in a blurry baritone, reducing one of opera's foremost villains into a dreary cipher.
His lethargy seemed infectious: the glitzy audience could hardly rouse themselves to applaud Mr. Nézet-Séguin and Ms. Yoncheva before shuffling wearily away.