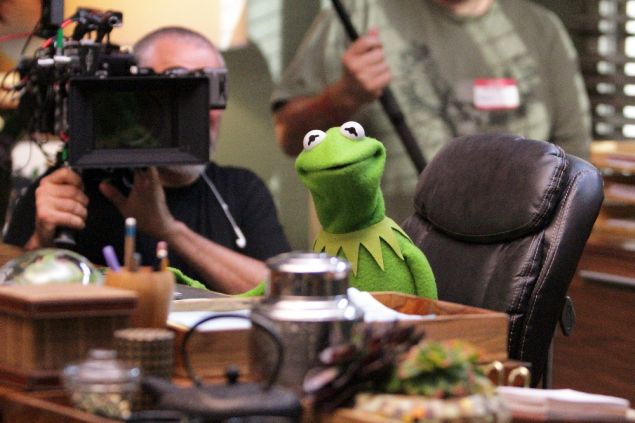 The leaves are changing color, the sun is setting earlier, Jon Hamm finally has an acting Emmy and all is right with the world. Except that from the horizon you can hear a rumbling — a rumbling that sounds awfully familiar because it's mostly filled with the sound of reboots, adaptations, hospital shows, and super heroes.
That's right, friends, Fall TV premiere season is upon us. No longer can we be content with binging Mr. Robot or catching up on Empire because the major networks have loaded up on new series this year, ranging from hour-long mysteries to multi-cam comedies and everything in between. Between the big four networks — with the CW thrown in for fun — we're looking at 22 new shows premiering from now until Thanksgiving. And I won't say it's a completely dire line-up — there are some diamonds in the rough — but there really is a lack of originality, buzz, or even spirit this year. With streaming options like Netflix and premium cable channels like HBO consistently churning out quality programming,
Luckily, I waded through the mucky-muck so that you didn't have to. Here, I present a handy guide to which shows to watch, which to skip completely, and which you can record and save until you've finished watching House for the 14th time.
CBS
WATCH
Supergirl (Monday, October 26) – Supergirl's pilot is wobbly, like a girl just finding out she can fly. The dialogue is occasionally awkward, the exposition is forced even for pilot standards. But Melissa Benoist is perfect as Kara Zor El, and brings a lightness to this show that is sorely missed in any superhero story outside the CW's Flash. Like learning to fly, Supergirl is bumpy. But, at its best, it's equally as exhilarating.
WATCH (But only if you REALLY, REALLY miss E.R.)
Code Black (Wednesday, 9/30) – The list of things TV doesn't need right now is long and growing longer. It doesn't need another crime procedural, it doesn't need more E! reality shows, and it definitely doesn't need more doctor dramas set in hospitals. Although if that is your thing, and you keep a shrine to E.R in your closet, Code Black is the way to go. It's the strongest of the new "this hospital is understaffed but a volcano just erupted outside!" shows premiering this Fall (Conversely Heartbreaker, moved to mid-season on NBC, has some of the most unintentionally funny promos of all time). Code Black takes place in the "busiest, most notorious ER in the nation" and stars Oscar-winner Marcia Gay Harden, who is fantastic. Occasionally, though, the bewildered look on her face seems to not be from the influx of patients, but from genuine puzzlement as to how she ended up on Code Black.
SKIP
Life in Pieces (Monday, 9/21) – And now, from a medical drama to a family sitcom. Life in Pieces attempts to reinvent the genre by presenting four separate vignettes each week, all focusing on a separate area of the Short family. The thing is, despite the structure, Life in Pieces doesn't cover any ground that, say, Modern Family already covered better. But again, if family sitcoms is your absolute jam, bump this one up to a watch, if for nothing other than Dianne Wiest and James Brolin. Personally, there's only so much time in the TV day, you know? Another single-camera experiment gone wrong for CBS.
Angel From Hell (Thursday, 11/5) – We're still far off from the premiere of Angel from Hell, but early looks just simply do not land. Jane Lynch, trying to desperately keep this thing afloat through sheer force of will, stars as a possible guardian angel/possible crazy homeless person that steers Allison (Maggie Lawson)'s boring life back onto an exciting track. A weirdo shows a square how to live life outside the box? Yawn.
 RECORD
Limitless (Tuesday, 9/22) – I'm sorry, when I said record I meant record the first episode, so years later you can win a bet over whether Bradley Cooper really did appear on this show. Otherwise, Limitless is an unneeded sequel to a should-be-forgotten 2011 sci-fi flick.
FOX
WATCH
Scream Queens (Tuesday, 9/22) – If the rest of the Fall TV slate looks like networks not really trying too hard, Scream Queens looks like a network going for it. This is, of course, a double-edged sword. Like most Ryan Murphy productions, Scream Queens is balls-to-the-wall from start to finish. While on Glee this became grating, and on American Horror Story it became boring, somehow the Scream Queens pilot finds the perfect middle-ground. Jamie Lee Curtis, matriarch of all scream queens, is effortlessly cool as always.  
Grandfathered (Tuesday, 9/29) – Fox is rolling out two half-hour sitcoms back to back starring handsome 50-year-old men you know from other shows — Grandfathered with Jon Stamos and The Grinder with Rob Lowe (and Fred Savage, if you're into that kind of thing). Both are surprisingly watchable, but Grandfathered simply has better staying power and much more genuine heart than The Grinder.
SKIP
Rosewood (Wednesday, 9/23) – The level of enjoyment you get from Rosewood begins and ends with how often you'd like to watch Morris Chesnut jog shirtless. Besides that, there isn't much here. Chesnut plays private pathologist Beaumont Rosewood, which is admittedly an amazing name and Chesnut is a charming as hell lead. Unfortunate, one handsome yet slowly dying pathologist does not a good show make.
RECORD
The Grinder (Tuesday, 9/29) – Rob Lowe and Fred Savage play brothers, which by itself requires a massive suspension of disbelief. Savage's Stewart Anderson is a lawyer, and Lowe's Dean Anderson plays one on TV. WORLDS COLLIDE. But really, like I said The Grinder and Grandfathered are both quick-witted and breezy watches. But if the choice must be made, go Grandfathered and save The Grinder for when you're feeling Lowe.
ABC
WATCH
The Muppets (Tuesday, 9/22) – This is a real tentative recommendation, honestly. I can't say The Muppets pilot wasn't funny. It was funny, but it was also…mean-spirited? Too cynical? I don't know. There's a strange feeling you have after watching this show, like you just greatly enjoyed a comedy that also made you incredibly uncomfortable, just because it starred the Muppets. Kermit is kind of a dick, actually, which is a little hard to get over. Definitely come for the premiere, wade through the insinuation that Fozzy the Bear is fucking a human being, and decide for yourself.
Blood & Oil (Sunday, 9/27) – I mean, when was the last soap opera centered around oil tycoons? Not much is being said about this North Dakota-set oil drama, which makes me think Don Johnson and Co. have a sleeper hit on their hands.
SKIP
Dr. Ken (Friday, October 2) – Dr. Ken, starring The Hangover and Community's Ken Jeong,  is just a hard skip. A hard, hard skip. Just, don't. Okay? Don't.
RECORD
Quantico (Sunday, 9/27) – Quantico is just so easily binge-able that it can sit in your queue for weeks and caught up on in a day or two. Better to hold off, too, because once the show's central mystery is solved (one of these FBI Academy students is a terrorist!), I'm not sure where Quantico can go from there.
Check back here tomorrow for The CW, NBC and an assortment of premium cable (Starz, AMC, HBO).