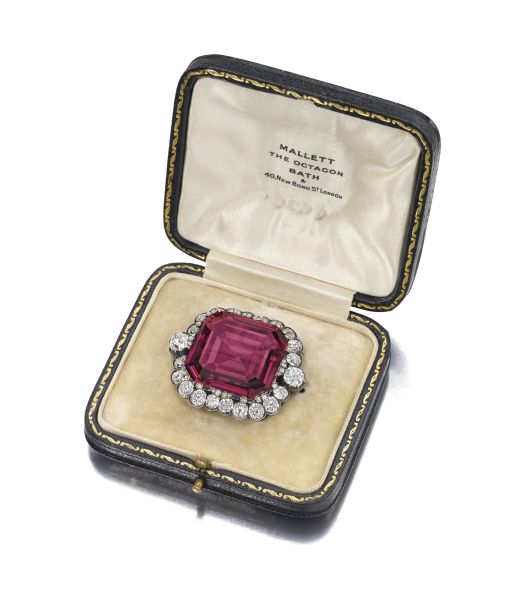 Move over ruby, there's another red gem in town taking the spotlight.
On Thursday, a historically significant 50 carat octagonal step-cut spinel, known as the Hope Spinel, set a new world record at Bonhams' fine jewelry sale in London when it sold to an anonymous telephone bidder for £962,500 (US$ 1.47 million) including the buyer's premium—nearly $30,000 per carat.
Could this mean a renaissance for a gemstone few have even heard of? Jean Ghika, head of jewelry for Bonhams UK and Europe, says yes, spinel are having a moment.
"There's been a bit of a sea change with the perception of spinel," she told the Observer by phone. "A lot of people, as far back as 200 years ago, didn't know they even existed."
The reason for that is the stone's coloring and mining locations. While it comes in many shades, including blue, purple, and black, the most valued and desirable shade is red. The gemstone is one of only three stones in nature that produce true red coloring, along with the ruby and the diamond.
Until 1783, spinel was often confused for ruby, and many of the best examples of spinel have been found in the same geographic regions where rubies are mined. Historically, the largest spinels were sourced from the Kuh-i-Lai mines of Tajikistan, which are no longer accessible.
But new specimens are starting to find their way into the market, according to Ms. Ghika.
"There have been new mines coming on stream, you now find them in Tanzania and Madagascar, which brings out more plentiful supply," she said.
Many of history's famous rubies are, in fact, spinels. The Black Prince's ruby, a giant 170 carat stone that is set into the Imperial State Crown of Britain's Crown Jewels, is among the world's most famous spinels. The 361 carat Timur Ruby, also belonging to the Crown Jewels, is spinel. And of course, there's the Hope Spinel, which was owned by members of the Hope family until 1917, the last time it last appeared at auction.
The Hope has an illustrious past. It's named for Henry Philip Hope, a 19th century collector from wealthy family of merchant bankers. His collection of rare jewels is one of the world's most famous, and includes the Hope Diamond, a 45 carat blue diamond that once belonged to Louis XIV and now resides at the Smithsonian, and the Hope Pearl, one of the largest-known natural pearls.
According to Bonhams, Hope kept the most valuable stones together in one drawer, and among them was the Spinel.
The previous world record price for a faceted spinel was set in 2013, at $16,000 per carat. Bonhams' last sale of a large spinel was in 2012, a non-faceted 18 carat stone set into an art deco ring, which sold for $73,000.
Ms. Ghika says that most of the examples the house has come across in recent years have been non-faceted beads, which are often seen in Indian jewelry of the Mughal period and sometimes feature carved inscriptions.
However, what sets the Hope Spinel apart she says is that it's "amazingly transparent and clean," in addition to its impressive size. The stone was offered with a decorative double frame of old brilliant and rose-cut diamonds and mounted on silver and gold brooch.
So, will spinel finally get become a household name in gemstones in 2015? The market seems to be slowly heating up. A 2011 article for The New York Times described the stone as "quirky and rare" and noted a number of high end jewelers such as Mikimoto and Harry Winston were beginning to incorporate spinel into their collections. Fast forward to today, and you'll find spinel pieces from high end designers like Tiffany, Cartier, Alexandre Reza, and Buccellati, among others.
And on December 5, Bonhams will sell four lots featuring spinel in its London Fine Jewelry sale, including a pink-orange example and a necklace with a series of pink colored stones.