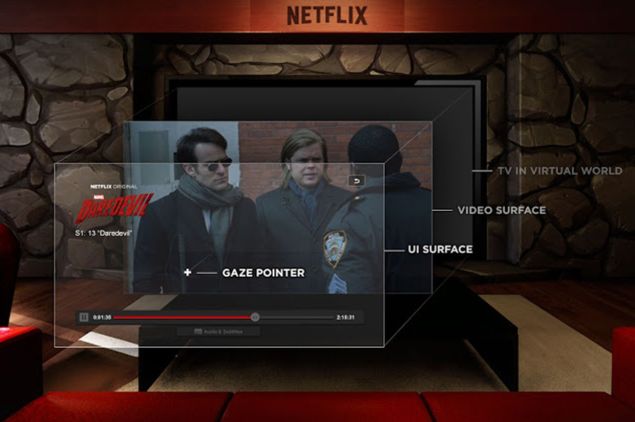 Imagine a future, if you will: one in which anything is possible. Yes, hoverboards. Yes, that digital manicure pen used by the receptionist from Total Recall that I longed for as a child. And yes, an eXistenZ-like immersive reality system that connects to your favorite streaming shows; allowing you to experience for the first time all the sights, sounds and smells of a for-profit women's prison in upstate New York!
Well, maybe not smells. But yes: Oculus and Samsung will be partnering with Netflix to have their entire digital library streamed through the new VR technology. There is also something called the "Netflix Living Room Experience," on Oculus Connect 2, which, according to Oculus CTO John Cormack, will usher in a dystopic reality where "in many conditions the 'best seat in the house' may be in the Gear VR that you pull out of your backpack."
Wow, that sounds…terrible? Because the best seat in the house is an actual seat, right? Like, usually a sofa? This isn't Orchestra Seats for Hamilton, after all. I don't need to feel like I'm down one dream state in Inception, watching TV in a virtual living room with different dimensions than the one I'm currently sitting in. Oh, also Hulu is getting in on it, in perhaps the saddest-sounding use of futuristic technology ever.
"The range of experiences will include viewers transporting themselves into a comfortable living room setting to catch the latest episode of the Hulu Original Difficult People," a statement from Hulu read. "Viewers can also choose to view Hulu's library of premium content including movies and current season TV in a classic movie theatre setting. Seinfeld fans can choose to be transported on to the blue couch in Jerry's iconic apartment to watch favourite episodes of the series."
Ugh, why? Why would I want to put on a headset that makes it seem like I'm on a different couch? Won't that be totally just wrong and confusing to my brain, which is used to watching Seinfeld from a couch that has visual porportions that line up with its actual physical boundaries? How does pretending to be in a nicer living room actually make this experience more comfortable?
Look, maybe I'm wrong here, and this is truly the wave of the future. I'm going to hold out judgement until I can try this thing with the new Black Mirror episodes Netflix is making: I really need to get the full experience of perceiving every minute as a thousand years stuck a white void; all from the comfort of Jon Hamm's cookie egg.
Either way: I can't wait till they combine the gaming element with the VR TV stuff: from here on out, Frank Underwood's gonna need you to really focus up when he addresses you directly, and if he sees you yawning, you won't be invited to the next chilly state dinner with the Russian President and Pussy Riot. Or better yet: what does it feel like to get pushed in a front of a virtual train?