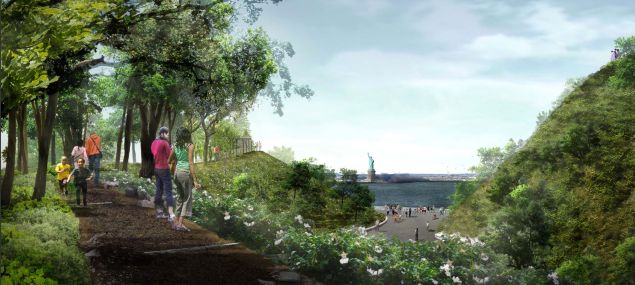 As the green parks movement continues to embrace aspirations of utopia and practicality, Governors Island is hard at work on a new green space all its own—a ten-acre area called The Hills. This weekend, Governors Island invites visitors atop the mound of recycled construction debris that will become Outlook Hill for a sneak peak at 360 degree views of lower Manhattan, the Brooklyn waterfront and The Statue of Liberty.
Rising 70 feet above The New York Harbor, Outlook Hill is the crown jewel of park,  which broke ground in 2013 and is scheduled for completion in 2016. Aside from Outlook Hill, Slide Hill will serve as an over-sized play area for kids, Discovery Hill will feature path-side art installations curated to emphasize a relationship with nature, and Grassy Hill will provide a knoll meant for general lounging.
But it's Outlook Hill that has the island's two main organizations, The Trust for Governors Island and the Governors Island Alliance, most excited about the future.
"Each hill will encapsulate what New Yorkers have come to love about Governors Island—relaxation, art, play and the openness of the harbor,"  said Trust President Leslie Koch in a press release."On this last weekend of the Island's season, grab your selfie stick, head to the construction site and experience the best views in New York City." While visitors are welcome to bring their own selfie sticks, there will also be some available to use for free—naturally.
Board Chair for the Governors Island Alliance Marc Ricks added that the allowing guests to preview the vista while it's under construction is the best way for Governors Island to end its season. "We invite all New Yorkers to see that the best of Governors Island is yet to come," he said.
Mr. Rick's isn't kidding. West 8, the Dutch landscape architecture firm behind The Hills, opened a 30-acre park on Governor's Island complete with hammocks last year. It's part of a master plan for green space, but future plans for the island also include commercial space for eateries, hotels and even nonprofits.  The Landmarks Commission recently approved several old buildings on the island, formerly used as a base by the Coast Guard, for a state of the art, QC Terme day spa. With all that time, money and planning going into the rebirth of Governors Island, Hence Outlook Hill, which will also protects the island from any future flooding.
"Governors Island has undergone an incredible, inspiring transformation over the past few years," said Mary Rowe, executive vice president of the Municipal Art Society of New York. "The Hills will create yet another treasured piece of public space on this once-forgotten island and a new vantage point from which to behold the harbor where our city first took shape."