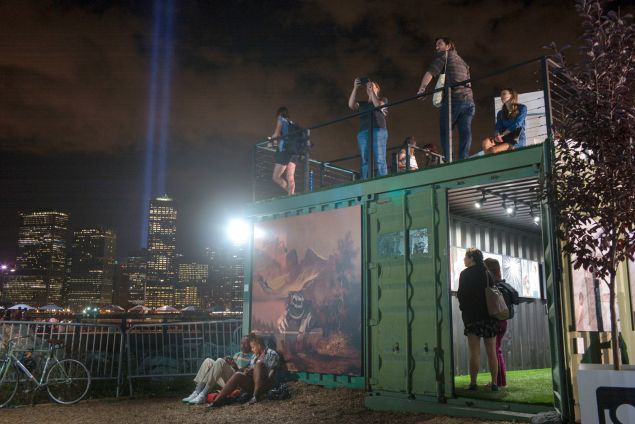 Neither rain nor wind deterred visitors this weekend from journeying down to the Brooklyn Waterfront to experience Photoville, a pop-up photography fair held inside giant shipping containers in Brooklyn Bridge Park that's now in its fourth year.
For the 2015 edition, Photoville hosts over 60 shipping container exhibitions that feature nearly 400 artists in the 74,000-square-foot space between Pier 5 and Furman Steet in Brooklyn Heights, through September 20.
This year's selection of artwork is more tightly curated than last year, with a heavy focus on documentary projects. Artists on view straddle the line between photo journalists and fine artists, which makes sense since many happen to be award-winning photographers whose work has been published in major news and photography organizations like TIME, National Geographic, Magnum or Getty Images, or who have gained massive followings through Instagram.
Subsequently, social and political themes dominate the fair's exhibitions, with work exploring themes ripped from recent headlines such as last year's protests in Ferguson, Miss., the Ebola outbreak in West Africa, and the ongoing mental and physical recovery of U.S. servicemen who served in Afghanistan and Iraq.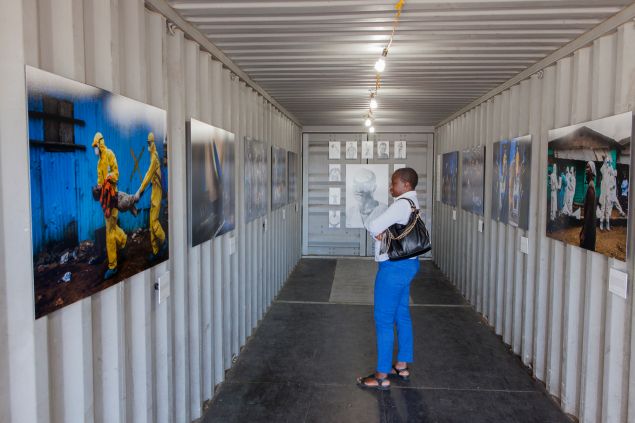 "Too Young to Wed" by Pulitzer Prize winner Stephanie Sinclair and presented by her eponymous nonprofit organization, is a highlight. The project captures the disturbing realities of child marriage, which is still practiced in places like Afghanistan, Ethiopia, Yemen, and Nepal. Evocative images of married girls as young as six, draped in colorful wedding dresses and pictured with their future husbands on their wedding day, are featured in a container exhibition, as well as on enlarged posters exhibited outdoors throughout the fair.
Another standout show is Scottish photographer Graham MacIndoe and freelance reporter Susan Stellin's "American Exile: Detained, Deported, and Divided" featuring the portraits and stories of immigrants who have been deported from the U.S., separated from their families or are caught up in many years of legal limbo following often minor offenses. Mr. MacIndoe was inspired after spending five months in immigration detention for a misdemeanor conviction in 2010.
The team at Instagram returns to Photoville for its second year with a two-story exhibit titled "Curiouser and Curiouser: Down the Rabbit Hole with the Instagram Community," shown inside, and on top of, two shipping containers connected by a interior spiral staircase. The show includes the work of numerous photographers who have elevated the social media platform to an art form, like Ekaterina Mishchenkova (@katia_mi) with her playful group selfie of teens in 18th-century costume, and the artist FellandFair (@fellandfair) for their epic images of LARPers engaging in faux battle.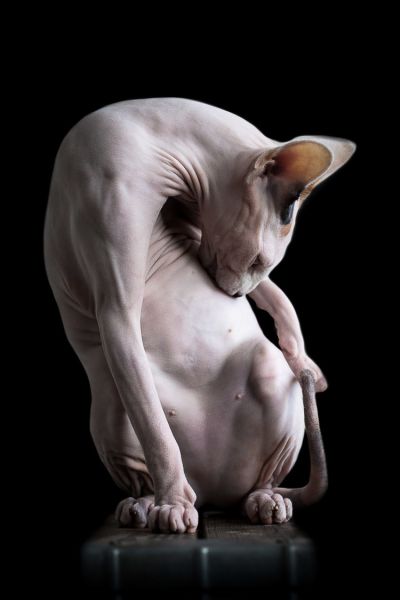 Meanwhile, the "Emergi-Cubes" series, a curated selection of several emerging photographers' work enlarged on four-sided cubes erected between containers and throughout the fair, features some of the most unusual, humourous, and popular work of the fair. Alicia Rius' "The Disturbing Beauty of Sphynx Cats" captures the regal and often misunderstood hairless cat breed in a variety of poses, both elegant and alien-like.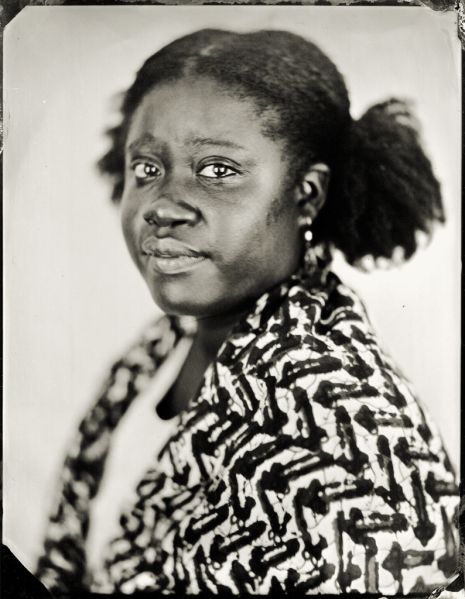 And while there is plenty to see, there is also ample opportunity for visitors to participate in image-making themselves. The Penumbra Foundation, a New York-based nonprofit organization that specializes in educational programs for alternative photography, also returns to the fair with two booths, one for making cyanotypes (a type of photogram) and another for taking one-of-a-kind tintype photographs (an instant photographic process using hand-poured chemicals on a metal plate) for a nominal fee, all developed on-site. Those who sit for a tintype can watch their likeness magically materialize as it's dipped in small bowls of chemical bath, dryed, and readied to take home within an hour.
Photoville is free to the public.