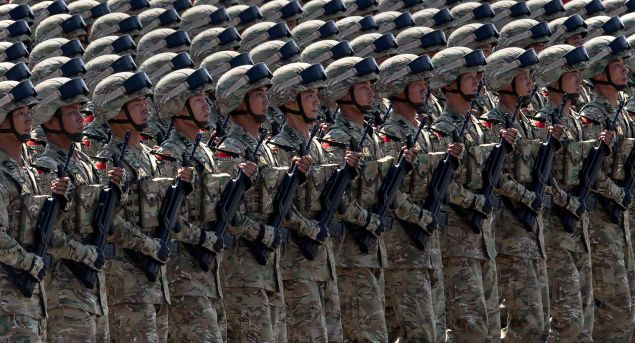 It is possible, senior administration officials said last Friday, that President Obama will sanction China for cyber theft as soon as this week—that is, just before its President Xi Jinping comes to Washington later this month. Most likely not; Chinese hacking wouldn't be seriously affected by sanctioning a half dozen officials, and so most likely Obama will wait until after the visit, and use the dangling sanctions as bargaining power to try to get Xi to rein in his thieves.
This cyber fight is coming at a dangerous time, however. China's economy has looked increasingly sluggish over the past two months and been battered by major stock markets crashes in Shanghai and Shenzen. Its gangbusters annual growth is also slowing. In August, China devalued its currency, presumably in an effort to boost its lagging export sector and kickstart growth. "There's little correlation between the trade balance and the value of the renminbi," the Chinese Embassy's website protested, but of course there is. These things don't happen by magic. They happen because Xi and the party are scared.
For China's Communist Party, economic growth is existentially critical. Since the exposure of communism as a bankrupt political philosophy, the party has rebuilt its legitimacy on the twin pillars of economic prosperity and kind of a blunt nationalism. Or sometimes not so blunt: certainly, the rows of troops, tanks, ceremonial flyovers and new anti-carrier missiles looked pretty sharp at China's World War II anniversary parade last week, and a far cry from the human wave attacks that drowned US forces in Korea in 1950.
In the most basic strategic sense, America and China have been on a collision course since 1989.
All regimes, of course, depend in some part on a healthy economy and a sense of nationhood. But democratic states have an pressure valve. If the economy is bad, the rulers are replaced. No such valve exists for China. If the economy is bad, the government is only left with nationalism and its grievances.
We know, and so does Xi, that someday, the other shoe will drop. Someday the economy will dip, if not crash. And as China's military has grown bigger and bigger, and its behavior more assertive, waiting for that day has become more fraught.
In the most basic strategic sense, America and China have been on a collision course since 1989, after the Tiananmen Square demonstrations were crushed and the Berlin Wall came down. Tiananmen meant that China would not be liberal; its government firmly rejected perestroika, if not glasnost, and the party's legitimacy would not bow to that third pillar of electoral democracy.
The collapse of the Soviet empire also meant that China and the United States no longer had a common strategic interest. The USSR which had menaced China was replaced by an emaciated Russia riven by bread riots and Chechnya. Because China also supports non-democratic regimes abroad, Nixon's triangular diplomacy has essentially been replaced with a zero-sum game. We share other interests with Beijing, like counterterrorism and prosperity, but neither of those speak to the basic question of whose rules govern Asia and the world.
Those rules are the core of America's fight with Beijing—the core of its hacking, the core of its currency devaluation, the core of its island-building, and what have you. The great fear is not so much that China will invade its neighbors or sink our carriers, but that it will become powerful enough to draw its neighbors into joining an unopposable coalition. As the preeminent state in Asia, China could refashion the regional order to suit itself, and then with that coalition successfully challenge the global American order and its rules.
Those rules are important, and they are not immutable; they reflect America as a liberal democracy. They say that a state can't gas its own citizens, that it can't shut down its newspapers, that it can't invade other states. That people should be allowed to vote their rulers away and a majority can't murder its minorities, in Darfur or elsewhere. And they also say that cyber data shouldn't be stolen.
Would a Chinese hegemon uphold them? Doubtful. Claiming airspace rights over the East Asian Sea, protecting genocide states like Sudan, breaking democratic promises in Hong Kong, island-building in the South—all represent Chinese challenges to the American order.
The tricky thing is that China is naturally the dominant power in Asia, and has been for most of its history. At some point, in some form, China will assume that role again, the same way that the largest and richest state in Europe—Germany—is assuming its natural leadership position on the Continent. But in Germany's case as a democracy, and Statsbürger of the current rulebook.
China's massive hacking enterprise is part of an attempt to catch up without conforming to the rules of the road. It hacking directly harms the U.S., and as such must be punished. But the key question to keep in mind is: does confronting China's minor rule-breaking help dissuade it from doing so, by imposing penalties through sanctions? Or does it validate the Communist Party's nationalist narrative, and so strengthen the government's grip on power?
The jury is still out. But it is worthwhile to remember that no authoritarian state has become a Great Power or superpower without challenging the world order, usually through war. China is unlikely to be the first. And so we levy the sanctions, in the midst of China's worst slowdown in decades, and we wait for the other shoe to drop.