E. Jean Carroll lives alone in a small cabin in the Wawayanda Mountains outside Warwick, N.Y. Ms. Carroll's home is located on seven acres of secluded forest near the Appalachian Trail. Somewhat fancifully, she calls her property Frog Island, though it isn't so much an island as a piece of land bound by dry creek beds. Still, when in the company of Ms. Carroll, it is useful to suspend disbelief.
On a bright Sunday morning earlier this summer, I drove up to Frog Island, which is situated at the bottom of a steep driveway, across a small bridge. In an email, Ms. Carroll had asked that I bring along a photo of someone I hate. "We'll be doing a little target practice," she said mischievously. Reading the sign in her yard—"Beware," it says, "proselytizers will be shot by archers"—it felt appropriate that I'd printed out a picture of Fox News' blustery resident demagogue.
"I hate Bill O'Reilly!" Ms. Carroll said with glee when I handed her the photo. An athletic 71-year-old with light red hair, she had on a black sweater, khaki jodhpurs and a felt hat. At her side were two barking rescue dogs, a 17-year-old pit bull named Fortuna and a slightly younger poodle, Lewis Carroll. Setting foot on Ms. Carroll's property, you do feel a bit like Alice climbing through the looking glass. Things tend to make sense, even when they don't. The exterior of her house, where she's lived for the past 11 years, is painted in black and white stripes. Little mirrors hang from the bushes and colorful ribbons are tied in bows around the trees.
After we'd each had a few glasses of prickly pear liqueur with powdered ginger and seltzer water—a "Frog Island cocktail," she said—Ms. Carroll bounded across the creek and nailed the photo to a tree. Then she ran inside, grabbed two bows and a quiver of arrows, and tipsy target practice commenced. A few shots later, she got Bill O'Reilly right in the nose.
Ms. Carroll learned archery in the late 1980s near the border of Irian Jaya, in New Guinea. Fed up with overly sensitive New York men, she hiked across the Pacific island on assignment for Playboy, in search of a more "primitive" mate. (She nearly died, but she got the story.) For most of her career, Ms. Carroll has taken aim at love in one form or another—in her advice column, "Ask E. Jean," and through her matchmaking service, Tawkify, which she founded in 2012.
Ms. Carroll spent last summer at Stanford University's startup accelerator working with tech specialists to hone Tawkify's digital bonafides. But she went away unsatisfied. "We learned that you have to turn love into data," Ms. Carroll told me, rolling her eyes. "That's something that I'm totally against."
That sentiment may explain Ms. Carroll's latest endeavor, a mobile game she invented called Damn Love, a lampoon of dating apps (by, ahem, Dorothy Parker Brothers Games, LLC). It came out last month on Apple and Android devices, and the object of the game is simple: to break couples up by answering a series of questions as maliciously as possible, like Cupid with a poison arrow.
The couples are drawn from real life, Ms. Carroll explained—not from her column but her old '90s TV show of the same name. There is, for instance, "Adam" (a painter) and "Zoey" (a Prada PR girl). "Which would cause the biggest problem?" the game asks. "Zoey correcting Adam's grammar" or "Adam wanting to pick out ALL of Zoey's clothes"? (The latter, of course.)
"If you lose a round," Ms. Carroll said, "it's because you didn't think evilly enough." (Full disclosure: I am included in the game as a romantic interest of "Tallulah," who is going out with "Charles," and I have used Tawkify to go on two dates.) Ms. Carroll thought of the name, she said, after she'd read The New York Times one morning; the words "damn" and "love" had somehow lodged themselves in her brain. Later, she took a walk in the woods and came upon five trees, which had recently gone down in a storm. "Like felled timber," she said, "the game came to me."
***
Ms. Carroll has always been fond of games. "I'm essentially a child," she said. The first piece she ever published, in Esquire magazine in 1979, was a Hemingway-Fitzgerald quiz. At the time, she was living in Ennis, Mont., with her first husband, mailing pieces across the country and enduring rejection after rejection.
The journalist Marilyn Johnson, now a good friend of Ms. Carroll's, was working at the time as an editorial assistant at the magazine. She pulled Ms. Carroll's quiz out of the slush pile and called her up. "The guy who answered the phone said she was in the tub," Ms. Johnson recalled. "He got her out of the bath and she stood, apparently naked and dripping, screaming into the phone."
"That was pure luck," Ms. Carroll said. "Otherwise I'd still be out there in Montana sending stuff to fucking Redbook or whatever. Ladies' Home Journal. Wow." Instead, she left her husband and moved to New York with one pair of cowboy boots, some black jeans, three tops and a dog. "A girl has to leave Montana and go to New York," said Ms. Carroll, echoing Joan Didion.
Ms. Carroll had a somewhat bread-and-butter upbringing in Indiana, which may have bored her into taking risks later in her life. She was Miss Cheerleader USA in 1964 and went to Indiana University in Bloomington, where Hoagy Carmichael wrote the love ballad "Stardust," one of her favorite songs. "Of course I had many old lovers at Indiana," Ms. Carroll told me matter-of-factly, "each of them more brilliant and Olympian than the last."
[protected-iframe id="bce0fb74c174c14543d8da685be2c9bd-35584880-46107883″ info="https://www.youtube.com/embed/gvhq3V8ZhTA" width="635″ height="315″ frameborder="0″ allowfullscreen=""]
(Ms. Carroll's vernacular is uniquely her own—an improbable combination of what sounds like Victorian English, jive talk and Midwestern gentility. After our day together, for instance, I sent her a follow-up email to let her know when this article might run. "Excellent, Matthew," she replied. "In case you need a photo, I'm strapping the Caitlyn Jenner bustier on the pit bull now." Her sign-off? "Ravishing regards.")
In New York, Ms. Carroll lived in a dirt-floor basement on 26th Street and slept with a shotgun nearby. But she spent a good chunk of time at the popular bars and restaurants of the era, like Elaine's, where she met Hunter S. Thompson, about whom she wrote a rather imaginative gonzo biography. "When he came to New York, he would ask me to come over and shave his eyebrows," she told me.
It was in the 1980s and early 1990s that Ms. Carroll established herself, Zelig-like, as a master of a certain type of magazine journalism, in which the writer is as much a character in the story as the subject of the piece. She traveled the world, filing articles for Esquire, Outside and Rolling Stone, among other places. (She was Playboy's first female contributing editor.)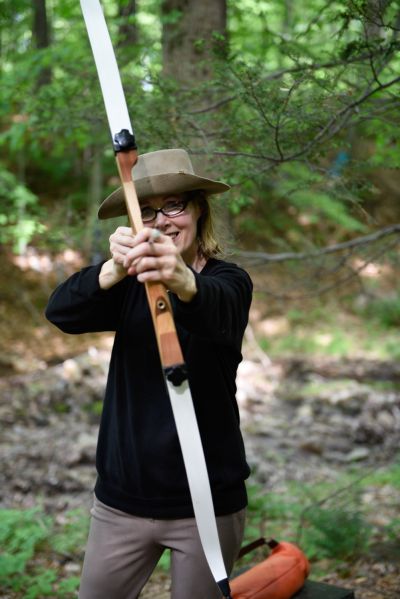 Her pieces were risqué—and often wicked. In "Love in the Time of Magic," she let readers in on the sex-fueled underworld of NBA groupies. For Esquire, she revisited her old college flings, including the Olympic swimmer Mike Troy. She once asked Lyle Lovett about the size of his penis. "The Cheerleaders," her 2001 Spin piece on a series of murders and suicides in a small town in upstate New York, was anthologized in Best American Crime Writing.
"She's from the old school," said Lisa Chase, who edits Ms. Carroll at Elle and who published her work in Outside magazine in the 1980s. "We used to really cast stories back in those days. Now I feel like we try to find the person who will be least offensive."
It's easy to overlook Ms. Carroll's reportorial prowess, given that she is now so widely known for the ribald nuggets of wisdom she's dispensed monthly in Elle since 1994. Indeed, for a certain generation of young women who entered the workforce near the end of the 20th century, Ms. Carroll exists as a kind of modern-day Helen Gurley Brown.
Katherine Rosman, an editor and columnist at the Times, worked at Elle in the 90s, straight out of college. "We all worshipped her," Ms. Rosman said of Ms. Carroll. "She created this world in her column where you as a young woman could be focused on your career and becoming the woman that you wanted to be, and it wasn't antithetical to also be boy crazy and also want to get married and also want to be pretty. She helped show a lot of people that those concepts were not mutually exclusive."
"I love that she manages to crack jokes and be wildly opinionated, but her advice is still spot-on," Heather Havrilesky, who writes the "Ask Polly" column for New York magazine's The Cut, wrote in an email. "She's also enormously pragmatic and accepting. Will that Sugar Daddy make your life happier? Well, let's try to put it in historical perspective, try it on for size, and then land on 'It's much more fun getting rich than shagging someone rich.' Will Adderall help you to stop procrastinating? E. Jean will take some Adderall and find out!"
"There's no moralizing in the mix," Ms. Havrilesky continued. "She clearly isn't burdened by the notion that she must set only responsible, enlightened words to the page. She has fun and never belabors the point. When it comes to advice, those are pretty heroic feats. She never loses sight of the fact that she's an advisor, yes, but she's also an entertainer."
***
Ms. Carroll's insouciance doesn't come easily. "Here's how I write the advice column: I take my wrists and put them on the table and I take a knife and I just slice myself open," she told me, after we'd wrapped up our archery lesson, over Amy's burritos and an assortment of nuts. The dogs sat nearby, waiting for Ms. Carroll to toss them the shells. "My readers don't suffer nearly as much as I do trying to answer them. I really have to take the bows and arrows and put them in my room so I don't kill myself."
Still, Ms. Carroll said, there are really only two answers to every question: "Do it" or "Don't do it." And there are, she added, only four questions: "How do I get love?," "How do I get rid of love?," "How do I get love back?," and "What does it all mean?"
When Ms. Carroll needs advice, she goes to Thoreau. Her favorite book is Walden, which is in keeping with her particular brand of individualism—unmaterialistic and almost transcendental in nature. Ms. Carroll lives deliberately. She doesn't cook much, her freezer is loaded with microwaveable stuff, and she mostly stores sweaters and dog food in her oven. She shops for clothes at the local tackle shop. "I don't need Bergdorf Goodman," she told me.
A Thackeray quote—"Always amused, never angry"—is painted on the mantle above Ms. Carroll's living room fireplace, and her rustic home is packed with piles of books. When I visited, a marked-up copy of Don Quixote, which she was re-reading, sat on the kitchen table, and Sun Tzu's The Art of War, which she likes to mention in her column, was resting next to her computer. I asked her why she refers to it so often. "Many of my correspondents are women," Ms. Carroll said, "and they really have to learn to fight. Life is a battle, right?"
Ms. Carroll has been divorced twice, but she has no regrets about her past relationships. She says she's simply not meant for marriage. "You're on this earth to have as many chaps as you want," Ms. Carroll told me. She is, mostly out of curiosity, on Tinder, even though her new game, Damn Love, is a send-up of the app, and Tawkify, her matchmaking service, is positioned as an answer to the impersonal aspects of online dating. "There's nobody in my vicinity, because I'm the oldest woman on Tinder," she said. "But that's great."
The bottle of fortified pear nectar was just about empty, so Ms. Carroll and I decided to check out the five downed trees that inspired her game. We set off into the forest, leaving Frog Island behind as Ms. Carroll delivered color commentary on the offerings of the woods. "The best looking people in the country are on the Appalachian Trail," she said as her house receded in the distance. "They come down from Maine and up from Georgia, and they have kilts and beards down to here." She gestured toward her knees.
We passed a tree with a big hole in it the shape of an almond. "That's cool," she said. "That looks like a vagina." Finally we came upon the trees, a hulking tangle of branches and trunks and splayed roots. We stood before it for a moment, taking in its rugged imperfection.
"This is life," Ms. Carroll said. "I call it what happens when you fall in love."