Is it weird to ask somebody you don't know to get in the sack with you?
Yoko Ono's "Bag Piece" (1964) is an instructional performance: passersby are invited to get inside a large black sack, take their clothes off (separately or together), do a little dance or whatever they will, then get dressed and exit the sack.
In its current iteration in Yoko Ono: One Woman Show, 1960-1971 at the Museum of Modern Art (up through September 7), Ms. Ono has made it clothing-optional, but I wanted to do this like it's 1964, and in the spirit of Ono's awkwardness, with a stranger.
First, so many questions: Better to look professional or relatable when propositioning strangers? Undies: plain or sexy? Buttons or zippers? Settling on practicality, I selected a totally unprofessional but convenient pullover dress, the closest garment I have to a nightgown.
Secondly: How to ask, and whom? I extended my first invitation to @yokoono via Twitter, alerting her to what I was wearing and the fact that I would be there in 45 minutes. (I guess she was busy, but the invitation still stands.)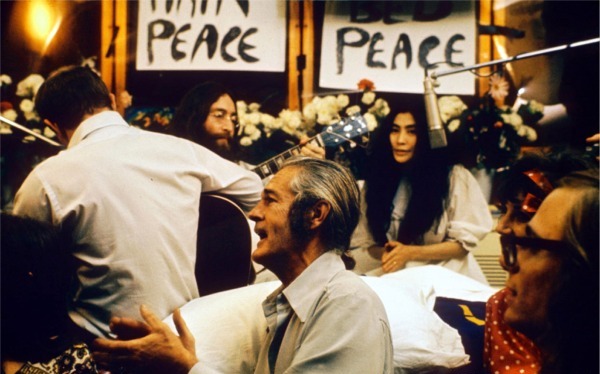 Forty-five minutes later on Tuesday afternoon, I was mulling amongst the small crowd gathered around watching a kid poke around in there for a while. This afforded me a couple of minutes to establish myself as one of the people, a fellow spectator. I looked for single people alone; couples have competition, groups had me outnumbered, and families are obviously out.
I selected Joe, a stout bearded man in his 40's. I opened with the fact that I was writing an article about "Bag Piece" and asked, simply "Would you be interested in performing this with me–as it was originally intended?"
Joe laughed; he'd just heard about the "original intent" on the audio guide. He pretended to think about it for a minute and then politely declined. "Thanks for the offer, but…" he shook his head.
"Why not?"
"Oh, I don't know… It's awkward, I guess." He added, "It's funny because she did this because she's shy."
I found a staffer, a man of white lanyard, and told him my mission. I asked how frequently visitors took the clothes-off option. He'd seen people do it "that way" every two to three days, but rarely two people at once, he said.
My second proposition was to Annika, a beautiful blonde designer in what I'm guessing is her thirties, who was midway through reading the wall text. "Would you like to perform this with me, as it was originally intended?" I asked.
She was totally cool. "Originally intended?…oh, let's see…." she started reading the wall text and I could hear her mumbling "remove their clothes…"  "Sure! Why not?"
This was a shock, because Annika had a very complicated outfit. She was robed like an Egyptian queen, with shiny deep-green vestments, a kind of drapery base, a large bracelet, and a very thick gold torc around her neck. She looked powerful; in the workplace, she would be feared.
We shook hands and did a very brief introduction before the staffer ushered us onto the platform and into the black tent-like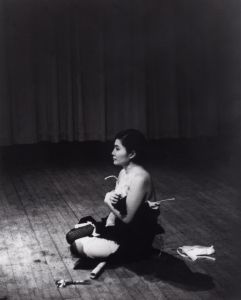 sack. We faced each other and giggled awkwardly. I try to break the ice with a joke: "I feel like this is the art version of 7 minutes in heaven!" This did not help.
And then the giggling quieted down, and in an unspoken ceremony (probably so as to avoid eye contact), we dropped to our knees and unrobed, with a wall of cloth between us.
The beauty of the sack is that people in the sack can see out and nobody can see in. What we could see was our reflection in the mirror to the left of us and in front of us, a large crowd gathered. Somebody was taking video with a flash camera. We glanced at each other, then back at the crowd, then spun a little bit. "
This is so strange!" Annika giggled. We eventually ran out of dance poses to strike and, knowingly, dropped to our knees again to get dressed.
"Why did you do it?" I wanted to know.
"Well…how often can you get naked in an art gallery?" she asked smiling.
And that was it. We shook hands, I took her email, and we said our goodbyes. My path crossed briefly with a person named Annika, who knew nothing about me but agreed to an ultimate act of trust.
I felt good about humanity.