Before I left Venice Beach in 2012, Abbot Kinney Boulevard was magnetic. Still under the radar from those east of Lincoln, wild poets munched on modern architecture and German baked goods and jazz musicians made Hal's Sunday night clamor melodious. Well-known faces could slip into being unrecognizable because locals cared more about your place in the community than about Page Six in a gossip rag. Street kids jammed barefoot on the withered tables in front of Abbot's Habit alongside loving parents and their babes. Creativity was palpable on every corner and residents, covered in paint and salt and style, welcomed you to any conversation. Abbot Kinney was electric; it was graceful and gritty; it was the epitome of cool.
Now, newcomers march the boulevard like commercialized hippies high on brand names and spirulina smoothies. This is not your Rodeo Drive. This is not your Melrose. And yet tripling property values exceeding storefront rents in Beverly Hills banish long-time residents, restaurants and galleries – leaving them with empty pockets and nothing but a buzz on their cerebral lobes from AK's yesteryear.
It's undeniable that Abbot Kinney peaked when one if its most stable establishments, The Stronghold (crafting fine denim on antique sewing machines since 1895), fashioned a bootleg hangout in its loft. Stronghold's owner Michael Cassell was adamant about providing a space solely for the music.
The first time I entered the oak-toned room cradled by brick and oversized leather couches it was the fall of 2009. My friends and I cracked open some beers and sat on the floor jamming. Soon the room filled with locals who had been given a password. The booze was free, the lights were dim, and if the crowd raised its voice anywhere near bar volume, the gig's patriots hushed them.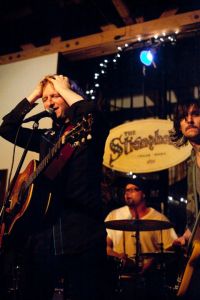 "It epitomized that special blend only Venice could deliver, and the magic of the time," said Denlin Doty, a sixth generation Californian whose grandfather boxed at the Brig before it was a bar. "Big-wig music executives and actors mixing with local veteran artists, jamming with young gypsy bands from Portland, from everywhere; famous musicians randomly popping in for the sunrise set. It was win-win. The wealthy and the suits stayed connected to the youth and street movements and spectators could just get buzzed and have a blast getting their mind blown; maybe even discover their artsy side. Everyone wanted to know the password to get into that brick building after dark. It wasn't that squares simply weren't allowed – the environment disallowed being square. It just couldn't happen there. You got shook right out of it."
But, like any good thing, it wasn't long before word spread of the unnamed speakeasy. Overdressed scene-seekers flooded the street to get in; my seat on the dusty floor got smothered and pushed to a wall in the back, the crowd could no longer be hushed and within no more than a year Cassell pulled the plug.
Not long after the lights went out above the Stronghold, the street with an immutable heartbeat began losing its pulse.
"The press announced how cool [Abbot Kinney] actually was just after the creative explosion," said Andrew C. Whitelaw, a New Yorker-turned-Venetian circa '91. In 2012, GQ named AK "coolest block in America," despite local protest against its advertising agenda. "Once everybody knew, the scene was over. Now, you can work at Google and be part of Silicon Beach and buy your cool instead of creating it."
Those who, like Mr. Whitelaw, have been able to remain in their old stomping grounds witness cottages with big yards flipped for McMansions with no yards. They witness the color turning pale as corporate businesses commodify AK's once unrivaled originality.
"It's like rats running the rat race," said Mr. Whitelaw. "But on the wheel we've got finely appointed Corinthian leather and we're drinking Evian from the water bottle there that we push with our noses."
Sure, there are do-gooders such as Toms, whose massive tri-level establishment serves up coffee, wifi, and, of course, shoes to third world countries. But still, chains. I mean really, Venice?
"I don't like the corporate hangers on. They are just on the block for the name and I doubt they will turn a profit," opined Jules Muck, the artist responsible for the iconic green portraits and provocative murals that characterize Venice streets. "But there are independently owned gritty-looking places that output genius creations, whether fashion or food, and I am stoked that there are people moving in who can afford to pay for good art and original design concepts."
According to LA native, lawyer and food-junkie Carey Wood, these "genius" eateries are AK's salvation as it spirals down the black hole of "overwhelming douchiness." However, a spontaneous bite at any number of AK's new spots is impossible with non-locals raping reservation books excruciatingly far in advance.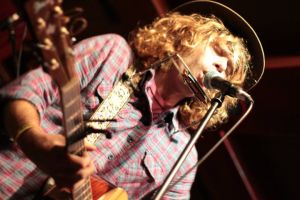 Feed, an organic, strictly seasonal hotspot opened in 2013, balances well on the tightropes of change.
"The nature of the street is completely a moving target," said restaurateur Robert Staats, who runs Feed with Blue Grant. "It changes daily, even hourly. Our clientele consists of a lot of tourists, but we want to build a relationship and bring back the locals as well."
Hal's Bar and Grill, an AK staple opened in 1987 by Don and Linda Novack and Hal Frederick, will now and forever open its doors to its local following. Well, not right now, since Mr. Novack relinquished his lease to prevent bankruptcy after the property sold for more than $44m (in 2012, it sold for $20m). In about a month, however, Hal's – along with partner restaurant Casa Linda – will re-open under the roof of Primitivo, 1025 Abbot Kinney Blvd. Three restaurants in one: there's more than one way to skin a… rental catastrophe.
The locals are now nose-to-nose with sceney newcomers, Silicon Beach, fat wallet realtors and big bulldozers ready to push. Luckily, as history demonstrates, Dogtown is always prepared to push back with both fists and flowers. Venetians are nothing if not devout – devout to creativity, devout to the vibe, devout to ripping down façades simply for the sake of keeping it real.
"I will stay, even if I have to move back to my car," Ms. Muck stated. "Venice has an energy that supersedes the storefronts and even the people. It has an undercurrent that makes my blood run stronger and my ideas flow with ease."