Actress Amy Irving's split with Steven Spielberg netted her one of the largest divorce settlements in history at the time—$100 million—so it's certainly not for want of cash that she's selling her Central Park West spread.
Ms. Irving met Mr. Spielberg when she was auditioning for a role in Close Encounters. She didn't get the role, but she did get the director–she was married to Mr. Spielberg from 1985 to 1989, after which a judge granted her a sum that was allegedly roughly half of Mr. Spielberg's fortune at the time.
The actress, best known for her roles in Carrie and Yentl, moved on, marrying screenwriter Kenneth Bowser. She's been laying fairly low ever since in a 3,200-square-foot co-op at 50 Central Park West that she purchased in 2005 for $6.9 million.
Rose Ann Nielsen at Corcoran, who did not respond to the Observer's request for comment, has the listing for the 10-room apartment, which is currently asking $11.5 million, and has "two distinct wings of primary living spaces." Because one is simply not enough.
There is more than one "ornate decorative fireplace," and window seats overlooking park views. The five-bedroom, four-bath abode includes a master suite with walk-in closet and marble bath, and there are eleven-foot ceilings, "classic moldings, exquisite woodwork, and beautiful herringbone floors." The windowed kitchen has white wood cabinets and a temperature controlled wine closet, and there's a double-length living room that is large enough for a grand piano.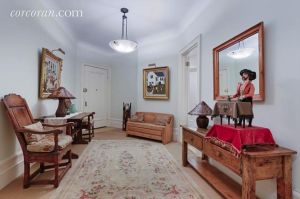 A word of caution for potential buyers, though—make sure you don't sign the contract on any napkins. Ms. Irving received her $100 million divorce settlement after a judge allegedly said that the prenup she and Mr. Spielberg had written on a napkin wouldn't hold up in divorce court.