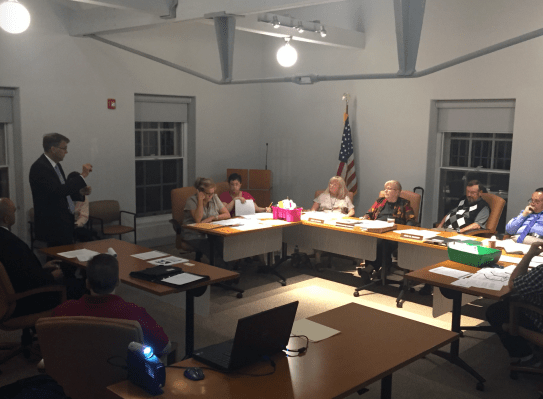 The Atlantic County Board of Elections met Tuesday night and heard arguments from the General Majority PAC's William J. Hughes Jr. defending mailers his group sent out to potential voters in the second district urging them to vote for Democratic incumbent Assemblyman Vince Mazzeo in November. After the board's decision to draft a bipartisan response to a letter from Atlantic County Republican Chairman Keith Davis' challenging the mailers, Davis is doubling down.
"The Republican Party is reserving all of its legal rights to protect the integrity of this year's election and make sure that the rules are followed," said Davis.
"But the real question voters should be asking is why is a federal super PAC spending hundreds of thousands of dollars on behalf of Vince Mazzeo in false TV ads and hiring a well-heeled law firm from Washington DC to represent them in connection with these contested assisted ballot applications.
"Why is there so much interest in Mazzeo's election from outside of Atlantic County?"
The General Majority PAC entered the fray with TV spots in the first and second district's assembly races this year, which are slated to be the only competitive elections in what is likely to be a year with record-low turnout with the Assembly at the top of the ticket.
The mailers included applications for mail-in ballots with addressees' names and addresses printed at the top, something which Davis claims qualifies the PAC as an "assister" who would need to supply his or her own name, signature and address on the application.
So far, the board is expecting roughly 5,000 mail-in ballots. A move by the board, the county clerk's office or the superintendent of elections to void the applications could make a significant difference for Mazzeo, who won his seat by just 51 votes in 2013.
The ads, which ran on behalf of Mazzeo and his LD1 counterpart Assemblyman Bob Anderzejczak, blamed the stalled referendum allowing North Jersey casinos on "lobbyists" and "Trenton insiders." Critics claimed that the ads were veiled attempts to paint Republicans as supporters of the new casinos, which many voters see as a threat to the region's already stagnant economy.
"What I was attempting to do tonight was to make a decision, which I haven't made yet, whether we are not usurping the county clerk's position in this," said Chairperson Lynn Caterson, who said repeatedly that she did not believe any decision to accept or reject the applications fell under the board's jurisdiction.
"What was sent initially did not go to the press, it only went to you guys so that we could discuss it," said Caterson to Hughes of Davis' letter challenging the mailers.