While David Beckham might be playing frontman for rugged luxury outwear brand Belstaff, and starring in their newest short film Outlaws, the soccer star is taking another stab at acting in the slightly more lighthearted short film, Beckham + Hart x H&M, for the fast fashion retailer. The backdrop for much of the film, starring Mr. Beckham, comedian Kevin Hart, and a bulldog named Coco, also happens to be a fellow celebrity's Manhattan property.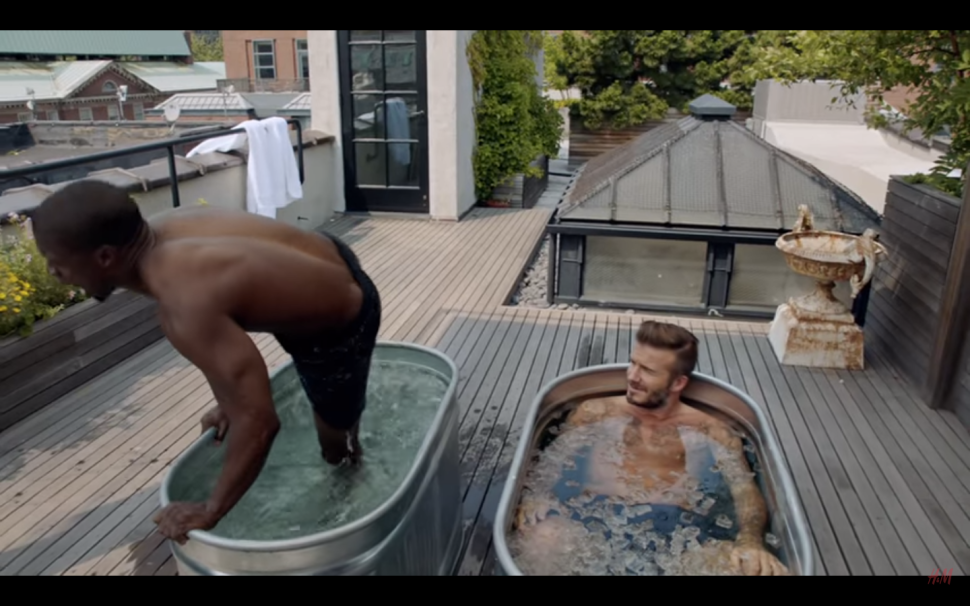 Anderson Cooper's Greenwich Village firehouse, which he acquired in 2010 for $4.3 million, spans 8,240 square feet, and includes, "…a gym from the turn of the century," as he told USA Today. Mr. Hart and Mr. Beckham hilariously use said retro gym, and the building's Manhattan rarities-a garage and rooftop-as the comedian attempts to method-act his way into the life of the footballer. 
The Modern Essentials collection, due to hit H&M's e-shop and stores on Thursday, October 1, includes basic items for any well-heeled gent. "I love every piece in the collection, but if I had to choose one, it would be the coat," Mr. Beckham told the brand in an interview. "It's my first fall selection from Modern Essentials, so the first time I've picked a coat for the collection. This one is perfect, with a really sharp tailored line that creates a great silhouette. I love that the coat comes not only in black but also in camel, which is something that connects me to my London roots. I'm going to wear the coat all winter long, either over tailoring, or thrown on over a sweater and jeans." In the meantime, until you get your hands on the clothes, the film starring Mr. Hart and Mr. Beckham can be viewed here.