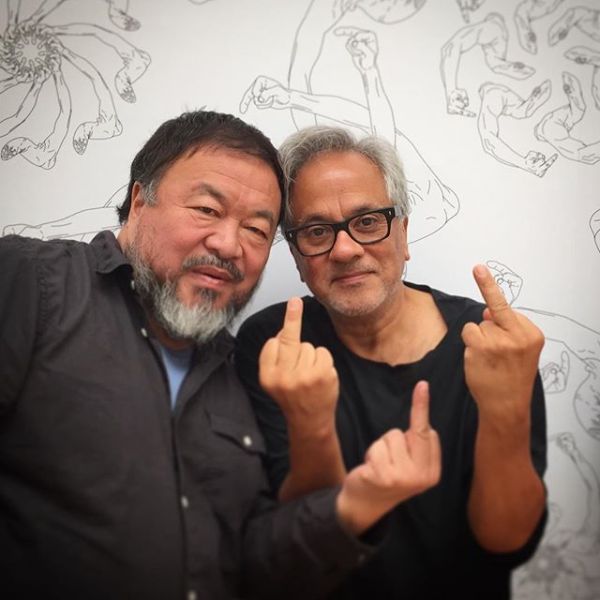 "Two artists, three fingers," say Ai Weiwei and Anish Kapoor, who took the above bird-flipping selfie together at the opening of Ai's London show last night, as Art Net News spotted. But this profanity is for a good cause: the duo asked followers to join them in a protest walk across London that will raise awareness of the plight of refugees streaming into Europe fleeing violence in the Middle East in the Instagram post.
They posted the picture to Mr. Kapoor's Instagram account, @dity_corner, and in the caption called for people to walk with them in a march for refugees on Thursday, September 17, starting at the Royal Academy of Arts in London.
Walkers are asked to carry a single blanket as a nod to the plight of the world's refugees. Mr. Kapoor called the blankets, "A symbol of the need that faces 60 million refugees in our world today," in the post.
Mr. Weiwei is no stranger to flipping the bird. In his 1995-2011 photo series called Study of Perspective, the Beijing-born artist gave the middle finger to famous monuments around the world including the White House and Eiffel Tower. Mr. Weiwei first became famous in the 1980s and 90s for creating art that broke government rules and guidelines in China. He struggled to obtain his visa to attend this show.
Mr. Kapoor's claim to recent fame has been his Dirty Corner sculpture in Versailles, a massive steel installation that has been subject to repeated vandalism and a lawsuit concerning the sculpture's maintenance.
The artists' photo was taken at Mr. Weiwei's survey at the Royal Academy, which opens September 19 and is up until December 13.
The photo has gotten mixed reactions from followers. Some fail to see a connection between refugees and flipping the bird–@7pemery, wrote: "This is like two teenage kids throwing a fit, they're even taking their blankets to comfort them," ANN reported.