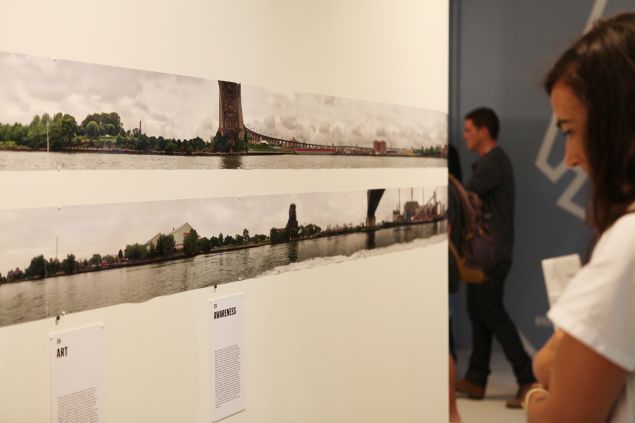 October generally brings to mind pumpkins, Halloween, and other autumnal decorations. It is also, however, the month of "Archtober"—the city's official Architecture and Design Month, filled with a number of programs, talks, and exhibitions devoted to architecture and design.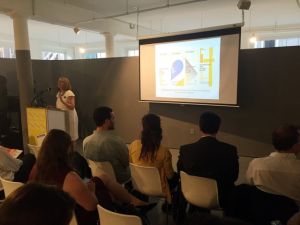 "When we started thinking about creating a festival that stood for design, we were in dark days of recession. With all the unemployment of architects and designers, not business as usual, we wanted to strike a positive note," Cynthia Kracauer, AIA's managing director explained of the festival's start five years ago.
The AIA and Center for Architecture held a preview for Archtober's events at the Center for Architecture's new exhibit space in the South Street Seaport Culture District.
"We tend to minimize [the Seaport District] and think of it as an old-fashioned, or picturesque place," AIA's James Sanders said, "if you know anything about it, you know it's anything besides old-fashioned and picturesque. This is where New York became New York, the great capital that it is today."
Inspired by the location in the Seaport District, the exhibit featured a panorama, "Sea Level: The Five Boroughs at Water's Edge," by photographer Elizabeth Felicella, and annotated with historical and geographical notes about each location by author Robert Sullivan.
This year will also include a number of events that pertain to the Seaport District and the historical and current importance of its architecture, such as tours at the South Street Seaport Museum that highlight the architecture of the district and the Seaport Museum's historic buildings, as well as an AIANY boat tour on October 23, "The Future of Waste," which will discuss the issues that arise from building at water's edge, such as pollution and recycling.
This year's theme is "5 Years, 5 Boroughs," and five architects including Geoff Lynch, Alexander Lamis, Todd Schliemann, Megan Moriaty, and Kyle Bergman, spoke about their projects in Brooklyn, the Bronx, Queens, Staten Island, and Manhattan, respectively.
The month will include over a hundred different events put on by Archtober, beginning on the first, with events like the "Designing Affordability Exhibition Opening" at the AIA Center for Architecture, which will look at how all those involved can work on ways to reduce to cost of housing while innovating maintenance and construction. There are also a number of tours like the "This is Brooklyn": a walking tour that begins at the Brooklyn Historical Society building.
For those with an interest in cinema, there's an Architecture and Design Film Festival at Bow Tie Cinemas in Chelsea on October 14, where there will be a selection of nearly thirty films in relation to architecture and design, as well as an October 15 presentation at the Goethe-Institut of Architecture & The Cuban Revolution, which include films highlighting architectural images and modernist building experiments in post-revolution Cuba.
The festival also includes the Designers & Books Fair, which focuses on architecture, fashion, and graphic, interior, and product design, where publishers of new books as well as rare books dealers will participate in the exhibit, on October 3. There's also a "Wikipedia Edit-a-thon" at the Guggenheim Museum October 15, to expand Wikipedia content related to the achievements of women in architecture and design.
One of the final events, taking place on October 30 and October 31, is an "Instagram Design Hunt" in Soho, which opens up the neighborhood's design showrooms.
Archtober is intended to focus on the importance of architecture and design in every day life, and in addition to the upcoming festival, those involved noted the importance of architects within some of the current debates over affordable housing.
To see the full line-up of all the events that Archtober has to offer, visit their official site.