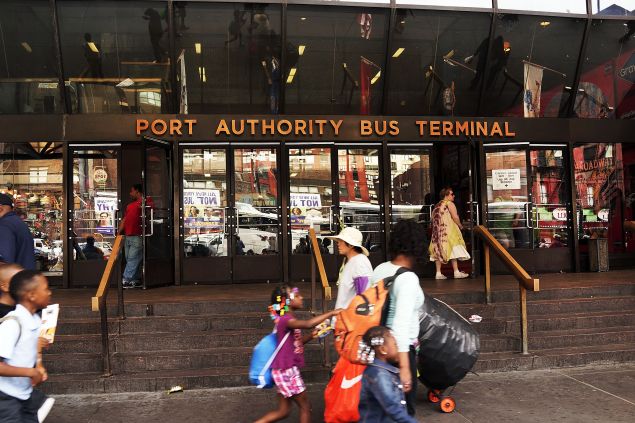 Just as we were getting a respite from Bridgegate and the Hudson River tunnel controversy, the Port Authority seems to have completed another episode in its long-running series of side-splitting antics: its proposal to replace Manhattan's decrepit Port Authority Bus Terminal. The premise of this new installment is pure drama: the existing bus terminal on Eighth Avenue is far too small, decrepit, over-run by homeless, and just plain gross. But left in the creative hands of the Port Authority Board, the script for a replacement is pure comedy.
One commissioner said insightfully, 'We are so out of our league. … We don't know what we're doing.'
Last week, the Port Authority Board met in its regular monthly session. After two years of study, a committee of four members—called commissioners—recommended building a new terminal a full block west of the existing location, and selling the property under the current building to pay for the new one. Apparently, the negative impact on the 66 million commuters who use it annually of having to walk a very long city block to get to a subway was not the major objection. Rather, it was a proposal by one commissioner to build the new terminal not in Manhattan at all, but rather in New Jersey—and then require commuters to transfer to PATH trains or ferries. That commissioner was appointed by New York Gov. Andrew Cuomo.
Some of the commissioners said they were not ready to vote on any specific plan. One commissioner, David Steiner, said insightfully, "We are so out of our league…We don't know what we're doing."
Commissioner David Steiner, an appointee of former New Jersey Gov. James McGreevey, proposed soliciting ideas from outside the agency, as Mr. Cuomo did when considering how to overhaul LaGuardia Airport. If the board does not seek ideas from others, said Mr. Steiner, "We're going to make the wrong decision, as we've done before."
Mr. Steiner is absolutely right.