"Live painting" took on a whole new meaning at the launch of Alexis Bittar and artist Bradley Theodore's jewelry collaboration last night.
The jewelry designer and the buzzy NYC graffiti artist—known for his skeletal portraits of Karl Lagerfeld, Anna Wintour, Coco Chanel and others—joined forces this Fashion Week to launch a limited edition collection of colorful lucite jewelry and hair ornaments.
But the swirling pinks, blues and greens were not limited to the collection; they also were present in Mr. Theodore's intriguing live artwork—the painting of a woman's body, clothed in little besides the items from the collaboration.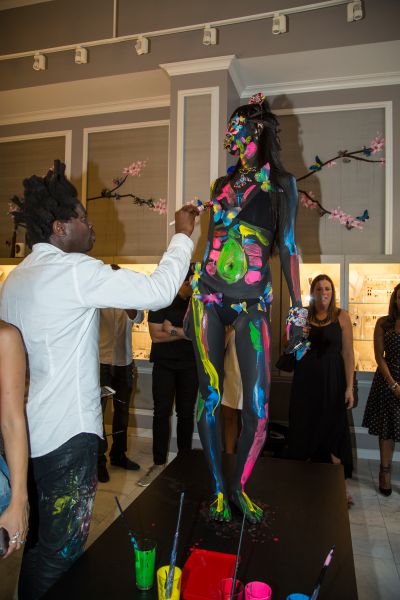 The pair's whimsical collection includes a chunky cuff emblazoned with a glittering butterfly, a headband topped with large lucite flowers, and necklaces with bird and butterfly pendants. Those with a more daring sense of style might also opt for the collection's most unique item: a skull-inspired face mask incorporating a colorful eye mask and dangling sparkling grills.
"I've been working with [lucite] for 30 years now," Mr. Bittar told the Observer via email, "and we wanted to somehow bring together Bradley's eye for color with the sculptural element of clear, hand-carved Lucite."
As for Mr. Theodore, he found inspiration in the artist Frida Kahlo. "The concept is partly based on Frida and her spirit she shared with the world through butterflies," he said over email. "I recently did a collaboration with New York's Botanical Garden. They displayed some of her paintings and recreated her garden. There were so many butterflies that day."
The pair first connected over Instagram—as fashiony folks tend to do nowadays—and Mr. Bittar became a self-professed "big fan" of Mr. Theodore's work. "I love his sensibility of fusing art and graffiti," Mr. Bittar said. "He's created a unique [style] in the art/fashion world—it's irreverent yet still respectful. There's an emotional connection and provocative edge that we both aspire to."
For Mr. Theodore, the bonding moment with Mr. Bittar occurred when the jewelry designer told him he "vacations in Turks and Caicos Islands, where I was born," Mr. Theodore said over email.
"I've always loved Alexis' work," Mr. Theodore continued. "His jewelry is street and luxury all at the same time. What's amazing about Alexis Bittar is that he strives for synergy with the streets of New York. Alexis plays with color, texture and material—and I do the same, except on the street walls of New York."