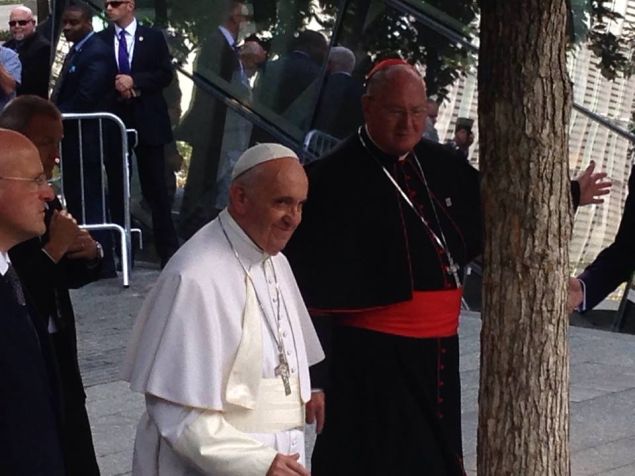 Pope Francis today met with the families of 9/11 victims at the World Trade Center before leading a multi-faith ceremony inside the Memorial Museum, emphasizing a message of healing and peace.
A day after arriving in New York City and celebrating vespers services at Saint Patrick's Cathedral last night, and addressing the United Nations General Assembly this morning, the pontiff arrived at the World Trade Center complex shortly after 11 to cheers from the gathered crowd. He walked to the South Pool, built out of the crater where the South Tower once stood, and paused to pray.
He then greeted the families of 10 victims of the tragedy—traders, a Port Authority executive, the pilot whose plane hit the Pentagon, a firefighter and a flight attendant—by the South Pool, introduced to each by former Mayor Michael Bloomberg, who serves as chairman of the National September 11th Memorial and Museum at the World Trade Center Foundation.
The pope presented blessed rosary beads to each of the 20 individuals in attendance who lost loved ones. Crowds of onlookers, pent up behind barricades and security forces—NYPD, Port Authority police and the Secret Service—chanted "Francisco! Francisco!" and begged for a blessing.
Several carried pictures of people who died during the attacks and their aftermath.
Mayor Bill de Blasio, Gov. Andrew Cuomo, Sen. Charles Schumer and former Mayor Rudolph Giuliani arrived, and the Catholic leader and his entourage of guards and cardinals went indoors.
Inside the museum, the Pope joined local Orthodox Christian, Jewish, Evangelical, Muslim, Buddist, Sikh and Hindu leaders in offering prayers for the victims and their families. His remarks were in his native Spanish, but staff provided translations to reporters.
"O God of love, compassion, and healing, look on us, people of many different faiths and religious traditions, who gather today on this hallowed ground, the scene of unspeakable violence and pain," Francis said, asking for the divine blessing of passengers on the planes, employees at the towers and the Pentagon and emergency personnel who died, and for a future without such violence. "Give us the wisdom and courage to work tirelessly for a world where true peace and love reign among nations and in the hearts of all."
He then dove into a homily on the significance of the terrorist attacks, describing how his encounter with the families outside affected him emotionally.
"Meeting them made me see once again how acts of destruction are never impersonal, abstract or merely material. They always have a face, a concrete story, names," he said. "In those family members, we see the face of pain, a pain which still touches us and cries out to heaven."
But he returned again to a theme of reconciliation across boundaries of geography and creed, symbolized in the diversity of New York City and in the people of many faiths assembled at the memorial.
"It is a source of great hope that in this place of sorrow and remembrance I can join with leaders representing the many religious traditions which enrich the life of this great city," he said. "I trust that our presence together will be a powerful sign of our shared desire to be a force for reconciliation, peace and justice in this community and throughout the world. For all our differences and disagreements, we can live in a world of peace."
"We can and must build unity on the basis of our diversity of languages, cultures and religions, and lift our voices against everything which would stand in the way of such unity," he continued. "This can only happen if we uproot from our hearts all feelings of hatred, vengeance and resentment. We know that that is only possible as a gift from heaven."