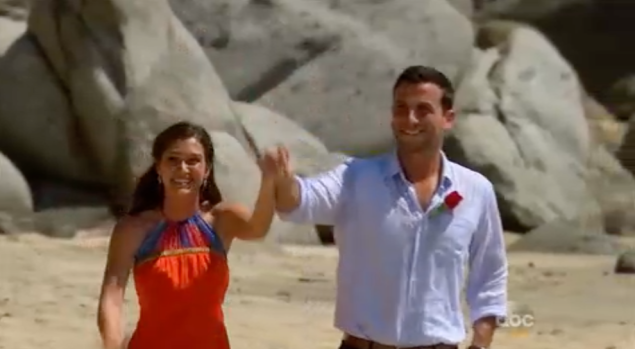 Bachelor in Paradise is our reward for slogging through weeks of Kaitlyn, Shawn and Nick's nonsense. Join us, as contestants from The Bachelor and The Bachelorette seasons past stop being polite, and start getting real (drunk and crazy).
A dozen roses to poor old Kirk; not only did he incur America's wrath by breaking up with Carly on Sunday night's episode, but I'm assuming that sometime over the course of the past day, he logged onto the World Wide Web and discovered this new addition to Carly Waddell's Soundcloud account:
A rose to Tenley for putting her free time in Paradise towards the prestigious pursuit of crafting the next Great American Novel.
A rose to the Bachelor in Paradise producers, who tried up the stakes in a series of relatively drama-free Fantasy Suites by repeatedly and aggressively interviewing the remaining contestants about Carly and Kirk's break-up.
"Now—um—now that they've broken up, who knows what'll happen with the rest of the couples?" Jade—a person who is definitely getting engaged at the end of this episode—asks the camera, trying hard to ignore the searing hot laser pointer Chris Harrison is pointing at the center of forehead.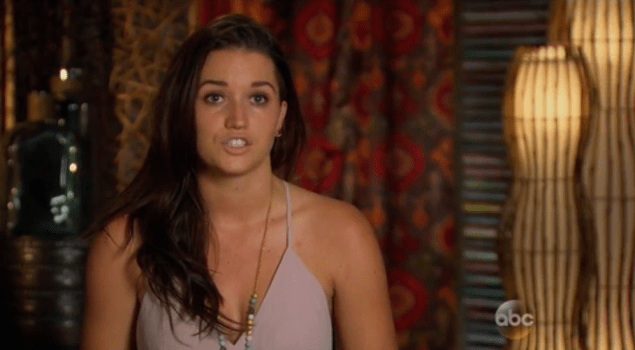 A rose to Nick, the new leader in my favorite competition: Which Bachelor Contestant Can Create the Most Cringeworthy Fantasy Suite Sex Euphemism? Nick earned the coveted top spot for this beaut:
Sam says she's 100 percent there for Nick (who else would she be there for at this point—Jorge the Bartender?), and the two head for the Fantasy Suite.
No roses to Cassandra for turning down a night in the Fantasy Suite. I mean, it's cool if she doesn't want to do sex with Justin, Captain Helmet Hair. But that's not her reasoning; it's that she wants to "set a good example for her son." Cassandra. Gurl. You're already on a reality show where a thing called a "Fantasy Suite" exists. THE EXAMPLE WAS SET BEFORE YOUR FIRST STRAWBERRY DAIQUIRI.
No roses to any Bachelor in Paradise contestant remotely stressing about the final Rose Ceremony.
I've said it a zillion times before, but it must be reiterated, for it is the one fatal flaw of this otherwise brilliant piece of television: What is any contestant's incentive to solidify a relationship by the time of the final Rose Ceremony? Will they never get a chance to speak to each other ever again (actually, in the case of Idaho resident Josh the Welder, maybe). On the flip side, why not give someone a rose? It's not as though contestants who choose to stay together are immediately forced into a live, televised, Chris Harrison-officiated wedding.
To summarize, Bachelor in Paradise needs more stakes. I vote that all contestants who don't find love in Paradise be forced to date Juan Pablo for a period of one full year.
Another rose to Nick, for showing the women of America how to tell when a guy really respects you for your intellect. "Not only have I been extremely attracted to her," Nick says of Sam, "but she has so many qualities that I'm looking for."
A rose to Josh the Welder for enduring the worst possible kind of break-up: the kind where the surrounding air temperature is 17 times hotter than the surface of the sun.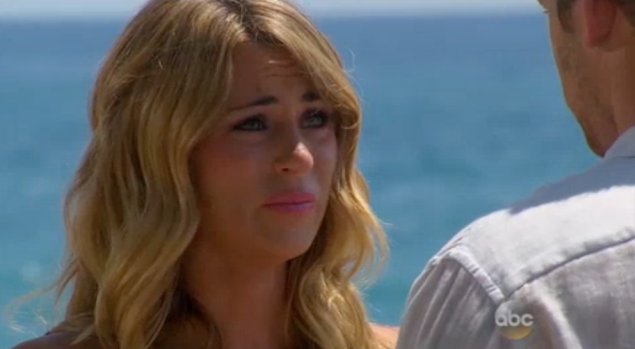 A rose to the most shocking outcome of Cassandra's time on Bachelor in Paradise—not that she arrived last and still managed to find a relationship, but that she ended up ditching Justin and is now randomly dating JONATHAN!!!
It remains to be seen whether Justin's terrible haircut contributed to the aforementioned break-up.
A rose to that special brand of deep shame—perhaps unique to Bachelor fans—that comes with finding oneself alone on the couch, eating Seamless, wearing fuzzy pink socks, and actually shedding ACTUAL TEARS during a reality TV wedding proposal. Yep, I cried out of happiness for Tanner and Jade.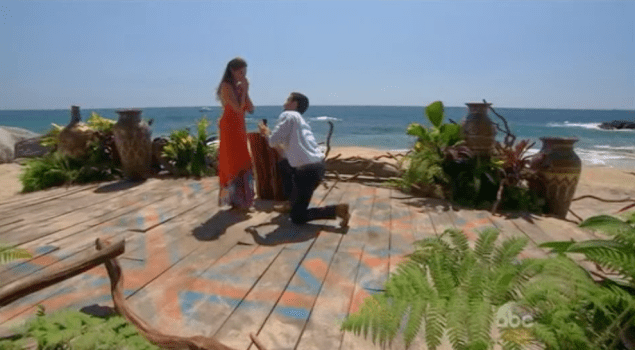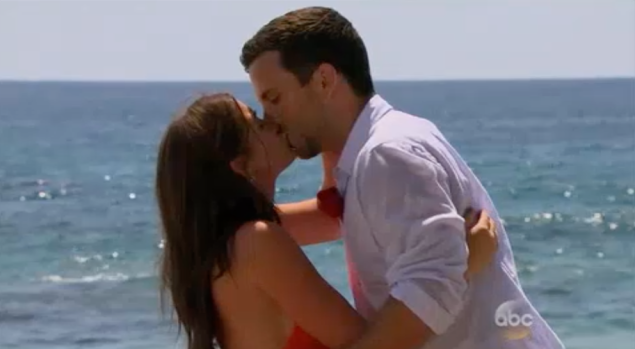 Then I cried from the awkwardness of Tanner going to tuck his fingers into his new fiancée's hair, inexplicably changing his mind, and then not knowing what to do with his hand for the duration of the make-out.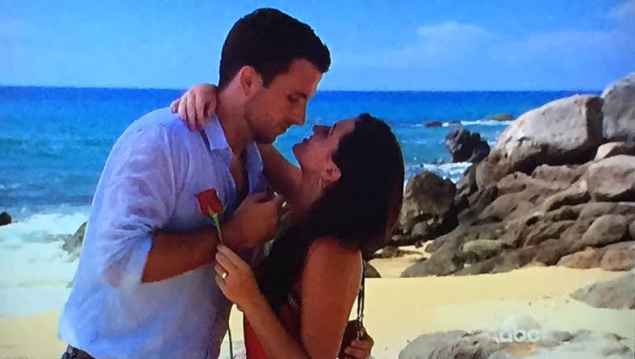 A rose to anyone who can explain to me what one "does" on "Mondays," now that The Bachelor and all related spin-offs are done until 2016.
Tbh, might just pass the time listening to "Blindsided. A song for Kirk" on repeat.