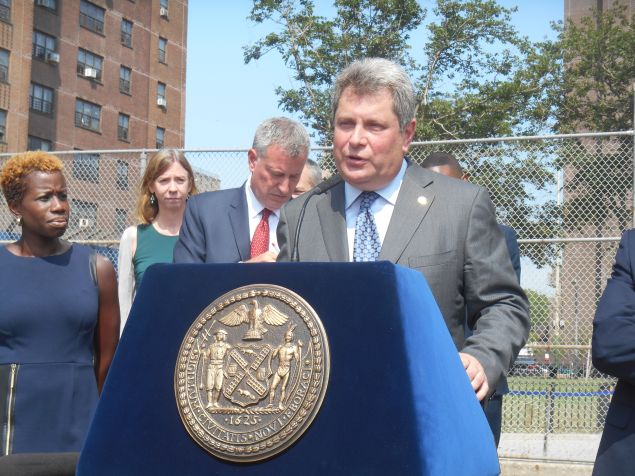 For the second time this year, a special election for a Brooklyn Assembly seat will not be a ho-hum affair.
In southwest Brooklyn, the sudden resignation of Alec Brook-Krasny, a Democrat, has meant a backroom scramble that could result in a rare three-way special election in November. Tomorrow, the area's Democratic male and female district leaders will meet, along with members of the county committee, to nominate a Democrat to run in a district that spans Bay Ridge, Dyker Heights and Coney Island.
Two third parties have already nominated competing candidates. The liberal Working Families Party recently endorsed Pam Harris, a Coney Island-based community activist and retired corrections officer. The Independence Party chose Mr. Brook-Krasny's chief of staff, Kate Cucco. A Bay Ridge attorney, Cody McCone, is also seeking the all-important Democratic nod.
Insiders say the Democratic nomination will likely go to Ms. Harris or Ms. Cucco, depending on how many proxies–votes from people not in attendance–the approximately 90 county committee members bring to the Tuesday meeting.
Typically, leaders of county-wide Democratic organizations try to exert influence over nomination battles within their turf and special elections are settled with little drama. But Frank Seddio, the chairman of the Brooklyn Democratic Party, has been content to let committee members in Bay Ridge and Coney Island duke it out.
In turn, the nomination contest has been a struggle of geography, political influence and even race, with a black candidate, Ms. Harris, seeking to represent a district that is predominately white.
In addition to the WFP, Ms. Harris has many powerful allies. Congressman Hakeem Jeffries, Councilman Mark Treyger and State Senator Diane Savino recently endorsed Ms. Harris. All represent the Coney Island portion of the district, which encompasses almost half the electorate. Delia Shack, one of the district's two Democratic district leaders, favors Mr. McCone, sources say.
Other influential Democrats are going a different way. Bay Ridge Councilman Vincent Gentile is supporting Ms. Cucco. Mr. Brook-Krasny, who is not from Bay Ridge, said he will also endorse her. And former Coney Island Councilman Domenic Recchia Jr., no fan of his successor, Mr. Treyger, is said to be favoring Ms. Cucco.
"Treyger and Coney Island folks are obviously trying to get their foot in the door in Bay Ridge and that's what we're trying to stop," said one Cucco supporter, claiming that Mr. Treyger and his mentor, Assemblyman Bill Colton, are trying to maximize their influence.
"This is not a process that we asked for, but this is a process that we must embrace," Mr. Treyger told the blog Sheepshead Bites on Sunday. "But now comes an opportunity. There is an opportunity right now to push forward someone that is a lifelong resident of this district, someone who embodies the term community."
Were Ms. Harris to win the nomination tomorrow and defeat perennial Republican contender Lucretia Regina-Potter in November, she would be the only black elected official in the city to represent a majority white district. The district is 65 percent white, 14 percent Hispanic and 10 percent black.
Some Democrats have theorized that Ms. Harris' demographic disadvantages and the district's conservative bent, at least in the overwhelmingly white Bay Ridge side, could give Ms. Regina-Potter an opening. The district, however, is still dominated by Democrats and Mr. Brook-Krasny routinely won re-election in landslides.