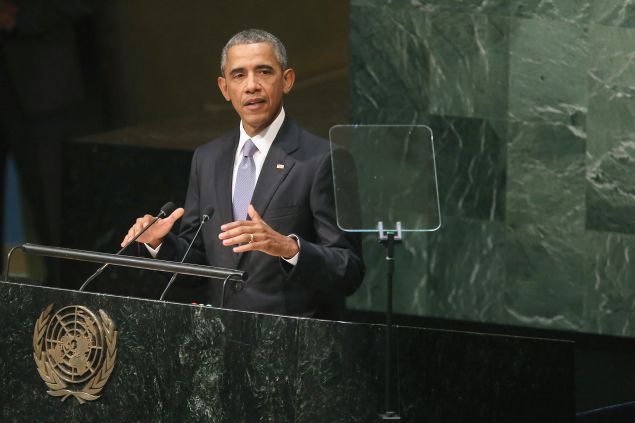 UNITED NATIONS–The Observer was at the 70th Annual United Nations General Assembly today, dutifully taking notes in a very crowded press gallery. Some of the world's heaviest of heavy hitters, including President Barack Obama, Russian President Vladimir Putin, Chinese President Xi Jinping, Brazilian President Dilma Rousseff and Iranian President Hassan Rouhani took the stage.
Here's a quick rundown of what went on:
1. Barack Obama was unafraid to mix it up with Russia and Syria. 
President Obama spoke earlier than Vladimir Putin, the Russian president, and fired several salvos before the two powerful leaders met behind closed doors. Mr. Obama blasted Russia for defending Syria and its dictatorial president, Bashar al-Assad, who is accused of killing thousands of his own people and spurring a global refugee crisis. "Dangerous currents risk pulling us back into a darker, more disordered world," Mr. Obama said. "In accordance with this logic, we should support tyrants like Bashar al-Assad who drops barrel bombs to massacre innocent civilians because the alternative is surely worse." He also said of the Syrian leader: "Assad reacted to peaceful protests by escalating repression and killing that, in turn, created the environment for the current strife. And so Assad and his allies cannot simply pacify the broad majority of a population who have been brutalized by chemical weapons and indiscriminate bombing."
On Russia's invasion of Ukraine, Mr. Obama was similarly blunt. "Consider Russia's annexation of Crimea and further aggression in eastern Ukraine," he said. "America has few economic interests in Ukraine. We recognize the deep and complex history between Russia and Ukraine. But we cannot stand by when the sovereignty and territorial integrity of a nation is flagrantly violated."
2. Vladimir Putin did not come to play nice.
The Russian prime minister, fresh off a 60 Minutes interview in which he tweaked United States on everything from Ukraine to Ferguson, came out swinging. He chided President Obama and the United States for criticizing Syria, an opponent of the Islamic State, and pushing for Middle Eastern revolutions that, in Mr. Putin's eyes, only bred further instability. "Look at the Middle East and North Africa. Certainly political and social problems were piling up. People wished for change but how did it actually turn out? Rather than bringing about reforms, forceful interference resulted in the brazen destruction of national institutions" which, in turn, led to "violence, poverty and social disaster," he charged. Mr. Putin said it was an "enormous mistake" not to cooperate with Syria in a war against ISIS.
ISIS arose, Mr. Putin argued today, through "power vacuums" created by the United States' actions abroad. These vacuums are only worsening the refugee crisis, he claimed. "I'd like to stress refugees need our compassion and support. However, the only way to solve this on a fundamental level is restore statehood where it has been destroyed." He fumed about NATO's presence in eastern Europe and even suggested creating a "broad" international coalition to fight ISIS, hinting he could do it without Mr. Obama's help. On Ukraine, Mr. Putin reiterated his position that a revolt there was orchestrated from the outside, despite America's claim to the contrary, and defended Russia's role in annexing the country.
3. In Iran, some things change and others remain the same.
After the United States and Iran, along with several other world powers, negotiated a historic accord to limit Iran's nuclear weapons capabilities in exchange for the lifting of economic sanctions, many conservatives in both countries blasted the agreement as a deal with the devil. But Congress failed to derail the accord, known as the Joint Comprehensive Plan of Action, and the international community hailed it as a step toward peaceful cooperation between two countries which traditionally reviled each other.
After UN Secretary General Ban Ki-moon praised the deal this morning, Mr. Rouhani took the stage to offer kind words–but not before castigating a few rival nations. He bashed Saudi Arabia for its "incompetence" in failing to prevent a deadly stampede in Mecca that killed more than 700 people. He lashed out against Israel, which he referred to as the "Zionist regime," for allegedly keeping the UN's dream of nuclear disarmament from becoming a reality. He partially blamed Israel and the United States for the rise of ISIS. "If we did not have the United States' military invasion of Iraq and Afghanistan and unwarranted support for the Zionist regime, today's terrorists would not have an excuse for the justification of their crimes."
He said his country "never had the intention" of pursuing the development of nuclear weapons and he denied crippling economic sanctions brought him to the negotiating table. "Today Iran is looking to the future. We will not forget the past," he said. "We do not wish to live in the past. We will not forget war and sanctions but we look to peace and development."
The story has been updated to reflect that Mr. Putin is the president, not prime minister.