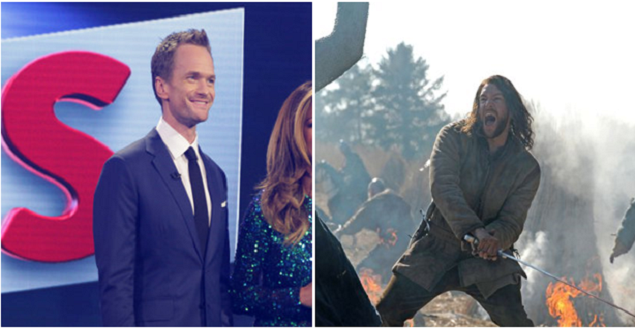 Look, I love a lot of dumb things unironically. My favorite song right now is that one where Macklemore raised Freddie Mercury from the dead to sing about mopeds. My favorite moment from TV all year involved a pre-teen Bruce Wayne smashing a gold watch into another child's face repeatedly. I'm not opposed to camp, or fantasy, or high concepts or outright silliness. But man, I just can't bring myself to enjoy Best Time Ever with Neil Patrick Harris. Not even ironically. Not even on some sort of ridiculous, winking surface level.
How did we get to having the Best Time Ever? Well, summer is officially over, and the Fall TV slate is barreling down on us all. Best Time Ever, highly advertised by NBC for weeks, is one of the first news shows to trickle out for audiences to sample. A pleasant way to describe it would be as a variety show starring Neil Patrick Harris. A realistic way to describe it would be that an ADHD panic attack took the form of a TV show. Remember the movie Yes Man starring Jim Carrey? Probably not, but it involves a guy challenging himself to say yes to everything for an entire year. I can only assume every single person involved in the pitch meeting that formed Best Time Ever took that exact same challenge. "Karaoke? Yes. Casual stalking? Yes. Carrot Top? Yes. Pogo sticks? Yes. Nicole Scherzinger sexually assaulting audience members? Yes yes yes to everything!"
I mean, I get it. I guess that is the point of calling it a variety show, right? But Best Time Ever isn't the cool kid at the party who can play guitar and sing but is also pretty funny. Best Time Ever is that scary kid at the party that definitely just did coke in the bathroom, and then smashed a bottle over his head to get a laugh. Didn't work? No problem, he just moved on to juggling some knives he found in the kitchen and "HEY, do you want a cigarette?" he asks, getting way too close to your face.
Which is not to say Best Time Ever doesn't have its merits. I mean, any attempt to entertain me that is this manic can appreciated to a degree, especially because of NPH's enthusiasm and charm. But after an hour, the show's question of "isn't this the best. time. ever?" takes on a much more "I'm locking you in my basement until you're entertained" vibe.
Funny enough, running right alongside the Best Time Ever premiere was the two hour pilot of Kurt Sutter's The Bastard Executioner. Our recapper Felix Biederman goes into much more detail here, but basically The Bastard Executioner is what would happen if the biker gangs from Sons of Anarchy took a wrong turn and ended up in Westeros. Which makes sense, because Kurt Sutter created Sons of Anarchy. It also makes sense because Kurt Sutter loves using gratuitous violence, visceral gore and very unpleasant looking doggy-style sex in his stories, all staples of both Sons and Game of Thrones. Much like Best Time Ever is peak Neil Patrick Harris, The Bastard Executioner is peak Kurt Sutter. There is an interesting revenge story there and some great visuals, but it's buried underneath a real thick layer of pregnant women getting stabbed and Sutter himself playing a horribly burned mute monster that lives in a cave.
What I'm saying here is, the Tuesday night TV landscape has basically become a coke-fueled, violent Wild West scenario, and we'd best be prepared. Really want to fuck yourself up? Do what I did, and flip between The Bastard Executioner and Best Time Ever. Do you know how disorienting it is to smash cut from a dead-eyed audience clapping in unison to Reese Witherspoon's karaoke to a dude getting impaled in the skull? Very disorienting! If you ever want to casually get high on a Tuesday you don't even need drugs anymore. You just need to pay half attention to your TV and look up any time there is a loud noise, letting the shows blend together. In like ten minutes you'll be confused as to why a group of 14th century warriors are running an obstacle course with Doogie Howser, MD.
It only gets better. Tuesday the 22nd, Ryan Murphy's Scream Queens premieres. Scream Queens is American Horror Story mixed with Glee, co-starring Nick Jonas and Ariana Grande. On that same night, if you grow sick of human-Muppet hybrid Neil Patrick Harris, you can turn to ABC and see THE ACTUAL MUPPETS. Need something to help smooth out the comedown? The week after that we have The Grinder and Grandfathered premieres, where I guess there's a story but you can also just stare at Rob Lowe and John Stamos and wonder how they still look the way they do.
I know what you're thinking: "So you don't like the variety of Best Time Ever, but you do like the variety of Tuesday night TV?" In all seriousness, yes. Because this isn't a desperate variety, it's a genuine variety. In a time where every show is either a hospital/cop/lawyer procedural, a remake, or an adaptation I'd rather be overcome by ALL THE NEW IDEAS than bored by a bunch of old ones.
Separate, all these shows are a hodge-podge of weird and disparate concepts. But together, oh man. Tuesday night TV is now a disorienting and insane blend of in-your-face-enthusiasm, Rob Lowe, graphic violence and puppets. Now THAT sounds like the best time ever, for as long as you can take it.