I had known it was coming for months, ever since I moved from Observer Innovation to Style. Though I would mostly report on Health and Wellness in my new role, I knew I would be somehow involved with it—that ominous, forthcoming enigma. Fashion Week. What would I wear? Would I have to attend runway shows? Would I get duped by some comedian, asking me on-camera if I was excited to see the show of some elaborately-named designer who didn't actually exist?
Today, as Betsey Johnson celebrated 50 years in fashion, I celebrated my first New York Fashion Week runway show. Below, find a play-by-play of the momentous occasion.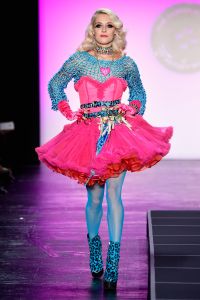 9:20 a.m.: I have been informed that during Fashion Week, I must dress as the trendy folk do, eschewing my standard uniform of jeans and a nice-ish top thrown together haphazardly after my morning run. In the gym locker room, I unpack my outfit for the day—the one I've been saving since the salesgirl at Aritzia picked it out for me, and an onlooking coworker enthusiastically informed me that I looked "so chic." It's a boho, '60s-inspired shift dress the color of red wine, and I pair it with a long necklace and brown cowboy-esque boots.
9:40 a.m.: I get an email about my seating assignment for the Betsey Johnson show. I'm in the 4th row. That sounds pretty good—only three away from row one! Heck, I'm practically sitting next to Kim and Kanye (they'll be there, right?). I cancel some appointments next week, just in case Kim and Kanye ask me to hang out or babysit or something.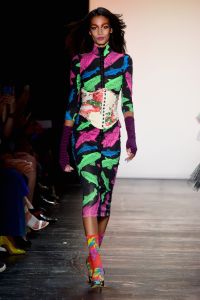 10:00 a.m.: An Observer senior Style editor who has elected to remain nameless relays the cold, hard truth: "If you don't have a front row seat, it's not worth going to show." I am still going to go to the show.
1:46 p.m.: I am aware that this is not a particularly revolutionary observation, but still I must say it: It is fascinating to see what people are wearing to the show. I pass a pair of thigh-high silver sequined boots and a woman in an enormous black fur jacket. I see fuschia hair in a '40s pin-up style and bright blue pigtails. Is this standard for Fashion Week, or is it just a Betsey Johnson thing?
2:02 p.m.: I'm in my seat. Row 4 isn't so bad. I'm closer to the front row than to the back row, at least.
2:21 p.m.: I see some women posing for photographs, whose hair is in gorgeous, elaborate braids. It takes a minute for me to recognize them as Orange is the New Black's Emma Myles and Emily Althaus, because it's hard to recognize OITNB actors when they're not in prison clothes. I spy cast members Jackie Cruz and Lea DeLaria, too. Real Housewives LuAnn de Lesseps and Kelly Bensimon are also here. Kim and Kanye are nowhere in sight.
2:30 p.m.: The show begins! Betsey Johnson is presenting her Spring 2016 collection in six parts. The first, called "Limelight," is the look I inherently associate with her name: flouncy skirts in bright colors, adorned with glitter and sequins. A teal sequined top is paired with a huge pink skirt and lime green tights. I'd wear that.
2:34 p.m.: The next set of outfits, "Palladium," is more '80s-inspired. There are dresses with wacky neon prints, like multi-colored fish. Every outfit has a corset, and I can't tell if they're comfortable.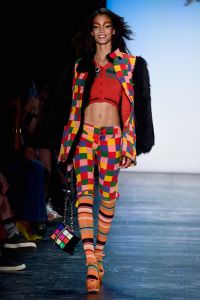 2:38 p.m.: Things get a little racy with the next set of outfits, "Mud Club," which have a British punk rock vibe. A model gives photographers the finger at the end of the runway. Wow, Fashion Week is cool!
2:42 p.m.: The next round of looks is called "Electric Circus," and it seems part '70s hippie, part clown-inspired. Clowns make me very uneasy, but these clothes do not. They're fun.
2: 46 p.m.: Next up is "Max's Kansas City," which has a '60s mod feel. The beehive was a cool hairstyle, and I think it should come back.
2:50 p.m.: The last group is named for Ann K. Pimm, Betsey Johnson's childhood dance teacher, according to the program. These looks channel a candy stiper aesthetic, and are really fun.
2:55 p.m.: Finally, here comes Betsey Johnson herself. I had been warned that the 73-year-old designer would do a cartwheel to close out the show, but it still came as a shock to see Ms. Johnson, clad in black-and-white striped leggings and much colorful jewelry, catapulting herself into the air.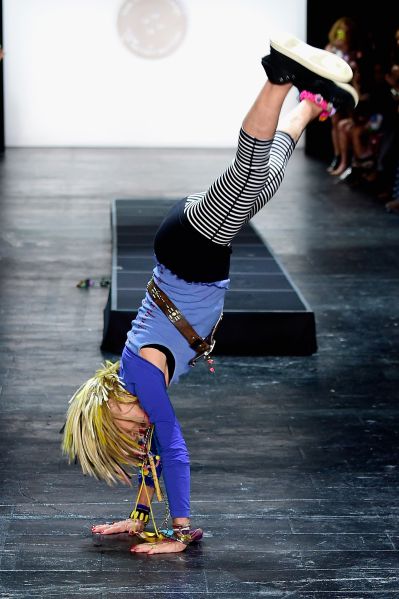 2:56 p.m.: Oh my god—is she O.K.? What is going on? Betsey, do you need help? I'm right here, only four rows back!
3:00 p.m.: Thankfully, all is well. Ms. Johnson rises from the floor just as models emerge, each toting massive, silver 5-0 balloons to celebrate Ms. Johnson's important milestone. When it's all over, I slip out of my very first runway show, privately celebrating mine.