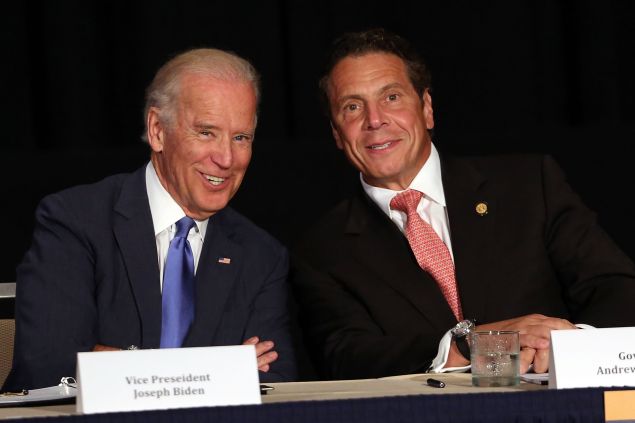 Reversing his position from earlier this year, Gov. Andrew Cuomo said this afternoon that New York State's minimum wage should eventually rise to $15 an hour—pleasing progressives who have traditionally upbraided him and irking business leaders.
Appearing with Vice President Joe Biden at the Javits Center in Manhattan, Mr. Cuomo repeatedly invoked his late father, former Gov. Mario Cuomo, in a soaring speech peppered with liberal rhetoric.
"It's wrong to have any economy where the rich get richer and the poor get poorer, where the American dream of mobility and opportunity has become more of a cruel myth," Mr. Cuomo said in front of a cheering crowd of labor union members. "15 dollars an hour will be the highest statewide rate in the nation and will herald a new economic contract with America and it's about time."
George Gresham, the president of 1199 SEIU, the powerful healthcare workers union, said the campaign for a $15 minimum wage would be dubbed the "Mario Cuomo campaign for economic justice."
Mr. Cuomo, a Democrat, is an ally of the vice president's and has made appearances with him before to announce overhauls of LaGuardia Airport. As Mr. Biden mulls running for president again, Mr. Cuomo, a supporter of Hillary Clinton, has hinted that he'd consider switching his endorsement. There was no talk of presidential politics today, but Mr. Biden, in addition to heaping praise on the elder and younger Cuomo, vigorously defended the Obama administration's stewardship of the economy and touted his proposal to raise the federal minimum wage to $12.
"Too many American no longer think it's gonna be okay," Mr. Biden said. "We have one single solitary focus: to continue this fight until every parent can look their kid in the eye and mean what they say, 'Honey its going to be okay.'"
Noting that a minimum wage hike would especially impact women (a large voting bloc in Democratic presidential primaries), Mr. Biden said he was on hand today to put the proposed hike in "context," emphasizing his final goal as vice president is to help lift stagnant wages.
"This country was built by ordinary folks, by my grandparents and parents," he said. "I'm here to put this in a larger context. Our economy has gone from crisis to recovery, on the cusp of real resurgence. We're in better position than any nation in world to lead world economy in the 21st century."
Mr. Biden said that Mr. Cuomo, who has endured criticism from liberals in his own party, is the "best governor in the whole darn country." Mr. Cuomo compared Mr. Biden to Santa Claus, except "without the red jacket and the beard and the belly and the nose. Otherwise he's just like Santa Claus and whenever he comes he brings good news."
In political circles, Mr. Cuomo's sudden call for a $15 minimum wage raised some eyebrows. Though Mr. Cuomo compelled a wage board in July to phase in a $15 wage for fast food workers statewide, he has thrown cold water on proposed minimum wage hikes in the past. When his erstwhile friend, Mayor Bill de Blasio, called for New York City's minimum wage to rise to more than $13 an hour, Mr. Cuomo dismissed it as a "nonstarter."
Mr. de Blasio, a liberal Democrat, applauded the announcement today. "We welcome the governor's support for a $15 minimum wage–and New York City stands ready to help make it a reality," he said in a statement.
Mr. Cuomo said this minimum wage proposal, like the since-approved hike for fast food workers, would be phased in, but offered no other details. Albany decides the minimum wage for all localities, including the city. The state's minimum wage is set to rise to $9 at the end of this year, the result of a phased in hike agreed upon several years ago.
A call for a $15 minimum wage, at this point at least, amounts to little more than a political ploy, no matter how many labor unions and progressives think it's a good idea. The Republican-controlled State Senate opposes any increase in the minimum wage and influential business groups will lobby aggressively against the plan.
"A $15 an hour wage is a significant increase from the $11.50 proposed by the governor and rejected by the Senate earlier this year and would likely have a negative impact on job creation and individual businesses," said Heather Briccetti, the president and CEO of the Business Council of New York State.
John Flanagan, the majority leader of the Senate, concurred. "Raising the wage floor in New York that far that fast could lead to unintended consequences such as severe job losses and negatively impact many businesses who are already struggling just to keep their heads above water," he said.
Mr. Cuomo proposed a far less ambitious minimum wage hike in January. He urged the State Legislature to raise New York City's minimum wage to $11.50 and $10.50 in the rest of the state. The proposal went nowhere this legislative session.
But Mr. Biden and Mr. Cuomo spoke of the $15 proposal as if its passage was inevitable, or as simple as circumventing the State Legislature. Los Angeles and Seattle recently approved minimum wage hikes that will eventually reach $15. Among progressives, $15 has become a national rallying cry
"Let's show this nation how could we can be and how high we can reach and let's build my father's shining city," Mr. Cuomo said.