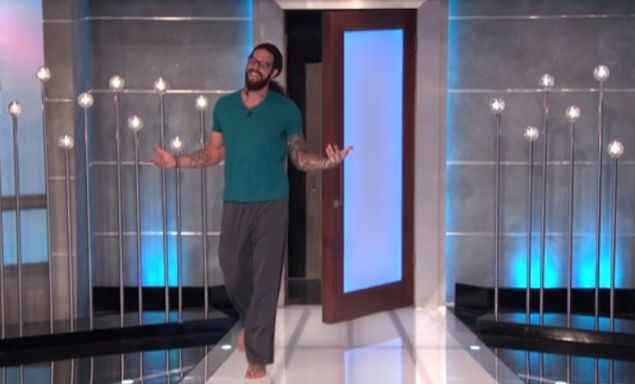 Pretty much we're going into the most important week of the entire year. Less than seven days away from Finale Night, in which a new Big Brother Champion will be crowned. How could anyone ever choose to watch the Republican debate last night instead of the Final 3 Big Brother episode? I don't care about these debates because whoever wins Big Brother is my President for the year anyway.  President Derrick had a great run. Let's crown a new Commander in Chief.
Vanessa won Head of Household at the beginning of last week, which was sure to kick off an entertaining series of events as she has deals with everybody left in the house. During the HoH competition, Liz was super far behind and didn't have a shot at winning so she went for a luxury prize and promised to take whoever won HoH. Last week, I speculated that the prize would be a preview of the new CBS show Code Black starring my hero Luis Guzman but I was wrong. Frankie Grande popped back into the house screaming "Who wants to shine bright like a Frankie!!" and took Liz and Vanessa to an Ariana Grande concert in Los Angeles. For some reason, Frankie announced he enlisted his hair and makeup team to give them makeovers so that nobody would recognize Liz and Vanessa. But they were basically alone backstage and in their own private skybox booth to watch the show so I have to think the only reason for this makeover was to have Liz get dressed up to look exactly like Sharon Osbourne, who hosts The Talk with Julie Chen. The Talk is different from The View which is different from The Chew, for your information.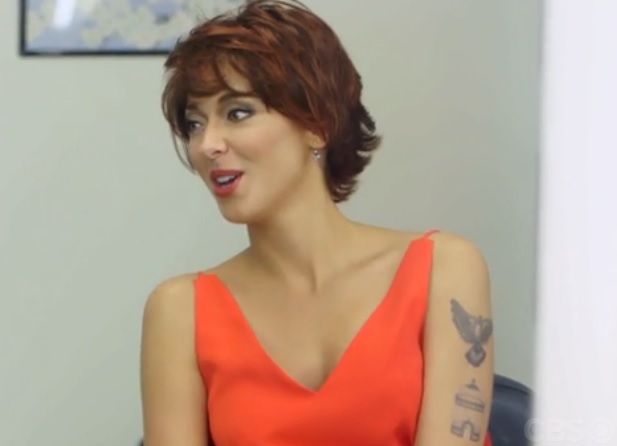 Vanessa as HoH was so much fun to watch because she is basically Sandra Bullock in Love Potion Number 9 after she sprays the mist into her voice and then everyone listens to every single word that she says and does what she wants even if it is the worst possible thing to do on a personal level. Vanessa nominated Steve and John, choosing her alliance with Austin and Liz for the time being. But Johnny Mac is a veto-champion and he managed to pull off a victory—the worst outcome for Vanessa. Johnny pulled himself down and Vanessa put up her boy, Austin the Judas. This set the stage for the greatest blindside since Sandra Bullock found out that Jesse James never saw her football movie.
Because of the upcoming football schedule, the eviction was held on a Tuesday, which was a surprise to the houseguests. John and Vanessa both promised Austin that he was safe. You are NEVER safe in this house. Ever. Austin felt so safe that he didn't wear shoes to the eviction ceremony. Austin has spent the whole season in various stages of undress. He competed in an HoH on national television with no shirt on. But no shoes on? You know when happens when you don't wear shoes to an eviction? You get evicted with no damn shoes on! Funniest, most perfect moment of the season. The WWE could not have scripted a better storyline if they had Paddy Chayefsky on as a guest-writer. Austin spent the whole season cultivating this "I am Judas" heel personality who will backstab anyone. Johnny Mac stabbed him first by lying about keeping him and Vanessa got him with the tiebreaker. First thing he does, is try to argue with Vanessa that she doesn't have the votes to win the game. Then he walks out the door of the house and into the studio WITH NO SHOES ON and Steve slow-claps him and wishes him luck. I am not wearing shoes now in honor of this perfect moment. I will not be wearing shoes all week. Austin did his interview with Julie barefoot. Austin admitted that "Judas got Judas'd." Vanessa turned Austin into the butler from The Birdcage. He doesn't wear the shoes because the shoes make him fall down. Judas got Agador Sparticus'd. But it continues. Austin showed up to the jury house barefoot. He should never wear shoes ever again. He should spend the rest of his life walking barefoot. In future seasons of Big Brother, if someone doesn't kick off their shoes and leave the house barefoot after a blindside, they are not living their best lives. Austin went into Jury determined to torpedo Vanessa's chances at winning the game. If he does this the same way he went about playing the game, I'm sure it will backfire gloriously and hand Vanessa the championship (if she makes it there ((she will))).
This was a two eviction week so hot on the heels of Austin leaving, there was another HoH. Steve won but only because he did the math wrong in his head and left out a zero on the tiebreaker question. Steve really wanted to get Vanessa out. He wanted to have that on his resume going into the finals, which isn't a bad strategy. The nominations in Final 4 don't matter because of the veto. Whoever wins it, holds all of the power. Vanessa won, in a competition hosted by Caleb from last season. They padded the heck out of this thing in order to give Beast Mode Ninja the platform to do some karate chops and flips. Liz went on the block against John and Johnny got voted out. It was a good run for the Rock N Roll Dentist. He most likely has the America's Favorite prize wrapped up so he won't go empty handed.
Brendan and Rachel showed up to announce that they're going to have a baby. Maybe Austin and Liz will have a baby someday. CBS also used this week to do their yearly big push for a TV show on the fall season. But they chose Life in Pieces over Code Black. When will Luis Guzman get the Big Brother recognition he needs and deserves?
This is it, the final week. Part one of the final HoH begins on Sunday. Next Wednesay is Finale night. The Jury will vote for the winner and all the houseguests will be back. And after it's over, I will curl up into a ball and cry for the next nine months until it is back.