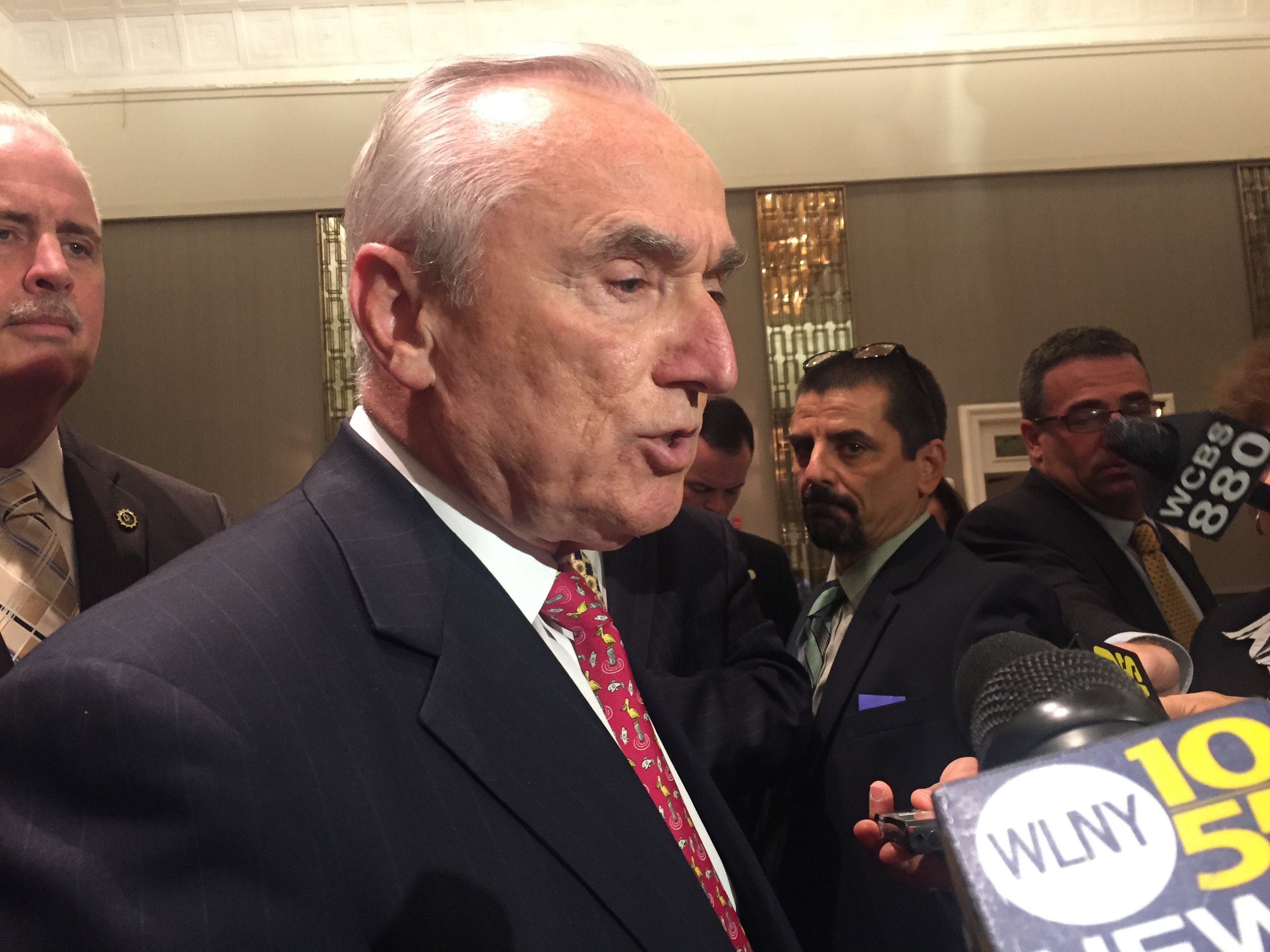 NYPD Commissioner Bill Bratton offered an aggressive defense of his police department this morning—ripping the city comptroller for calling city crime statistics "politicized," pushing back against City Council reform efforts and knocking "headlines that misinform" during a morning address to the Association for a Better New York.
"This city is moving in the right direction—whether the naysayers running for office, trying to sell papers, or seeking ways to impugn the mayor, it doesn't change the numbers. They are not politicized—and I'll quote here, they are not politicized statistics, as was charged yesterday by Comptroller Scott Stringer," Mr. Bratton said during his speech. "By making that charge, he denigrates the hard work of the 52,000 men and women of this department who work very hard to produce the statistics that I will give you this morning. We don't have politicized statistics: we have crime statistics. They are accurate, they are timely, and they guide this department."
The commissioner's wide-ranging remarks come a day after elected officials, including Mr. Stringer, rallied in response to a particularly violent weekend that saw seven slain in the city and dominated headlines Monday. Mr. Stringer had criticized the way crime statistics were factoring into the public debate on safety.
"The debate in this city has gotten way too complicated for me. Because as we mourn the losses, the debate's going to be 'which week was safer?' 'What month did the statistics go down?' When you're saying 'we had the biggest, safest summer in history,' well, when you go out and talk to the parents and the grandparents, they don't want to hear that," Mr. Stringer, a Democrat who is often named as a potential challenger to Mayor Bill de Blasio in 2017, said.
Mr. Bratton, as he often does after an uptick in violence, today took the long view: reminding the crowd that overall major crime is down this year, and though homicides are up by 22 compared to this time in 2014, this year is still among the safest on record. He told the crowd he would give them a "reality check"—and the reality was that crime is down—and speak to them from "a perspective of fact rather than fantasy or hyperbole." After his nearly hourlong remarks, Mr. Bratton spoke with reporters for another 20 minutes—and told the Observer he was surprised by the comment from Mr. Stringer, with whom he said his department had worked closely on many issues.
"To charge that these numbers are politicized, I'm sorry, but I tell it as it is," Mr. Bratton said. "I see that as an unnecessary attack for political purposes. And when that happens—particularly, attack the mayor all you want You can attack me all you want. But don't attack the work of my cops, because I'm gonna punch back." 
In a statement, Mr. Stringer said his comments on the statistics weren't aimed at Mr. Bratton but at "City Hall."
"I have great respect for Commissioner Bratton and the hard-working men and women in blue. But let's not play the politics of distraction and deflection. My comments yesterday were aimed squarely at the steps of City Hall," Mr. Stringer said. "They reflect what I am hearing from parents and grandparents from all across our city: that statistics alone are cold comfort to communities that face the threat of gun violence—and that a real conversation on real solutions is needed."
Mr. Stringer wasn't the only city official who wound up in Mr. Bratton's crosshairs today. The police commissioner also criticized the City Council—first, in his remarks, deeming efforts to change how the city deals with low-level offenses as "crazy" and later, when he fielded a reporter's question about City Council legislation meant to set up an "Early Intervention System" to identify officers "prone to excessive force."
"I'm sorry, it's old news. It's pile-on, totally unnecessary and grandstanding," Mr. Bratton said.
Mr. Bratton insisted the Council "knows full well" his department is already trying to do that—rolling out a "risk assessment" for personnel based on something Mr. Bratton put in place at the Los Angeles Police Department, devoting "millions of dollars" and 60 officers to the effort, in addition to creating a force investigation unit and taking on a review of the city's use of force policies.
Mr. Bratton referred to his own record of creating "a lot of reform," and said they don't need new laws requiring the NYPD to do something it is already doing. He went on to note the department already has an active inspector general and Civilian Complaint Review Board watching over it.
"It's exactly what the cops resent about the City Council," he said. "These continual efforts. They say they want to support the cops, and then they keep coming up with new ways to try and effectively micromanage the police department. It's not needed. It's a waste of time and energy, and it's grandstanding being quite frank with you."
Councilman Jumaane Williams—who co-wrote and passed the law creating an NYPD inspector general in 2013, over the objections of then-Mayor Michael Bloomberg and then-Commissioner Ray Kelly—said Mr. Bratton was simply striking the typical NYPD tone in dealing with the Council.
"My response is, and using his words, 'to be quite frank with you,' I think it's just a typical response like any other police commissioner who refuses to see the value and the authority of the City Council," Mr. Williams, who sponsors one of the early intervention bills, said in a phone interview.
Mr. Williams said it's "fantastic" if Mr. Bratton is already at work on these issues—but without a law, said a future administration could abandon the effort. "We need to codify things because we never know what type of commissioner it's going to be, what kind of administration it's going to be."
Councilman Dan Garodnick, who sponsors the other intervention bill, seemed hopeful to de-escalate the conversation in a statement.
"We appreciate that Commissioner Bratton understands the need for early intervention. If he supports the concept, he should support the bills. It's as simple as that," Mr. Garodnick said. "We are happy to work with Mayor de Blasio to ensure that we strike the right balance for the sake of the NYPD and the public.  Not every legislative proposal needs to be interpreted as an act of war."
Mr. Bratton has shot down virtually every single piece of oversight legislation proposed by the Council, and Mr. Williams argued it would serve the commissioner better to  "be in conversation with the Council" than to refuse every one of its suggestions. Asked whether he thought that would happen, Mr. Williams was circumspect.
"It depends on what kind of police commissioner he wants to be remembered as," Mr. Williams said.