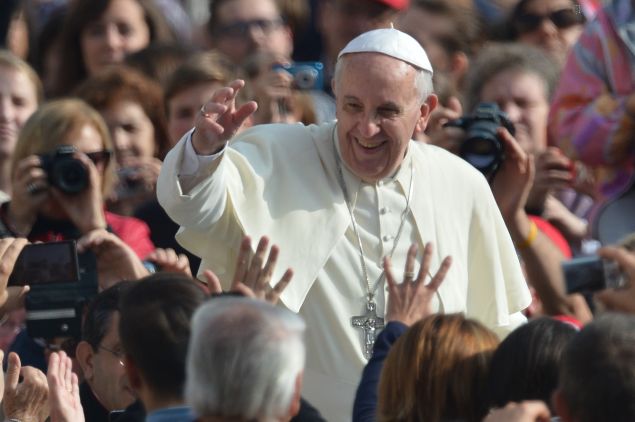 Mayor Bill de Blasio attacked former Mayor Rudolph Giuliani for his claim that the solution to the mushrooming homelessness population is to "chase them out of the city"—and argued that his Republican predecessor should instead remember the charitable precepts espoused by Catholic leaders like Cardinal Timothy Dolan and Pope Francis.
Appearing on the Brian Lehrer Show on WNYC today, Mr. de Blasio pointed to a recent editorial in the Daily News by Mr. Dolan that criticized those who would "depersonalize" indigents and to repeated remarks by the Pope highlighting the plight of the poor. The former mayor, who dealt aggressively with homelessness and crime in the 1990s, has been a frequent critic of his liberal successor.
"I think first of all, I would urge the former mayor to listen to what the Pope is saying and what the cardinal is saying in terms of, we don't chase human beings who are in crisis. We try and address their problems and get them to the kind of help they need and off the streets," said Mr. de Blasio.
Speaking on WNBC last week, Mr. Giuliani indicated that he saw Mr. de Blasio's approach to the homelessness issue—which has been to invest in more mental health and affordable housing services, and to create a task force to develop further strategies—as soft and insufficient.
"You chase them and you chase them and you chase them, and they either get the treatment that you need, or you chase them out of the city," Mr. Giuliani said, arguing that he had made better use of NYPD Commissioner Bill Bratton, who has served under both mayors. "I didn't need a task force. There was me and Bratton, there was my brain, his people."
Mr. de Blasio highlighted that new legal precedent since Mr. Giuliani's administration has reduced the ability of law enforcement to arrest and detain people sleeping in the streets or loitering in parks.
"It's a complicated problem. And the notion you can minimize it, that's, that's not a serious look at how to solve the problem. And it doesn't recognize that the problem has gotten much harder in many ways," he said, adding that the city was partnering with religious groups to deal with the issue. "We've been working with faith communities all over the city and they've been great partners in this, to get folks off the street and get them the help they need. That's how we're going to address this challenge."
Mr. Giuliani did not immediately respond to requests for comments. Both men frequently tout their Italian roots, with Mr. de Blasio having made two trips to the Vatican while in office.
Pope Francis is scheduled to visit New York as part of an American tour later this month. Shortly after being elected pontiff, the Argentinian-born leader lamented the lack of empathy in society for those in need of shelter.
"If a person, on a winter's night, dies here on the street nearby, that's not news. It seems normal! On the other hand, a drop of 10 points on the stock exchange is a tragedy. People are discarded, as if they were garbage!" he said at the Vatican shortly after his election.