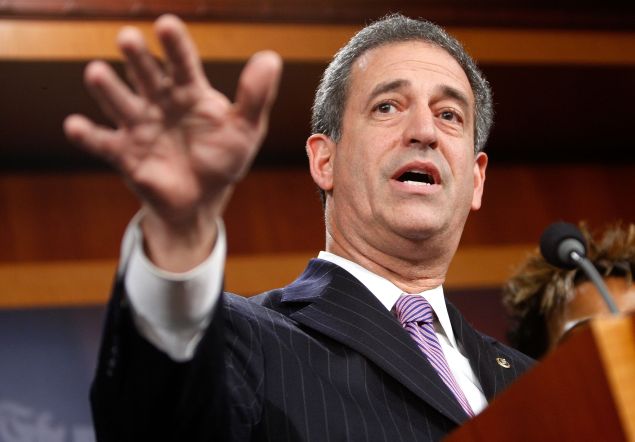 Mayor Bill de Blasio is Badger-ing supporters to contribute to a Senate race in Wisconsin.
The mayor's 2017 re-election campaign blasted an email to supporters today urging them to donate to former Wisconsin Sen. Russ Feingold, who is looking to reclaim his old seat next year. The message, bearing a "Paid for by de Blasio 2017" logo at the bottom, praised Mr. Feingold as a "true progressive" and touted his record during his 18-year tenure in the Senate—and noted that the Democratic contender faces an end-of-quarter fund-raising deadline tonight.
"He's standing up to the big special interests—a fight I know something about," Mr. de Blasio's message reads, alluding to Mr. Feingold's support for campaign finance reform legislation, before rattling off a number of policy matters the two politicians agree on. "Russ fights for the issues you and I care about: debt-free college, raising the minimum wage, fighting income inequality, and supporting hardworking families. He's the one who cast the lone vote against the terribly flawed PATRIOT Act in 2001."
Mr. Feingold lost his seat to current Sen. Ron Johnson in the Republican wave of 2010. Wisconsin is a historically blue state, and many Democratic strategists view Mr. Johnson as vulnerable and the seat as significant to helping the party win back control of the Senate.
Mr. de Blasio noted that the business-friendly, economically conservative Club for Growth has spent $700,000 on ads critical of Mr. Feingold. The email insists the race is a key part of both helping Democrats reclaim the Senate, and to advancing the liberal agenda Mr. de Blasio and Mr. Feingold share.
"Electing a true progressive like Russ Feingold in Wisconsin is a crucial part of ensuring progressive values lead the agenda in the U.S. Senate. It will help us gain ground on the road to more just policies for everyone—a real win for American families," the missive says. "I'm standing up and supporting Russ's campaign today, and I'm asking you to support him too—before tonight's fundraising deadline. If you're as ready to support Russ as I am, please contribute $25 or more to his campaign today.If we all stand together, we can elect a true progressive champion for all hard-working American families."
The mayor's involvement in the far-flung Senate race comes as Mr. de Blasio is looking to raise his profile nationwide—seeking to hold a forum on progressive politics for presidential contenders.