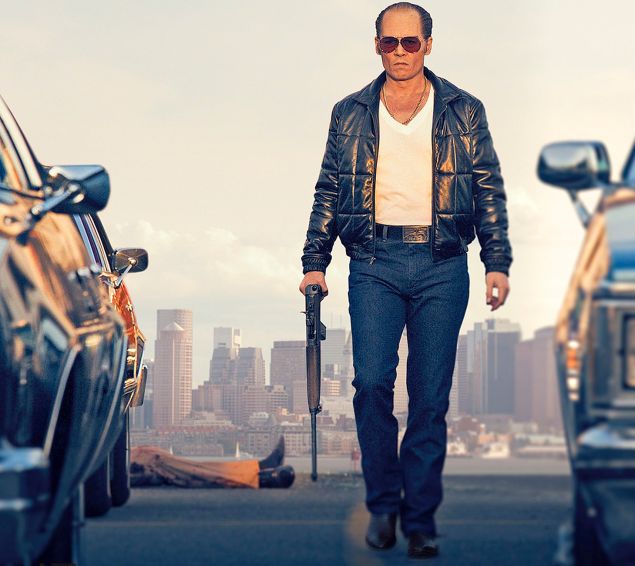 Attending the Toronto International Film Festival last week, I missed a few notable openings at home, the most enjoyable being the colorful crime saga Black Mass, the tangled, complicated and skillfully collated file on Boston's most notorious gangster, James "Whitey" Bulger, a mass murderer with flawless connections. His brother Billy (Benedict Cumberbatch) was a Massachusetts state senator and his best friend was publicly respected but secretly crooked FBI agent John Connolly (Joel Edgerton) who recruited the master criminal into forming an unholy alliance to inform on the mob in an effort to destroy the Italian Mafia, inadvertently making ex-convict Whitey the king of the underworld, specializing in racketeering, kidnapping, extortion, prostitution and murder.
---

BLACK MASS ★★★
(3/4 stars)

Written by: Mark Mallouk and Jez Butterworth
Directed by: Scott Cooper
Starring: Johnny Depp, Benedict Cumberbatch and Dakota Johnson
Running time: 122 min.

---
His story was a study in ruthlessness and the film is ruthless in the aggressive way it tells it. Johnny Depp gave up on acting about the same time I gave up on Johnny Depp. In the leading role in Black Mass, he borders on the Frankenstein monster, but it's nice to see him make such a serious, convincing and responsible comeback.
With aviator Ray-Bans, wig, balding prosthetic forehead and a cadaverous stare, he makes a cold and scary wacko. Based on a book by Boston Globe reporters Dick Lehr and Gerard O'Neill, the chronicle of Bulger's rise and fall is enriched by myriad details that sometimes threaten to sag the film in the midsection and by a great ensemble cast, including Peter Sarsgaard as a small-time Florida mobster, Kevin Bacon and Adam Scott as honorable FBI agents, Rory Cochrane and Jesse Plemons as thugs, Dakota Johnson as Bulger's wife who tolerates his menacing personality for the sake of their only child, and Julianne Nicholson as Connolly's wife who sees through her once-honorable husband's arrogant facade to recognize the mercenary underneath.
The movie leaves no stone unturned in the internecine bargains, deals and double-crosses of people on both sides of the law from Bulger's penny-ante beginnings in 1975 to his arrest in 1995. Throughout, Mr. Depp is soft-spoken and seductive one minute, then erupting into sudden savage violence that wreaks havoc on human lives. After a string of flops, and just when he surrendered his talents to tattoos and "Aargh!" dialogue from too many sub-mental pirate movies, it's thrilling to watch him resist caricature. Written with fists that pound instead of fingers that write by Mark Mallouk and Jez Butterworth, and directed with animal fury by Scott Cooper (Crazy Heart), this is a flawed film structurally, but still the most electrifying criminal biopic since Scarface.